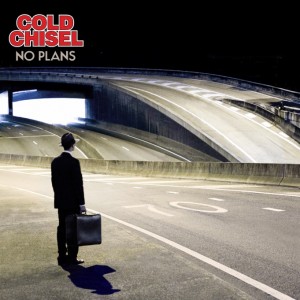 Aussie rockers Cold Chisel release their first album in 14 years on April 6 and CinemaLive are celebrating with an exclusive live concert event screening via satellite to cinema screens right around Australia, from the band's Sydney show on April 18. 

Fans can see the performance as it happens in glorious HD with Dolby 5.1 sound as the band play tracks from their new album "
No Plans" as well as their classic hits. 

"We're really proud of this new album and want as many people to hear it as possible", said 
Cold Chisel vocalist Jimmy Barnes. "The idea of having this gig beamed out to Cinemas seemed like a great way of getting people to hear a few of the new songs live as well as all the ones they know. We've played a lot of gigs around Australia over the last 35 years but this will be the first time we've played in over 100 places on the same night!" 

The ' 
No Plans' album features 13 new songs recorded in 2010 and 2011 and features the final recordings of late drummer Steve Prestwich who passed away last year. Fans will have the opportunity to purchase the album in an exclusive bundle with their cinema ticket. 

Cold Chisel Live in Concert 
will be screened via satellite in all states and territories on Wednesday 18 April, 2012 – for one night only. 

Tickets are on sale from www.cinemalive.com 
for just $39.50rrp and include a copy of "No Plans". Ticket-only purchases of $34.50rrp are available at all participating cinemas. 

The band will also be playing a special album launch show at Bluesfest Byron Bay as well as shows in Melbourne and Perth. For further details, visit 
www.coldchisel.com. 

For details of participating cinemas near you, visit
www.cinemalive.com. 

NSW/VIC/ACT/TAS/QLD 9pm SA/NT 8:30pm WA 7pm
FAST FACTS: 

WHAT: Cold Chisel Live to cinemas around Australia from their Hordern Pavillion show
WHEN: April 18 
WHERE: Most major chains and selected independent cinemas 
TICKETS ON SALE: Tuesday April 3 from www.cinemalive.com 
PRICE: $39.50rrp and include a copy of "No Plans". Ticket-only purchases of $34.50rrp are available at all participating cinemas.
ABOUT CINEMALIVE'S SET LIST
SET LIST is a series of contemporary entertainment cinema programs that brings the best gigs and record launches from around the world exclusively to CinemaLive's satellite network around Australia. SET LISTprovides fans with the unique and exciting opportunity to come together and celebrate in an exclusive environment, with the guarantee of being the first to see the hottest LIVE entertainment and to receive the artist's latest release before the rest of the country.