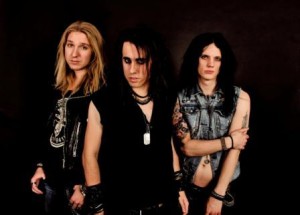 Formed in Malmo, Sweden back in 2002, Crazy Lixx have undoubtedly been one of the bands leading the charge in putting the Swedish "sleaze/hard rock" scene on the map worldwide.  Following on from the debut release Loud Minority, the bands second release New Religion saw Crazy Lixx come out with some massive anthemic rock.  Unfortunately however, one thing that has always plagued the band has been lineup changes, and with third album Riot Avenue due to be released on April 20th via Frontiers Records, following on from the recording of the album, the band find themselves without a drummer and bass player.  But I am sure all will soon be resolved so that the band will be out touring in support of Riot Avenue, an album the band consider to be their best yet, as revealed in the interview below, guitarist Andy Dawson.  Andy also gives some background to what inspire the more riff oriented sound that can be heard throughout Riot Avenue, an album which the boys have also produced themselves.
Andy thanks for taking the time to talk about the new album "Riot Avenue" which is due to be released on April 20th.  You must be eagerly awaiting the day that it's finally unleashed on the masses, especially given there's been a fair bit happening since the recording of the album with the lineup changes in the band?
No problem! Yeah, it's going to be interesting, it's too bad Loke Rivano isn't with us anymore, but things happen, you know.
The new album is titled "Riot Avenue", what inspired that album title and the cover art, which obviously ties in with the album title?
Well, actually we were going to name the album, Whiskey, Tango, Foxtrot but we had big problems coming up with the cover and such, then we got that picture and we just said, "that's Riot Avenue we have to have that picture on our album cover" and therefore, Riot Avenue fit better.
In a musical sense, what inspired you this time around, the songs certainly sound a bit more riff based…
Exactly, I think what inspired us a lot was the independence.  This album we produced and mixed ourselves which was a huge difference from before and I'm not saying' it's better produced and mixed than before, but in the end, with the album done, this is how we want to sound.  We are all inspired by different bands, Danny is inspired by a lot of music, classic heavy metal and rock bands like Iron Maiden & Kiss, but also more obscure bands.  Edd by early Metallica and me by a lot of old blues and of course the house gods; Guns N'Roses, Aerosmith, AC/DC, so the mix is pretty cool.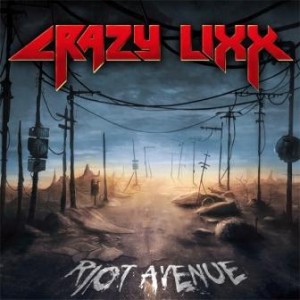 What do you feel are some of the biggest changes fans are likely to notice with the songs on Riot Avenue compared to the first 2 albums?
The style in general, but I hope that they'll like it because we 100% agree that this is the best album we've made so far.
You produced "Riot Avenue" yourselves, as opposed to using an outside producer, which has been Chris Laney on past albums.  How did you find the experience and responsibility of producing the album yourselves?
Both Danny and I have been playing around for a long time with production and mixing and when the result of outside mixes came, we decided to give it a try ourselves.
How did the song writing happen for this album, was it something you all contributed to?
Yeah, mostly Danny and I who wrote the songs, Edd's been a part of it as well.
Do you feel that "Riot Avenue" is the album that has so far best delivered what you guys ultimately consider to be the true Crazy Lixx sound and style?
Definitely!!
Picking a few songs from the album, here's your chance to tell us a little bit about what each song is about, any interesting experiences whilst recording/writing the song etc:
Only The Dead Know – the only slow song on the album, it's a song about losing one's beloved, very desperate, a girlfriend who passes away.
Church Of Rock – well, Church is a tribute to all rock, hehe!
In The Night – is a heavy tune, a lot of riffs and uptempo.  As a band, when you're out playing, we spend most of the time in the night and it fit with that but of course it's fictional, post-apocalyptic, gangs, looters and killers, outlaws and stealer's who are living their lives in the night.
Speaking earlier about riffs, how have you personally found the addition of a second guitarist into the band, has it taken a little bit of pressure off you and given you more freedom so to speak?
Not really, no.  I mean pressure is something that I don't feel, I mean of course I want to play great and so, but with Edd it's been nothing but good.  We're a team, we've been friends for a lot of years and played a lotttttt, I've played with a lot of guitar players, but with Edd it's a perfect fit.
Here is a chance to gaze into your crystal ball and make some predictions.  By the end of 2012, Crazy Lixx will have….
1) Sold gold in one country
2) Opened for Aerosmith
3) Killed Edd Liam
Essential Information
From: Sweden
Band members: Danny Rexon – Vocals, Andy Dawson – Guitar, Edd Liam – Guitar
Website: www.crazylixx.com
Latest release: Riot Avenue (April 20th, Frontiers Records)