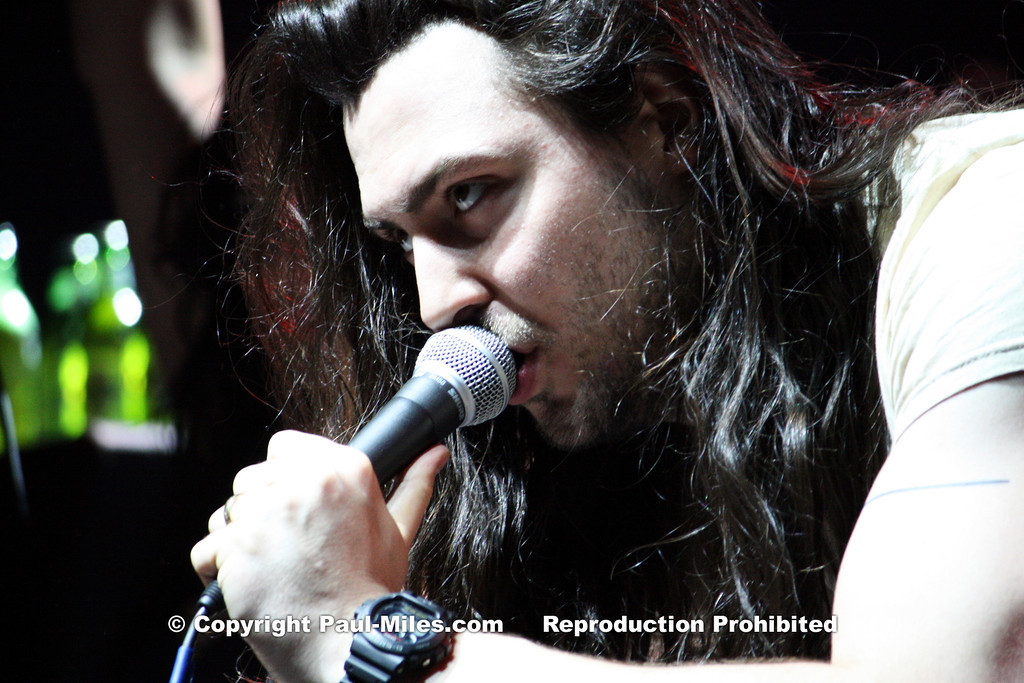 Reviewed by: Paul Miles
Date: 02 April 2012
Venue: Webster Hall, New York City, USA
Website: www.andrewwk.com
Full Photo Gallery (click link): http://rockshots.paul-miles.com/
People have been partying to the upbeat, high-energy of Andrew W.K. for a decade now. To celebrate this anniversary of his chart-topping debut album I Get Wet, he led tonight's sold-out crowd through a chaotic rock'n'roll workout that featured all twelve tracks from the album (three of which contain the word party in the title, of course.)
Strolling across the 11th Street sidewalk to Manhattan's Webster Hall, I briefly wondered if people would really be up for partying hard on a Monday night. But it was soon obvious that this largely twenty-something crowd of 1,500 was ready to cut loose with the ultimate party host in the city that never sleeps!
A massive stage backdrop of Andrew W.K.'s face with bloodied nose per the album's confronting cover, set the stage for his entry. The boisterous crowd chanted his name until they cheered to the loud voiceover of "Are you ready to party?" Wearing his trademark dirty white t-shirt and jeans, he soon joined his band under the bright lights and kicked things off with It's Time to Party.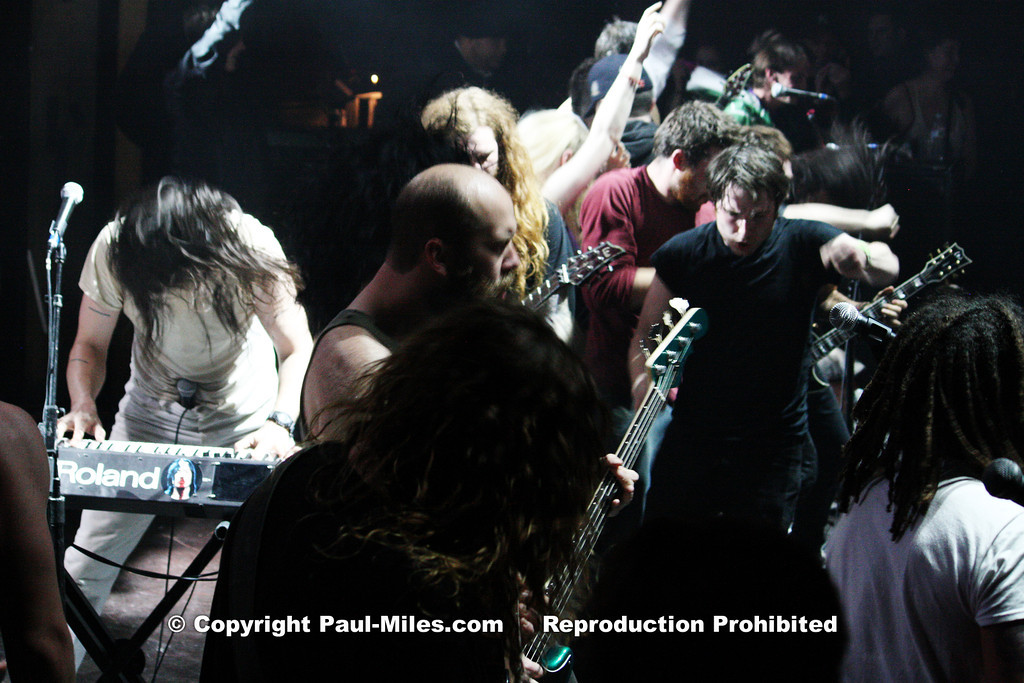 The crowd-surfing and stage-diving switch was instantly flicked to ON as W.K. worked his way through the album from top to bottom. This meant his biggest hit Party Hard was up next and the crowd knew it. There was nothing intellectual about his performance, and that's exactly why they were here: a night's escape from life via an awesome time.
His wall of sound was created by his four guitarists – yes, four – plus bassist, and a drummer kicking three bass drums. His smiling wife of 3-plus years, Cherie Lily, provided more backups and danced the night away in her high-cut, purple aerobics leotard like a raunchy, party stamina and fitness guru.
Thrashing his sweat-soaked hair, Andrew W.K. kept it simple throughout his set with his unique and infectious hybrid of '80s pop keyboard hooks, chunky metal riffage, and big rock choruses to create sing-a-long anthems. And sing they did – on the floor, on the balconies, even on the stage as the mayhem quickly overflowed.
It was sometimes difficult to spot Andrew W.K. from some of his fans dressed as him (complete with blood on the front of their white t-shirts), who took every chance to join him on stage, pat him on the back, throw an arm around him and sing along into one of the microphones during a moment they'll never forget, before diving off… or hanging around not really sure what to do next.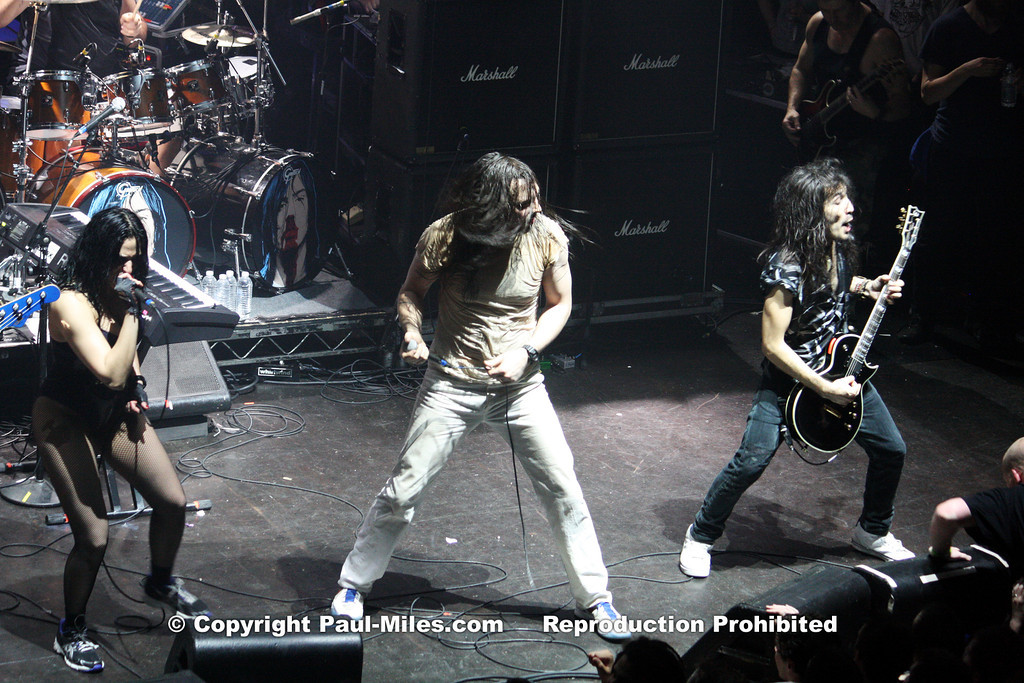 After Girls Own Love was another short keyboard ditty, customary between each song while security ushered stragglers off the stage, until the next three-minute round of Ready to Die began – bombastic and yet again simplistic.
As the crowd carnage continued during each song, I found myself seeking relative safety on the stage itself, at the feet of the band's original guitarist and Florida native Erik Payne, and his fold-back monitor that vibrated under me every time he provided his death metal backing vocals. (After the show he told me he had so much fun watching the expressions on my face as I avoided collateral damage and camera breakage while getting the action shots.)
Crowd favorite I Love NYC was up next to which W.K. proclaimed, "This song is about the greatest fucking city in the world." There was no need to tailor the chorus lyrics tonight however, as he has done at every other stop on this World Tour, since he was now back in his beloved, adopted hometown. The crowd duly responded as W.K. found a fan's NY Yankees cap adorning his head.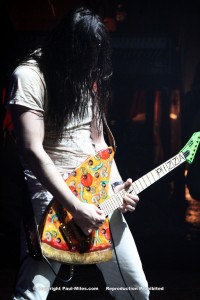 During another interlude between songs, he displayed more of his musical talent and cartoonish humor by playing O Come, All Ye Faithful as a solo on a pizza guitar, at least as large as a New York slice and perhaps a tie-in with Party Til You Puke, which also brought plenty of fist pumping.
The uplifting Got to Do It further encouraged his people with its positive lyrics "you gotta do all the stuff that you love," before completing the first act with the title track and Don't Stop Living In The Red.
The frenetic pace slowed somewhat when the band returned to play some encore songs from his follow-up album The Wolf and his recent American release Close Calls with Brick Walls, perhaps as these songs were somewhat lesser-known, or probably due to some crowd exhaustion.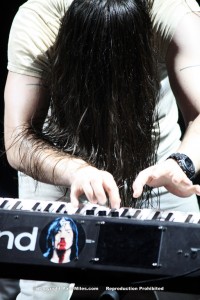 Andrew W.K.'s energy levels didn't drop though, as he clubbed everyone's ears with a power-packed new track Head Bang, encouraging the crowd to join him in headbanging throughout the song, which was sure to leave many with a nasty 'bangover' the next day.
The final encore song We Want Fun was a fitting end to the show that saw the most amount of people having fun on stage for the night. And as the crowd filtered out from this special gig, some of them noticeably bloodied, welted and bruised, it was no surprise to me that Andrew W.K. is getting the biggest response of his career.
As simple his formula, off-stage he is certainly an articulate and thinking man, as I first experienced when I interviewed him as one of the characters in my book Sex Tips from Rock Stars (Omnibus Press, 2010). That day I asked him every sexual question from kissing techniques to fetishes, so it was good to meet him after the show tonight – barefooted in his soaked stage clothes and sopping long hair – and just chat about things like life in New York City.
As his growing resume attests, he is a hard-working, opportunity-taking individual with a positive attitude. So it was no surprise that tonight's party was going to continue into the wee hours. I soon found myself headed downtown along Lafayette Street for The Official Andrew W.K. After Party at Santos Party House, the nightclub he's been a part-owner of for the last four years.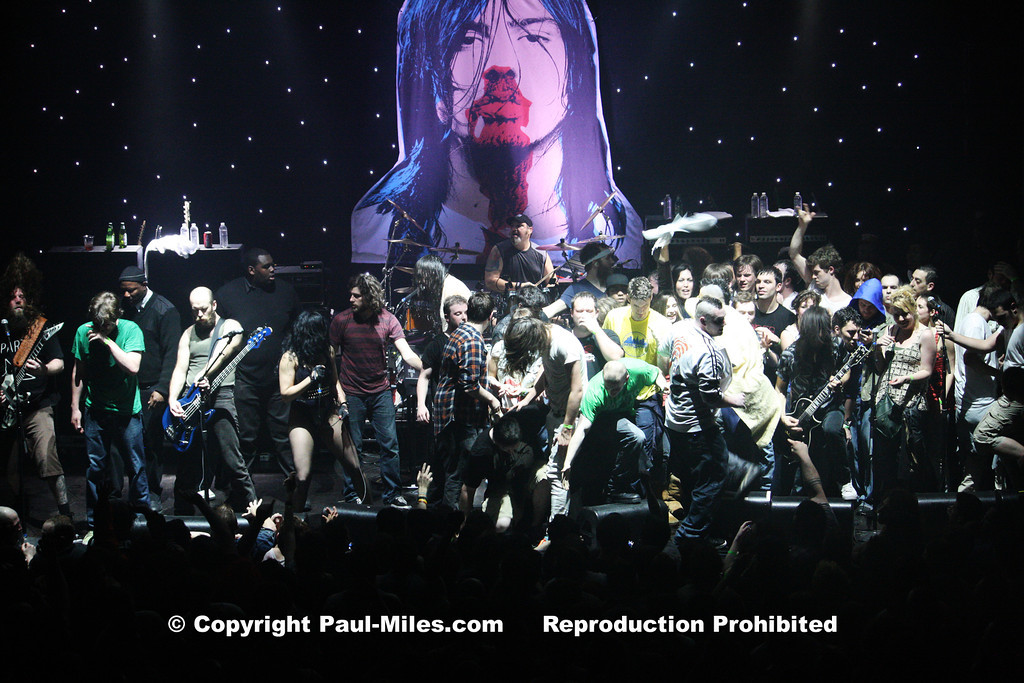 Rocking up in his Party Hard trucker cap, reflective sunglasses and dry whites, he immediately hit the DJ booth to keep the party going. Set higher than the dance-floor, he spun a broad selection of music in between short acts from other artists on stage, while ad-libbing party encouragement over the microphone like a strip-club announcer with a love for rapping and character voices.
While he did his best to keep the exhausted crowd partying, my Monday night was soon done. As I sat in the taxi heading uptown to home, I found myself staring out the window with his chorus repeating in my head, "I love New York City, oh yeh New York City." It's events like tonight that affirm why I love NYC and music so much. Thanks for the great party Andrew W.K. – I look forward to the next.
Full Photo Gallery (click link): http://rockshots.paul-miles.com/
About Paul Miles
Our U.S. Contributor Paul Miles (www.Paul-Miles.com) is the author of five paperbacks on the world's most infamous rock band: Motley Crue. The pages of his Chronological Crue website (www.CrueTime.com) have been read well-over five million times. His best-selling book Sex Tips from Rock Stars was published worldwide (Omnibus Press, 2010 www.SexTipsFromRockStars.com) and has been reprinted in foreign languages. Paul Miles is also a New York City-based freelance rock photographer, specializing in live music photography that captures the true spirit of rock'n'roll in action from some of the world's greatest performers.