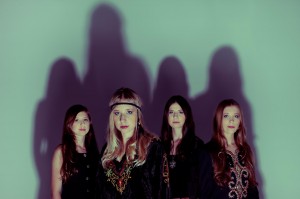 Official Tour Press Release: "STONEFIELD are at it again…hands off the handlebars, feet in the air, full speed ahead!  And since when has it been any different for these four siblings from rural Victoria?  Their last 12 months has resembled a downhill speed race that encompassed three continents, appearances at the biggest music festivals in the UK and Australia, a cast that includes the Foo Fighters, Kaiser Chiefs and a non stop touring schedule.
With their new single 'Bad Reality' in the can and unleashed, Stonefield are in game on mode and busily preparing to tread the boards in a way that only they can!  The Bad Reality Tour will be a non stop East Coast rock 'and roll roller coaster ride that will see Stonefield headlining their handpicked support cast including up and coming garage dwellers The Delta Riggs and untamed Melbourne hair waggers Kingswood.
It's been nine months since their previous single, the triple j Hottest 100 entrant 'Blackwater Rising' first hit the airwaves, and 'Bad Reality' won't disappoint!  Recorded by Melbourne rock Svengali Lindsay Gravina at Birdland Studio (where Gravina helped craft seminal Australian rock records by The Living End, Spiderbait, Magic Dirt, Jet and British India) it is an organ fuelled tour de force led by the soulful growl of Amy Findlay over a foot stomping beat.  'Bad Reality' will tear your speakers apart!
Shake your head and stamp your feet with STONEFIELD on the BAD REALITY TOUR with The Delta Riggs and Kingswood".
Taking a break from rehearsing at the bands rehearsal "shed" in the Macedon Ranges, we chatted with singer/drummer Amy Findlay about the upcoming tour, the launch of the new single and what we can expect from the upcoming EP and album releases later this year…
Hey Amy, thanks for taking the time to chat today!  So 2012 has already kicked off in high gear for Stonefield, with appearances at Big Day Out, new singles, appearances on National TV, so how has it all been going so far?
It's been really good!  Probably one of the highlights was playing the Big Day Out and being in the studio recording our new EP, which we are really excited to release.  We are really happy about that and all the songs are excitingly a little different and hopefully people will like it!
You have a new single Bad Reality that you are about to launch.  Tell me the background to the song, how did it come about?
Well we have recorded our EP in two blocks.  We did the first few songs, then did another block a few weeks later.  We had all our demos ready for the EP and there was a vibe going on that we didn't really feel like we had the single for the EP.  So we were kind of feeling a little stressed and a little pressured I guess because we didn't have a single and it was coming to crunch time and all that kind of thing, so we were putting pressure on ourselves that we didn't really need to be putting on ourselves.  I suppose we realized we should just chill and do what we usually do and then that song kind of came quickly and ended up being one of those natural kind of songs.
I see you have also recorded a video for the song, are you able to share the concept for that video yet, or do we just need to wait and watch?
Well I can say that it's very, very different to our past clips which have been performance based.  We felt like we wanted people to see that we are actually playing our instruments and that we can actually play and I guess a lot of people don't think that. But for this video we thought it was time to have some fun and try something a little different.  It's quite dark and different and ties in with the whole chase vibe of that song.
How indicative do you feel is the single of what we can expect from the EP?
All the songs on the EP are a bit different to each other.  Bad Reality is kind of straight in your face rock with a pretty poppy kind of structure.  Our next single will be quite different with a jammy, psychedelic kind of vibe and then there's another that has a slight country vibe, not full on country, but a little bit.  The other song is really quite musical.  It's all quite different, but it still has a similar kind of sound so you don't feel like you are listening to completely different things.
As far as the writing and recording sessions for the EP, do you feel you had many new influences creeping into yours sound?
Well we've definitely been exposed to lots more music after our tour last year, we played with so many different bands and it's hard not to be influenced in some way what you are hearing.  Our next single, that song was heavily influenced by a band we played with in Perth last year who are called The Deep River Collective.  They are influenced by all the same types of music as us that more sort of jam, laidback style, where our songs have generally been a bit more structured.  We just loved that bands sound so much and the next song we wrote after coming home from the Perth shows was heavily influenced by that band.  So there's been lots of things like that which have influenced us, it's been really good.
And then an album, is that planned on the horizon?
Yes definitely.  Now we've finished the EP, we've been writing for our album and we'll do that in two song blocks in between shows and school and all that kind of thing.  We are hoping to have it out by September, but it could be a little later, definitely by the end of the year though.
Being a band of sisters, there's obviously a connection between you over and above what a band of non-siblings would have.  How do you feel this translates in a song-writing sense, are there often moments of writing via telepathy so to speak, that maybe wouldn't exist in a band situation of non-siblings?
Well I imagine so!  It's a bit hard to say though because none of us has had any experience writing outside of with each other.  It seems to me like we have a very strong connection and we have very similar tastes so it makes it really easy to agree on what we are doing most of the time and we all pretty much have the same ideas in our head and it definitely makes that whole process much easier.  I think also with telling each other if we don't like something, it's a lot easier, but perhaps with friends you can be more concerned about hurting people's feelings, but with sisters it doesn't matter as much.
Is song-writing something you are all involved in, or do a few of you have the lead when it may come to music, or lyrics?
Well I write all the lyrics and melodies, so there's that, but we then do everything else collectively.  We all write our own parts and we will jam on things and develop songs like that.
Being from a rural town yourself, it's obviously an important thing for you to ensure you get to some rural parts of Australia when you do your own touring, such as on the upcoming tour?
I think it's really important to get the band to as many places as we can.  There are always restrictions of course depending on how difficult it is to get somewhere and how much time we have.  With the girls still at school, it makes touring that much harder, but yes I think it's really important to get to those regional areas as often as we can. There's just that whole new level of appreciation I think, as they don't get as much live music as in the capital cities.  Even in Adelaide and Perth the audiences can be so enthusiastic and appreciative of live music.  Whereas Melbourne and Sydney, I know they are such big music cities and everyone loves music, but it's just a completely different vibe.
I can't help but ask, what are your observations of the crowd that come to a Stonefield show?  I imagine it would be pretty damn varied?
It's been really interesting for us.  There's the Triple J thing, and we've got a lot of fans that have come through from that angle.  Then there are a lot of little kids that like us because we are young.  Then there are heaps of older fans that regularly come to our shows as well.  So yeah, we've got fans that are really young, through to those who are really old.  It's especially cool when we are playing all ages gigs and seeing all kinds of different people appreciating the music.
For you personally, how do you find balancing being both the drummer and lead singer, that can't be a super easy thing to do?
Drumming and singing, I guess I am so used to it given I've been doing it from the beginning of the band so it feels normal to me.  I think for me it would be easier to do than playing guitar.  I guess I've learnt with the singing to learn how to breathe properly and hold myself and all that kind of thing.  The only thing is that it's really exhausting and I'm covered in sweat by the end of the set, but other than that it's fine!
Well is sure sounds like you have a big year ahead in 2012.  Having already played overseas, are there thoughts to do that again in 2012 and build on that interest?
Yes we have!  We want to really do as much as we can here and focus on Australia, particularly this year.  At least until after we've released our first album as it's so big overseas and we've had a little taste of the UK and America, but those countries are so big and there are so many venues and there's so many bands trying to make it over there.  We've realized you need to be so, so, ready and have all these songs under your belt before you try and do it, otherwise there's no real point.  So well try and conquer Australia first, then well go for the rest of the world!
Essential Information
From: Victoria, Australia
Band members: Amy Findlay – Lead Vocals & Drums, Hannah Findlay – Guitar & Backing Vocals, Sarah Findlay – Keys & Backing Vocals, Holly Findlay – Bass & Backing Vocals
Website: www.facebook.com/stonefieldband
Latest release: New Single BAD REALITY Out Now / BUY: http://itunes.apple.com/au/album/bad-reality/id512806006?i=512806050&uo=4