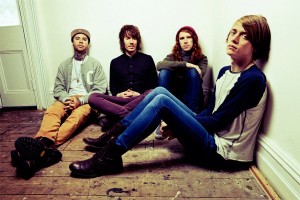 Since their re-emergence after a couple of years hiatus, with new album Requiem and a swag of major festival appearances, The Getaway Plan have slowly, but surely, reclaimed their status as one of Australia's leading rock bands.  Following on from their 2012 Big Day Out appearances and a recent run of regional dates, in the coming weeks the band will be hitting up the Groovin' The Moo festival, along with a bunch of their own headline sideshows, their first in capital cities for 2012.
Yesterday we chatted with drummer Aaron Barnett about the upcoming shows and how fans have responded to both the new album and importantly, the fact that the band are back!
Hey Aaron, thanks for taking the time to chat today.  So how has 2012 been for the band so far, you've had some big festivals to keep you busy!
Yeah, yeah it's been good man.  We've always loved the festivals and coming back and getting straight back into that, it's been great.
Coming up in the next week or two, you have another festival round, with Groovin' The Moo, which is actually a pretty decent and varied lineup.  Any artists you are particularly interested in checking out?
There's a couple of Australian, local acts that will be good to see.  But obviously the guys and myself are psyched to see Andrew WK.  We have never played this festival before, only heard good things about it.  I just watched a teaser/trailer that had footage from last years one, it all looks pretty big and exciting so we are pumped to get out there.
You just recently did a run of your own headline regional dates, how did you find those as far as the presence of The Getaway Plan fans in the regional areas?
That was great man, we haven't really been out to those places much before.  They are smaller, more intimate shows and it's really cool to strip things back and do some shows like that.  Touring the normal circuit you just don't really get a chance to get out there, so it's great when you do.
Since the re-emergence of the band, would you actually say it's been more or less difficult than what you might have expected to get The Getaway Plan name back out there?
We never really knew what to expect I guess really.  We've been lucky as it's been great for us.  We came out with the new record and that's gone better than expected.  The tour was amazing and we pretty much just went straight into the summer festival run and once again, we didn't really know what the crowd responses would be like.  The Big Day Out was huge and we've not had a problem at all, it's pretty much kicked off where we left off, which was the aim.
Have you seemed to get a bit of a sense of even a new uptake of fans for the band?
Definitely, obviously we've had a few years off, then we took about six months to release the record, so we would have lost some fans and kept the die hard fans, but we really had to start from square one and win fans back over again.  The new record is obviously a bit different sounding to the last one, so we've definitely noticed that we have had to look at gaining new fans and we've slowly been seeing that happen.
You've also got a couple of sideshows coming up back in the capital cities.  What have you potentially got in store for those shows, are you maybe going to delve into the depths of the back catalogue and bring out some rarely played songs for example?
Definitely, we got hassled for a while after Big Day Out as we pretty much just played songs off the new record, which I guess, was the idea.  We had just put out the new record and wanted to showcase that, but now its time to give something back, so we will be playing some older stuff, a good mixture of newer and older stuff.  It will be our last headline shows here for a couple of months so we have wanted to throw together a set list somewhere between the two I suppose.
In general, how have you found the newer material off Requiem fitting into the set list now, did that take a bit of working out, given the different style of the newer songs?
Yeah it was a little bit, trying to figure out how we were going to be playing the songs given there's a lot of backing stuff on there.  Once we sorted that our it's been fine and we couldn't wait to be playing the new stuff.  Most of the tracks we are playing off both records are actually jelling really well in the set list.
Speaking of Requiem, you've got the new single Move Along, which was recently released, is this going to be the last single off the album do you think?
Hopefully not!  I guess it's a wait and see how it goes.  I mean it's just starting to kick in now and get some of the radio response we were after and getting on the TV and stuff, which is what gradually happens.  If it keeps going like that, then it should be fine, we've got another couple of options for a single that we would like to do next.  So hopefully all goes well over the next few weeks and we can drop another one.
Whilst we are still on the latest album Requiem?  I guess you probably had some general expectations of how it might be responded to, have fan reactions been generally in line with what you thought they might?
When we finished recording it, we knew it was going to take a while for people to get into it first time around.  The initial reaction seemed to be one of "what, the fuck, what is this?".  But after 3 or 4 listens people seemed to be getting the record and that's exactly what we said about it as well.  To get that reaction from fans and media, it was spot on really and what we said from the start.
I am figuring that probably around this time 12 months ago, you were probably in the midst of recording the album, what are your memories when you think back to the process now?
It was great, we had a ball.  We were staying in a three story Toronto house, it was amazing, we pretty much made it our home.  We got to walk to the studio every day, which was just down the road.  It was really cold when we got there, then summer kicked in and we basically got to do what we love to do for three months, record a record!
Have you had any thoughts about the follow up yet, or is that a bit premature given you are still releasing singles from your current album!
Actually we are writing already, not because we have to based on timelines, it just because things are working so well right now and that's what we love to do.  There's a bunch of songs written, so we are always on the ball trying to keep moving.  The cycle normally goes through a year and a bit, so I guess towards the end of this year we will start thinking about who we want to work with on the album.  But at the moment we will keep touring this current record and do some touring overseas and then knuckle down and start it all again!
And what about overseas interest in both the album and the band since you have come back?
Yes we've definitely noticed there has been.  We've got connections over in the UK and stuff and were meant to be going over there in July for Sonisphere but they've pulled the pin, which is obviously disappointing for us, as it is for all the other bands.  But we've got a lot of people over there working and we shall be over there before the year is out which is very exciting for us.
What of the rest of 2012, after you finish up your touring commitments, what's the plan?
Nothing that I can say yet, but stuff is in the works.  After Groovin' The Moo we will probably have a few weeks off and we will probably be doing more shows here, but these current ones will be our last headline ones for a couple of months.  Then we shall be heading out of the country for some shows here and there and then it will nearly be time for the festival run again!
Essential Information
From: Melbourne, Australia
Band members: Aaron Barnett, Clint Owen Ellis, Dave Anderson, Matthew Wright
Website: www.thegetawayplan.com
Latest release: Requiem (4 November 2011, Warner Music Australia)
UNFD and Premier Artists Present… THE GETAWAY PLAN – THREE EXCLUSIVE GROOVIN' THE MOO SIDE SHOWS
Thursday 3rd May – The Corner Hotel, Richmond [18+] w/ New Empire
Tickets available from The Corner Hotel – cornerhotel.com
Friday 11th May – The Standard, Sydney [18+] w/ New Empire
Tickets available from moshtix.com.au and ticketek.com.au
Friday 18th May – The Amplifier, Perth [18+]
Tickets available from moshtix.com.au and heatseeker.com.au
GROOVIN' THE MOO DATES
5-May Saturday  
Prince Of Wales Showground, Bendigo, VIC
6-May Sunday    
Townsville Cricket Grounds, Townsville, QLD
12-May Saturday    
Maitland Showground, Maitland, NSW
13-May Sunday
University Of Canberra, Canberra, ACT
19-May Saturday      
Hay Park, Bunbury, WA