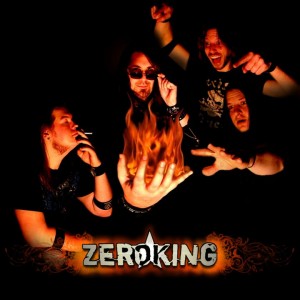 Official Bio (Written by Stephen Zimmer) – "Showtime! The world is yours, go on and take it!" thunders frontman Andy Haught on the brand new track "Showtime", words that capture the vigor, swagger, and brazen rock flare of Huntington, West Virginia-based ZeroKing.
Formed in Huntington West Virginia in early 2005, the band has shared the stage with artists such as Anthrax, Twisted Sister, Bobaflex, Jackyl, Dope, Black Stone Cherry, Airbourne and many more, becoming the "go to" band for regional promoters needing a secure draw and an act that can step into the ring with anyone.  The band has gone on to play events such as Rocklahoma, X Fest,103.1 The Bear's 'Party Like A Rockstar' Festival, and Bearfest, amongst a host of other high profile events.  New school embraces the old school, and out comes an irresistible sound that combines the best elements of classic rock heroes Guns N' Roses and Motley Crue, and mixes them with the vanguard aspects of modern rock powerhouses Buckcherry and Hinder.
The quartet Zeroking have a firm goal in mind with their sophomore effort, Kings Of Self Destruction.  They are committed to taking their original brand of hard rock/metal anywhere and everywhere, and they've amassed the rock credentials to do it.  Kicking off with the slamming, Dead Rockstar, the band tears through an hour's worth of material, including the hook laden first single, Stone Cold Bitch, the southern rock flavoured, Southern Lady X Godiva, the pop oriented, Love Is Dead (which features Stacee Lawson on a duet) and the melancholic Valentine.  "The album really takes the listener on a journey through a wide range of emotions," says Zeroking frontman, Andy Haught. "A lot happened in all our lives during the writing process ranging from divorces to the band literally self destructing but in the end,we had a strong batch of songs that rock really hard yet show our wide spectrum of influences."
We now hand over to Andy to give us the lowdown on Zeroking…
Let's start with the basics first, when did the first band get together and what was the inspiration behind the band name Zeroking?
The band formed in the fall of 2004 and as we were searching for the name we wanted something that would look and sound big and also a name that people could attach their own meanings to.  The most obvious meaning to me is that on any given day one can feel like a king or a zero, sometimes simultaneously,  haha.
Can you introduce each member of the band and give us a rock 'n' roll fact or myth about each?
Shane Day is our guitarist and after seeing Prince's Purple Rain in the theatre, knew he had to get a guitar and learn to play.
Chris Webb our drummer wrote his first song when he was 14 on a family trip. He doesn't remember the title but says it was probably about sex and was influenced by Motley Crue and Poison.
Paul First is the bass player and has a chest tattoo that reads "More Metal Than You" and also a tattoo on his calf of Iron Maiden mascot Eddie as a leprechaun.
I'm Andy Haught, the lead vocalist, and when I was 18 after only my third show as a performing musician, fell into an open elevator shaft, despite a broken arm I was playing guitar and singing a mere three months later.
You have twenty seconds in an elevator to try and convince someone to listen to your new album, without resorting to threats or violence, what do you tell them?
Oh not an elevator..haha..alright 20 seconds here we go.."Our new record Kings of Self Destruction is 13 songs, and is about an hour long ride that celebrates the vibe and energy of all the great rock n roll of the past and mixes that with the sound and aggression of today. The CD has everything from full on fist pumping party rockers to emotional ballads and appeals to wide cross section of people who love rock and metal"…
Speaking of your new album, whilst it's your first full length, would you compare this album in a musical sense to your past releases?
Our other release The Sweet Sale of Excess in 2006 was a 5 song EP that was a vehicle to get some of the best songs we were playing live at the time out in an all guns blazing sort of fashion. The Taste of Self Destruction EP consisted of 5 songs from the full length Kings record that are staples of the current live set and as a means of raising awareness of the band prior to the release of the full "Kings of Self Destruction" . I think the full record is much wider in scope than previous releases, there's much more variety and dynamics and it really takes the listener different places than we had before.
As far as the writing and recording process you undertook for this album, how different do you feel it was from your EP releases?
This time around all the members had a much more equal share in the song writing, arrangements etc so it was definitely more of a band effort.  We really took our time writing and rewriting till we had the songs the way we wanted to present them and really developed the songs more production wise this time around to make everything as big and epic as we could and really tried to create something memorable and special.  Many of the songs this time around were more influenced by real life experiences so I think the emotions behind them lend an authenticity that people can hopefully tap into and relate to their own life experiences. Then again we still write about sex, drugs and debauchery as well, so not much has changed there since the first release, but we definitely tried to push outside of those boundaries for this one too.
In terms of your song writing, what do you consider to be the most important ingredients that need to feature in a Zeroking song?
I would say most important is a big sing along hooky chorus whether it's a headbanging rocker or a sensitive slower or midpaced ballad, that's always going to be the main focus. A big fat catchy riff is probably the 2nd most important component in most of our songs as well.
And speaking of songwriting, how have you noticed this has evolved over the history of the band, has it become more collaborative for example?
It has evolved over time and is much more collaborative than when we started. We've also become braver over time about trying new approaches and different styles while staying true to our musical roots and influences.
Over the course of the bands journey, what or who have you found inspires and influences your music the most, in both a lyrical and musical sense?
Our influences are all over the place from classic hard rock bands like Guns N Roses, Motley Crue, and Skid Row to newer stuff like Avenged Sevenfold, Sevendust, or Buckcherry. We also have a huge love of 80's pop stuff like Prince, Duran Duran, Michael Jackson.  Inspiration can come pretty much from anywhere from real life experiences or the exaggerated fantasy of living the rock and roll dream, usually a combination of the two creating a blend of reality and fiction.
Hypothetically speaking of course, if you could travel back in time (or into the future even, say tomorrow….) and play your music to any one of your musical heroes, who would it be and why?
Would love to get our music heard by as many of our heroes as possible from Kiss, to Motley Crue, Guns n Roses, Ozzy ,AC/DC…  I suppose if I could have my music heard by some that are no longer with us, Dio, Dimebag from Pantera, and Kevin Dubrow  from Quiet Riot.  All of these artists who made me want to do this in the first place and I would love to hear the result of that inspiration thus far. Hopefully they would all be proud as we are attempting to carry the torch while honouring their legacy and accomplishments.
So if you were asked to have your music featured in the soundtrack of a movie, what kind of movie do you think it would likely to be for?
That's a tough one, because I think our music could be used in a number of different scenarios. We definitely have songs that could be heard in a party scene, or maybe in a strip club.  I could envision our stuff be used in a comedy, drama, or even an action or horror movie.  I honestly think there are endless possibilities in that area.
If you were a person in the crowd at one of your gigs, what five words would you walk away using to describe the performance you just witnessed?  
High energy, crowd inclusive, rocking!
You are based in West Virginia, for those of us reading this in galaxies far, far away, what do you have to say about the rock scene where you are based?
The scene here is kind of small but very supportive.  There are some other great rock acts from here the most notable being Bobaflex who we've learned a great deal from and become good friends to us.
With 2012 already a couple of months down, here's a chance to gaze into your crystal ball. By the end of 2012, Zeroking will have:
1.Shot and released our first music video
2.Recorded our 2nd full album
3.Played to many new audiences in more areas than ever before!
Essential Information
From: West Virginia, USA
Sounds like: Hard rock
Band members: Andy Haught – Vocals, Chris Webb – Drums, Shane Day – Guitar, Paul First – Bass
Website: www.facebook.com/Zerokingfans
Latest release: Kings Of Self Destruction (2012, Vanity Music Group)