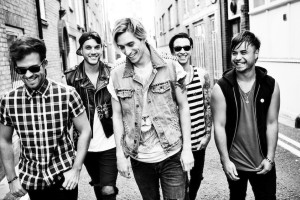 Strength comes from our bones – the knowledge that, deep down, nothing is impossible. 'Bones', the stunning new album from Young Guns, captures exactly that: it's a hymn to bravery and boldness, the defining statement so far from one of our finest bands. http://youtu.be/qk3vjIDuy9w
Celebrated U.K outfit YOUNG GUNS hit Australian stages this May/June in support of their highly praised landmark new release "Bones".
Having formed from the ashes of a variety of local bands, Young Guns' first release was the striking 'Mirrors' EP in June 2009. But it wasn't until debut album 'All Our Kings Are Dead', unveiled in July 2010, that they began to really show what they were capable of. Backed by a groundswell of popular support, the band hit magazine covers, headlined the HMV Forum in London, toured Australia and played the Main Stage at Reading and Leeds Festivals; in the backs of their minds, though, they knew they could do better.
And they were right.
"We've written something that I feel happy describing as 'brave'," says frontman Gustav Wood, "and it will challenge a lot of people's preconceptions about what sort of band we are. It's an ambitious record, and we have the ambition to match the sound."
With 'Bones' Young Guns have started their second chapter. The underdogs have bared their teeth and shown what they're really capable of, but while a whole new audience is about to be introduced to the wonder of Young Guns, the band themselves aren't surprised how well the album turned out. They knew they could pull it off. They felt it in their bones.
Don't miss YOUNG GUNS with special guests Closure In Moscow 
 The Hi-Fi Melbourne  Wednesday May 30th,
The Hi-Fi Sydney Thursday May 31st
The Hi-Fi Brisbane Friday June 1st
 These three shows are part of The Hi-Fi Shoreline Series – a series of shows across The Hi-Fi venues celebrating the opening of The Hi-Fi Sydney.
"A juggernaout of power **** " – Kerrang
"The UKs finest rock band cement their position at the top of their game **** " – Front
For all details head to www.thehifi.com.au.
– all shows 18+ events
http://www.facebook.com/younggunsuk http://younggunsuk.tumblr.com