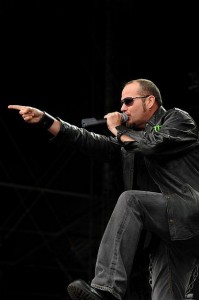 TIM RIPPER OWENS (YNGWIE MALMSTEEN, DIO DISCIPLES, BEYOND FEAR, JUDAS PRIEST, ICED EARTH)
For the first time solo in Australia and New Zealand, Tim Ripper Owens performing Judas Priest classics, along with tracks from DIO, ICED EARTH, YNGWIE MALMSTEEN plus his own solo projects.
Owens is without doubt among the most important metal vocalists of the past fifteen years. When he joined JUDAS PRIEST in May 1996, succeeding Rob Halford, the press rubbed their eyes, surprised as well as impressed: Owens had previously been a fairly unknown singer to international music journalists with only a few aware of him from his band WINTERS BANE but he recorded his first PRIEST album, the Grammy-nominated "Jugulator" (1997) with more aplomb than even insiders had expected. Following successful tours with the British metal legends, the strong studio recording "Demolition" (2001), and the live recordings, "Meltdown – 98 Live" (1998) and "Live In London" (2003) were released as well as the movie "Rockstar", which was loosely based on Tim's experience with JUDAS PRIEST.
Halford's return put an end to Owens' stint with JUDAS PRIEST however he was more or less Immediately enlisted by Jon Schaffer to team up with ICED EARTH to sing on "The Glorious Burden" in spring 2004. Three years later, Owens followed suit with the ICED EARTH album "Framing Armageddon (Something Wicked Pt. I)", which succeeded the self-titled highly praised debut by his own band BEYOND FEAR. Spring 2008 saw Owens move on to join one of the world's best guitar players Yngwie Malmsteen, debuting with a sensational vocal performance on "Perpetual Flame". This was was followed in 2010 by the critically acclaimed Malmsteen outing "Relentless". In 2011, Ripper joined with DIO band-members to create Dio Disciples, which has toured Europe and the US to keep alive the music and legacy of the late Ronnie James Dio.
Released in May 2009, "Play My Game", the first solo album from Owens, landed at position No. 66 on the Top New Artist Albums (Heatseekers) chart. The CD was released via SPV/Steamhammer and consists of around a dozen brand-new tracks featuring compositions by Owens along with songwriting contributions from renowned friends, such as Bob Kulick, Chris Caffery (SAVATAGE, TRANS-SIBERIAN ORCHESTRA), Mike Callahan (ex-EARSHOT) and John Comprix (BEYOND FEAR, RINGWORM). The list of guest musicians reads like a who's who of rock and metal and includes: Doug Aldrich (Whitesnake), Bruce Kulick (KISS), Jeff Loomis (Nevermore), Craig Goldy (Dio), Michael Wilton (Queensryche), Carlos Cavazo (Quiet Riot), Steve Stevens (Billy Idol), Billy Sheehan (Mr Big, David Lee Roth), David Ellefson (Megadeth), Rudy Sarzo (Dio, Ozzy Osbourne), James Lomenzo (Megadeth, White Lion), Simon Wright (AC/DC, Dio), and Vinny Appice (Black Sabbath, Dio).
This is your first chance to see one of the most important vocalists of our time – THE RIPPER!
Judas Priest: Painkiller

Tim Ripper Owens AUS/NZ tour: Promo video

TOUR DATES
---
May 17 – Melbourne – The Hi Fi
supports
BLACK MAJESTY – PEGAZUS – BERSERKERFOX
---
May 18 – Hobart – The Brisbane
supports
TYRANT – TABERAH
---
May 19 – Brisbane – The Hi Fi
supports
INHAILED – MALAKYTE
---
May 20 – Adelaide – Fowlers – All Ages
supports
DOUBLE DRAGON – UNIVERSUM – A MURDER OF CROWS – OCTANIC – RAVEN BLACK KNIGHT – MATTERHORN
---
May 21 – Perth – Amplifier
supports
DIAMOND EYE – EMERALD CITY
---
May 24 – Newcastle – The Cambridge
supports
CRIMZON LAKE
(Featuring Paul Mario Day of The Sweet, Lionsheart, origional vocalist for Iron Maiden)
&
HAZMAT
---
May 25 – Canberra – The Basement
supports
HAZMAT – THE DEVILZWORK
---
May 26 – Sydney- The Hi Fi *Being pro filmed for live DVD release
supports
CRIMSON LAKE – NORSE – HAZMAT
---
May 27 – Wollongong – The Patch
supports
HAZMAT – NEKROFIEST
---
Jun. 01 – Wellington, New Zealand – Bodegas
supports
RAZORWYRE
---
Jun. 02 – Auckland, New Zealand – Kings Arms