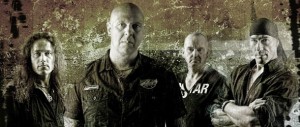 UK's modern hard rock band "TAINTED NATION" have sign a worldwide management deal with Germany's ROCK N GROWL MANAGEMENT.
TAINTED NATION are: Pete Newdeck – Vocals (Eden's Curse, Grim Reaper, Killers, Steve Grimmett), Pontus Egberg – Bass (The Poodles, Lions Share, Zan Clan), Ian Nash – Guitar (Steve Grimmett, Lionsheart) and Mark Cross – Drums (Firewind, Outloud, Helloween, Kingdom Come).
Rock N Growl and Tainted Nation are currently shopping the recording "F.E.A.R.", produced by Pete Newdeck and mixed/masterd by Dennis Ward, securing a record deal very soon, to get out live and start the talking!
Pete Newdeck, UK based drummer, singer and song writer, who is mostly known for his work with Eden's Curse and bands like Grim Reaper, Killers and Steve Grimmett, started writing songs with band mate and friend Ian Nash, also Steve Grimmett's guitar player in 2009.
Being on tour with Eden's Curse supporting Scandinavian band Stratovarious and Firewind in May 2009 on their UK tour, Pete and Mark Cross, drummer of Firewind at the time, also Outloud, ex – Helloween, Kingdom Come …), became close friends and talked about the idea of forming a new band, only this time with Newdeck as the lead singer!
Newdeck's vocal abilities were truly convincing and in spring 2010 Pontus Egberg, Bass player of Sweden's rock sensations «The Poodles» completed the line up.
Newdeck, Nash, Cross and Egberg, recorded their debut album in the UK and mixed and mastered it in Germany under the supervision of Dennis Ward, producer of many successful international artists and «TAINTED NATION» was brought to life.
The four of them gave interviews to the British press and announced the new band at FIREFEST in Nottingham, UK on October 30th.
Tainted Nations' music can be described as a commercial, modern and powerful sounding rock mix.
A sample of Tainted Nation's new song "Dare You", from their forthcoming "F.E.A.R.", is available below:
www.facebook.com/taintednation
www.taintednation.co.uk
www.twitter.com/taintednation
www.myspace.com/taintednation.co.uk