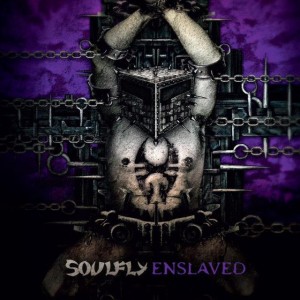 In 25 words or less: "This is a metal album from a band who know what they're doing and do it well."
So on this nice Sunday afternoon I was looking for some music to set the mood and relax to. Of course the only choice was the new Soulfly album 'Enslaved', I mean, wouldn't it be yours?
This is the first Soulfly album in two years, their eighth as a band and is a welcome return for the band now in the fifteenth year together. This sure is one heavy album with riffs left, right AND centre as well as from every other direction you can think of. The music is, and I use this term, as is used far too often, brutal, it's just a sonic boom of everything happening at once and it works. Max Cavalera is in fine form with his growls at the forefront giving Soulfly their distinctive sound, he's a killer metal singer and I love what he's done with the band on this new release.
First single 'World Scum' is the obvious choice for just that and is one of if not the stand out track on Enslaved. It's hard to sit here and talk about each of the fourteen tracks individually as I'd pretty much say the same thing. 'Heavy and musically killer' as I've already mentioned. So I won't do a play by play and will only single out the tracks that really jump out at me, oh, like this one 'American Steel'.  A little bit of diversity here and some great guitar tones / parts throughout and also one that jumps out from the pack for me. We get a nice guest appearance by Dez from Devil Driver / Coal Chamber on 'Redemption of Man by God' which is sweet as his vocals take the song to a new level!  Enslaved just continues on and on and delivers more and more. The final track 'Soulfly VIII', an almost acoustic, yes, acoustic affair is an amazing instrumental interesting way to round out the album but a really cool piece of music.
I've pretty much been a one man circle pit at home while listening to this, which if anyone was to witness would just see me jumping around stupidly. This is what this music does to you, pumps you up, gets you going and leaves you wanting more. I can't speak ill of this album, it does what it set out to do and did it well. That is, delivered a brutal slab of metal. Is it dinner party music? Well I suppose on who you're having over to dinner…
Essential Information
From: Pheonix AZ, USA
For fans of: METAL!
Release date: March 13, 2012
Record label: Roadrunner Records
Producer: Zeuss, Max Cavalera
Website: www.soulflyweb.com
Tracklist:
1. Resistance
2. World Scum
3. Intervention
4. Gladiator
5. Legions
6. American Steel
7. Redemption of Man by God
8. Treachery
9. Plata O Plomo
10. Chains
11. Revengeance
12. Slave (deluxe edition)
13. Bastard (deluxe edition)
14. Soulfly VIII (deluxe edition)