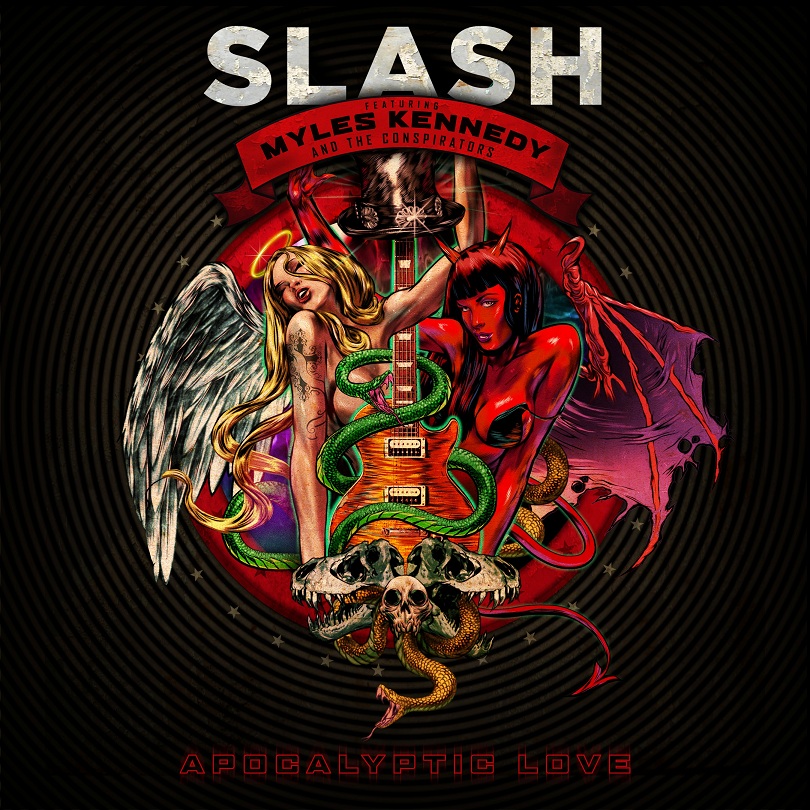 REVEALS TRACK LISTING FOR 'APOCALYPTIC LOVE'
NEW SOLO STUDIO ALBUM FEATURING MYLES KENNEDY AND THE CONSPIRATORS
RELEASED MAY 18, 2012
Off the back of his Australian visit last week, where we were lucky enough to hear nine tracks from it and to talk to SLASH about this upcoming album (look for that interview closer to release), SLASH has revealed the track listing for his forthcoming album APOCALYPTIC LOVE which will be released on May 18, 2012 on SLASH's own label Dik Hayd International via Sony Music Australia. The first single from the album 'You're A Lie' made its global premiere last week on Australian radio and is already impacting rock fans internationally.  The hard-charging song- has already achieved #1 most-added at Active Rock Radio in its first week of US release.
APOCALYPTIC LOVE features SLASH and his bandmates Myles Kennedy and The Conspirators–Myles Kennedy (vocals), Brent Fitz (drums) and Todd Kerns (bass). The full track listing for APOCALYPTIC LOVE is below. All the songs were written together by SLASH and Myles Kennedy.
1 – Apocalyptic Love
2 – One Last Thrill
3 – Standing in the Sun
4 – You're a Lie
5 – No More Heroes
6 – Halo
7 – We Will Roam
8 – Anastasia
9 – Not for Me
10 – Bad Rain
11 – Hard & Fast
12 – Far and Away
13 – Shots Fired
APOCALYPTIC LOVE is the follow up album to Slash's debut solo album Slash which upon its 2010 release debuted on the ARIA album charts at #3 and has since surpassed platinum sales.
www.slashonline.com
https://twitter.com/#!/slash
Check out SLASH's newest studio update with a sneak peak at 'You're a Lie'