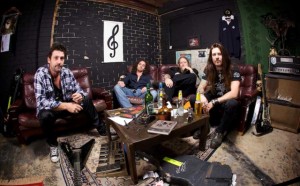 Starting this weekend in Melbourne, the month of March will see The Poor bring the beast out of the garage and clear the cobwebs for a handful of select shows to kick start the year with their No Bullshit, Straight Up, Rock N Fucken Roll approach.  After some well received shows with ZZ Top and Rose Tattoo in 2011 the band is keen to get out and attack some of their own dates and test drive a few new tunes that have come from writing sessions that have so far produced 17 new songs.  This year will see the guys working on new product along with making their entire back catalogue available to new and old fans alike.  The first installment being the new release Double E.P which is available from iTunes, featuring the Rude, Crude and Tattooed and Underfed E.P releases.
We chatted with Skenie last night, read it….
Hey mate, thanks for taking the time to chat tonight!  So first things first, what have you guys been up to so far in 2012?
We've been writing our asses off actually.  We're actually having a jam right now, getting ready for these shows this weekend.  We've got 17 songs up our sleeves now for the new album, so we've got to get out and road test them.
So these songs are brand new ones you've just written?
Yeah, we only started writing them this year.  We were just playing some shows and cruising along, then suddenly the inspiration was there and we locked ourselves away a few months ago and it all just gelled.
When are you looking to release a new album?
Well we might be going to France in the middle of the year, so if we do that then it will push the album back just a little bit.  But if we don't go there, we will just be concentrating on the album. I don't know whether you knew of Greg Clarke, but he was basically our 5th member of the band and recorded a lot of our stuff and an old mate as well.  Having lost him now, we're searching out our options for other people and producers.
You just mentioned France, whilst I suspect you may not be able to reveal exact details just yet, have you got a bunch of shows lined up over there during their summer/festival season?
At the moment we've got a few shows pencilled in.  We got signed to an indie label and things have been going really well for us over there.  At the moment there's really only a handful of shows and we want to do at least a couple of weeks worth of shows to make it worthwhile going over.  So if it doesn't happen, we'll just concentrate on the album and we are definitely confident about these songs and that they're going to do something.
The Poor has been back now for a few years, with 2 album releases, EP Re-issues and a bunch of live shows, so anyone that needs to know you guys are back should know.  How has the reaction been so far to the albums and the live shows?
Actually, it's all been slowly stepping up with each tour.  I mean we can't really tour like we used to for months on end, but when we've been heading away for shows over the weekends, they've been going really good and been building up and building up.  We're really looking forward to this weekend in Melbourne and then this weekend in Sydney.
What about the uptake of new fans to the band, with the popularity in rock music still strong at least at a local level, have you found a bunch of new generation fans?
Definitely a bunch of younger faces getting into the band.  Every now and again I get onto the Facebook page and chat to a few people and noticed that they are younger fans as well.  I've actually had quite a few people going "ohh, Dad used to play you're album all the time, I've grown up with The Poor.". I think the kids like the coolness of it all, when everyone didn't give a fuck.  It got a little bit politically correct there for a while after we sort of went bye the bye.
A few weeks ago, you released of a couple of the older EP's via iTunes, can we expect to see all your old stuff being re-released at some point soon, obviously Who Cares being the obvious!
Yes Who Cares looks like it's going to get re- released as well.  Sony took everything off the shelf that we did with them and that's been a real pain in the ass, as people have been asking for that album for years.  We had like a 10 year sliding scale of the contract that we couldn't get out of, or couldn't release.  But we've now got all the rights to our album back.  They still owned the copyright on the actual covers, so as we did on the E.P, we just took a photo of them and fucked around with them a bit and released them again.
Going back to France again, did you have much European interest back in the day?
Yeah we did have a pretty big following back in Europe, mainly Germany and Belgium and places like that.  With France I remember these guys that were just doing an interview with me, they were doing interviews with me back when Who Cares came out.
Now speaking of The Poor as a live band, last year you added ZZ Top to a list of bands you've played with, such as the likes of AC/DC, KISS, The Scorpions, WASP, Alice In Chains & Van Halen…are there some specific things you have taken away from experience of playing before such legendary bands and no doubt large crowds?
Those things are just like life you know, those kinds of things are just experience and of course also having the opportunity to play so many live shows and big tours.  You know what to expect and how to get around things and do things on the road and get the best stuff out of your gear, and where to get it (laughs)!
Things sure have changed now in 2012 as far as the live music scene hasn't it, the bands, the venues, the punters, the beer, do you feel that it's harder, or easier for a band these days to try and make a go of being a live rock band?
I think the earlier you go back, the easier it sort of seemed to be!  Because there are just so many fucking bands out there these days and so many good bands.  We're just lucky that we are an established band and it's a little easier to step back in and start doing shows again.  When The Poor split up just before 2000 and that and I went and joined another band and we basically started from scratch with my other band Lump, for 8 years we slogged away trying up get there.  You know we released an EP and a couple of albums and we were just starting to get a bit of recognition and the band split up, but that was after 8 years you know, it takes time.
The thing these days there's so many bands out there but a decreasing amount of venues!
That's exactly right and the venues are wanting to make their money and don't really give a fuck who you are really.  They just want to put bums on seats and have people drinking the place dry.  They want bands that can pull and at least we have a bit of a foot in the door as we were established before hand.
Essential Information
From: Australia
Band members: SKENIE – Vocals, MATT WHITBY – Bass, JULIAN GRYNGLAS – Guitar, GAVIN HANSEN – Drums
Website: www.thepoor.com.au
Latest release:  Double E.P (February 2012, The Poor)