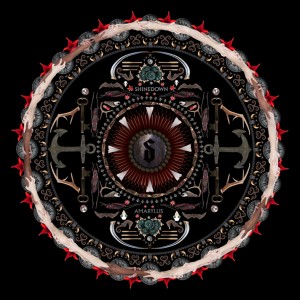 In 25 words or less: "This is truly a great rock album, every song is as good as the next and it's one that I'll happily continue to listen to."
It's been four long years since we last had a new album from US Rockers Shinedown and thankfully we now have some brand new music from them in the form of 'Amaryllis'.  This is the band's fourth album and is it fair to say it could be their finest to date?  Guess we'll see at the end of it, but after hmm… maybe 12 listens through it so far, I guess you could say I'm pretty impressed.
'Adrenaline' is the perfect way to get this album started, it's a rocker (as they all are) but this sets the tone for what is to come and it only gets better, for me its reminiscent of 'Devour' from 'The Sound of Madness' and we all know how good that song is.  You may have already heard the first single 'Bully' lifted from the album and it's strong lyrical content, a great move from the band, a great message and one that hopefully continues to be talked about.  This song gives us somewhat of a new sound for Shinedown with an almost industrial style sound resonating through it at times and Zach Myers' guitar tone sounds amazing on this one, I mean, I love the song and it showcases the powerful voice of singer Brent Smith and any song that can do that is OK by me.  Title track 'Amaryllis' is a perfect mid tempo rocker with a huge chorus and destined to be a single from the album, if not then someone needs a talking to.
Second and newest single 'Unity' is a great message and the production on this one is monstrous, this is one that I can see being played live and just blowing the roof off when it hits that chorus with thousands of hands in the air.  These are the kinds of songs that give me goose bumps, I guess that's what music does to some people, but this one is a stand out, by far.  'Enemies' has a groove to it that is heavy and flows into 'I'm Not Alright' complete with horn section, yes, horn section, and is most definitely a toe tapper with a different kind of feel to any previous Shinedown song but it works, I like it more and more each time I listen to it. I dig 'Nowhere Kids' again, this is a perfect song to be performed live and I can see it being a show opener, it would suit it perfectly.  Although odds on 'Adrenaline' would kick the shows off but hey, they can change it up every now and then.
Now, for me there's always one track that absolutely sticks out above the others on an album, and on 'Amaryllis' for me even though I mentioned 'Unity' before, it's 'Miracle' that takes the cake. This is an all-around perfectly created rock song and if it isn't a hit then I'll be more surprised than the time I found out that I could click the top banner of my folders on windows and it took me to the previous folder.  That was a great day.  Anyway, I digress as always.  'Miracle' is my pick on the album, listen to it, love it.  The orchestra we've heard in some previous tracks returns for 'I'll Follow You' and it's once again a good marriage, they should have kids.  This is a big song that starts as a piano track and builds into an emotionally driven huge power ballad style song, it's a winner.
Only a few songs to go which is a shame as I'm truly enjoying this album and I don't want it to end but 'For My Sake' makes me forget it's coming to an end with a straight up rocker, and once again massive production that kicks the song into another gear.  The industrial beginnings of 'My Name (Wearing Me Out)' are intriguing and the driving beat behind this one and the passion in it kicked my ass about four times over, this song rocks hard. And now we reach the end of 'Amaryllis' and 'Through The Ghost' which is an acoustic driven track with their friend the orchestra again and a great wind down to what was an energetic, high powered, well written and produced album.
This is truly a great rock album, every song is as good as the next and it's one that I'll happily continue to listen to and my only hope is that it gets the love it deserves, and if Shinedown are in your city, go and see them, well that's only my recommendation, but to hear these songs live will be where they shine and I for one am looking forward to it.
Check out our chat with Shinedown's Barry Kerch here…
Essential Information
From: USA
For fans of: Rock!
Release date: 23 March (Australia) 27 March (USA)
Record label: Roadrunner Records Australia / Atlantic Records
Producer: Rob Cavallo
Website: www.shinedown.com
Track listing:
Adrenaline
Bully
Amaryllis
Unity
Enemies
I'm Not Alright
Nowhere Kids
Miracle
I'll Follow You
For My Sake
My Name (Wearing Me Out)
Through The Ghost