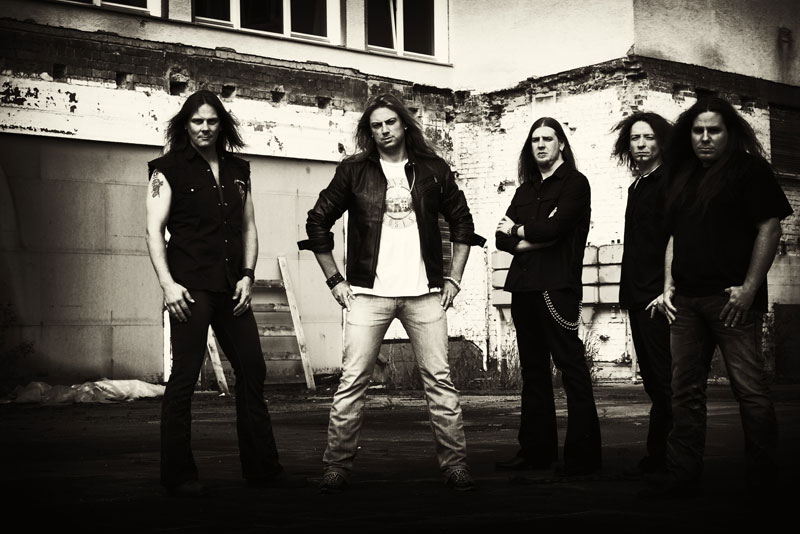 PUMP, the German heavy rockers featuring ex-BRAINSTORM singer Marcus Jürgens, have inked a worldwide management deal with ROCK N GROWL MANAGEMENT. PUMP are working on their fourth record with the working title "Waiting For The Rapture" to be released in later 2012.
Rough mix of the new song "Halo (I Don't Care)":
PUMP is a band with a solid foundation and real Rock-N-Roll blood runnin' down their veins. Five guys who where only born to do one thing, rock the world! So get ready to rock! Welcome to the world of PUMP!
PUMP is:
Marcus Jürgens – Vocals (Brainstorm, Kashmyr)
Marcel "Selly" Bernhardt – Guitars (Tales Of Sorrow, Unfroynd)
Michael Vetter – Bass (Watch Me Bleed, Chinchilla, Outrage, Unfroynd)
Axel "Aki" Reissmann – Guitars (Downspirit, Hazy Shade)
Andreas Minich – Drums (Unfroynd)
PUMP was formed in February 2002 by a group of talented, hard-working musicians and have released 3 full-lenght albums. Tired of being told what type of music they should play, PUMP decided to go against the pervasive Grunge/Nu-Metal grain to play the hard rock music they love in the vain of Skid Row, Tesla, Whitesnake, Aerosmith and Dokken. Their defiance has paid off. After only a short time, they are taking hard rock and metal to a new generation. PUMP's current line-up is led by vocalist Marcus Jürgens, whose raw vocal ability contributes to the band's distinctive sound. The guitar team of Marcel "Selly" Bernhardt and Aki Reissmann each bring his own unique guitar style to this hard-driving mix: bluesy, yet melodic with a heavy twist. Bassist Michael Vetter and drummer Andreas Minich provide the solid, rhythmic foundation on which the music is built. PUMP has what it takes to bring hard rock to a scene hungry for music that is loud, heavy, and straight from the gut. The music is about good times, bad times, sex, booze and lots of life stories, all wrapped up into high-energy Rock-N-Roll music. It's pure, not pretend, not faked or forced. It's just simple, but PUMP has something special, a gift, the passion, the drive, the ability to make it happen. It's time to stand up and salute the next generation of Rock-N-Roll music.
PUMP share the stages and played festivals in the past: Rock For One World 2012, Alice Cooper, Rock Of Ages Festival, Warmbronner Open Air, House of Lords, On Tour with U.F.O 2009, Air Axes Festival, Dokken, Harem Scarem, Crystal Ball, Shakra, Pretty Maids, Helloween, Primal Fear, Axel Rudi Pell Tour 2004, Building a Force – Metal Festival, Tattoo-Fun & Relax 2004, Queensryche, U.D.O., United Forces Of Rock Festival, Metal-Inside Festival, Mystic Prophecy, Vengeance, Angel Days Festival, Freedom Call, Domain, Pink Cream 69, Human Zoo, China, Dark Sky, Foreigner, Gotthard, Golden Earring, Suzi Quatro, Axxis, Kissin Dynamite, etc.
Next Shows
23.03 Wildeside Club Münsingen ( D ) www.rockbar-wildside.de
25.05 Rocknacht Tennwil ( CH ) www.rocknacht-tennwil.ch
Discography
2012 – Waiting For The Rapture (working title)
2009 – Sonic Extasy
2006 – Breakdown to Breakthrough
2004 – Against everyone's advice
Web
www.facebook.com/profile.php?id=100001786568024
www.pump-rocks.net
www.myspace.com/pumprocks