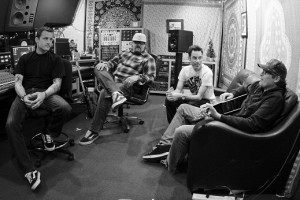 Notorious Southern California punk rockers 
Pennywise 
are back in full force and swinging harder than ever. The band who have inspired many throughout the world with their hard charging songs of self-reliance and perseverance, prove themselves once again with 
All Or Nothing
, one of their most powerful and heartfelt albums to date. The album will hit the streets this April 27 care of long time 
Pennywise 
allies Epitaph Records.Fans can preview the album's title track, a blistering high energy punk anthem called 
All Or Nothing 
on 
KROQ.com
.
"We knew we were up against a lot, and we needed to write the best record we've ever written," says Bassist Randy Bradbury. "And I think we may have just done that. That will be for the fan's to decide but we are really proud with the way this record came out. I haven't felt this excited about a Pennywise album since Full Circle."
"It felt like we got to go back to our roots in the songwriting process," adds guitarist Fletcher Dragge. "There was a lot of passionate discussion between everybody. In the old day that's how our best records got made, lot's of yelling and smashing s***. And as a result the music started sounding like an old school Pennywise record. At the end of the day this is just a loud hard fast aggressive punk rock record and that's what we do best."
Formed in the South Bay of Los Angeles, a neighborhood with a rich punk rock history,Pennywise began in 1988. The band would go on to amass an international following through relentless touring and a melodic high energy sound merging melodic surf punk, blistering hardcore and the classic punk of their youth. The group has solidified their place in punk history with songs like the raging F*** Authority, Alien and the band's now legendary ode to brotherhood and departed friends Bro Hymn.
"Our music has always been about persevering against all the odds," Dragge says. "We love doing this. There's nothing more important to us than being on stage in front of our fans and having them sing our lyrics back at us and feeling that energy."
Watch an entertaining and revealing behind the scenes video detailing the volatile and hilarious making of the new album by going to KROQ.com
Pennywise's highly anticipated new album All Or Nothing is set to arrive in stores April 27 via Epitaph Records.