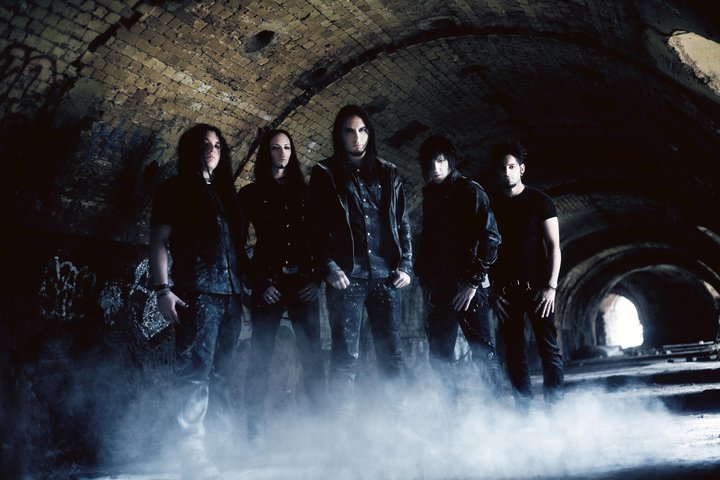 From Official Bio:  Our Last Enemy are the dark horses of Australia's heavy music scene – if you haven't heard the name yet, remember it – you'll be hearing a lot of it very soon. A brutal live reputation for theatrically unpredictable shows has created a strong live following and unparalleled local buzz – Our Last Enemy are known for crazed audience interactions and an intensity that results in band member injuries and crowd frenzies.
Ultimately it's the killer tracks, infusing industrial rhythms with lashings of dark metalcore rock and chunky metal riffs, that keeps the punters headbanging and coming back for more. This unique blend of extreme genres resulted in Our Last Enemy's current EP release, '…Is Death' selling out two pressings, single '10,000 Headless Horses' being featured in soundtracks and compilations, and remixes becoming dark/alternative nightclub favourites.
After a big year in 09 including support slots for STATIC X, DOPE and HANZEL UND GRETYL, and decamping to LA to record the debut album with Christian Olde Wolbers (Fear Factory) 2010/11 is set to be even bigger with a huge tour planned for mid year. With a new lineup that includes Bizz on guitar from legendary cult Florida industrial metal band Genitortures (Feat. David Vincent of Morbid Angel) and The Undead (ex-Misfits) and Craig on keys and samples the bands profile is raised to a truly international level.
Don't miss your chance to experience the chaotic blend of tightly structured mayhem that is Our Last Enemy.
We chatted to Our Last Enemy's bass player Matt about the new EP and why they're one of our Best Things You've Never Heard…
You've just released a new EP what was the thinking of doing this rather than just waiting for the second album?
Well we wanted to do a couple of things, the next album we wanted to do with as much effort and time as the first album but we wanted to have something come out in the meantime.  We've also got two new members who we wanted to write with fairly quickly as well, to not have it on a big a scale as the album and to get something out faster we thought, let's just do an EP.  So we got six songs together and released them.
Song wise on the EP, are these all brand new tracks or ones you've had for some time and have now let see the light of day?
Oh well, basically we'd been doing this from writing to finish, I'd probably say it was a good nine months or so.  We did a lot of pre-production, we would demo all of them and then if we thought ok this idea's working, or we'd change it up or someone would come up with a different idea.  They were basically, the ideas are quite old but some of the parts are quite new, even to the point in post-production going Ok I think this sample would work better and we'd all agree on it or disagree on it and so on.  So the ideas in general are probably nine to ten months old.
After releasing the debut album, did you do anything differently in the recording process on the EP?
Yeah well we did it all pretty much ourselves.  Our guitarist Bizz has his own studio so we did a lot of the work there, so that was one thing.  We had a lot more control this time around rather than having a big producer and basically not having to answer to anyone and we could do whatever we wanted, so that was the biggest thing.  We also got to do it at our own pace, that was the biggest thing, doing most of the work ourselves and the fact that we did a lot more pre-production that was another thing.  With the last album it was more jamming and jamming and jamming whereas this time around we were kind of sitting there listening to the songs and figuring them out and talking about the songs, writing everything down and it was a lot more thought out this time around.
How would you describe the EP to people?
I've used this before.  In a sentence, it's as sharp as a razor and as blunt as a brick in the face ha ha. That's the best way I can explain it, we've got an intro track, we've got five songs, we've got one of the heaviest songs we've ever written in the title track called 'Wolves of Perigord' so it's really fast paced, really high in the BPM and faster than what we usually do.  Then we've got a song called 'Devour The Sun' which is very industrial, it's got a lot of sample in it, it's probably one of my favourites at the moment.  We've got another one called 'Internus Diablos Verni' which is probably like very main vein, like what we do, very groove orientated, and then we've got some orchestral stuff going on as well, so its pretty broad even though it's only five or six songs.
What's the meaning behind the title 'Wolves of Perigord'?
We got the title, Oli and I usually send animal attack videos to each other on YouTube and stuff, we'd fine like 'Bear vs Bear' or 'Bear vs Jaguar' or something and all the guys would get into it and start sending them.  One night we were looking up wolf attacks and came across the story of the Wolves of Perigord, which were a pack of wolves, I think about ten of them if I remember correctly, but they attacked this region in France in the 1800's or 1700's and they killed around eighteen people and basically they shook this region to its core.  Even Kind Louis put out a reward to have them dead and we just like the idea that these wolves, even though they were just doing what came naturally to them, you kind of chased after and persecuted, and they kept doing it until the last one was dead, so they kept doing it no matter what the consequences were and we kind of saw some similarities between that and a band doing what they want to do to despite what the outcome is going to be.  So that's where it comes from.
When can we expect the second album?  Are you working on it?
Yeah, it's just very, very early, we've just got a few riffs, a few samples, Oli's talking about another type of concept, so it's very, very young at the moment and we're concentrating on the EP at the moment, but yeah we've started jamming on some new stuff.  In terms of when it would come out I'd say, you'll probably start hearing about it at the end of this year and it'll be next year before anything comes out.
Have you written any material for the next album?
we basically put everything into this EP and anything that couldn't fit we put aside for  maybe it'll work for the next album, so we've got a whole bunch of those.  We've also got a few other riffs which we've just been coming up with at rehearsal, it's nothing solid, but there's some ideas coming about but it's really early days for what it'll sound like.
In conjunction with the EP you're playing a string of shows across the East Coast.  For those that have never seen you play before, can you give us an insight into what one of your live shows entails?
Well we usually hurt ourselves a lot, everybody gets into it, we play the songs as best as we can and we put on a show at the same time, so we're not one of those bands that just stands around and plays this brutal music.  So we jump around and throw things at each other and try and push each other off stage so there's a good chance one of us will fall off the stage so that's a good thing to see.  At the end of the day we walk off the stage and say 'what happened to you?' and Jeff goes, 'Oh I just broke my finger' and we played with Fozzy here Sydney and I sliced my head open on the bass, that was pretty brutal.  I had a guy carry me off stage and they were all worried about me, so something like that is bound to happen, but we just like to put on a good show and as they say Rock out!
Touring wise, obviously you're playing here, but have you looked at going overseas at all?
Yeah well we went to New Zealand last tour and we were going to go to Japan just before the Tsunami and the Nuclear Zone disaster, so we canned that as we were going to go pretty much around that time, so we canned that and decided to record the EP.  So we'll hopefully go back to New Zealand this tour, we haven't got dates yet but hopefully we'll be back this year.  Then we're talking about going back to The States again, or Europe.  Half of us want to go to The States and half want to go to Europe so it's about what's going to be the best for us at the moment, so we're kind of talking about that with our booking agent and what contacts they've got overseas so that's kind of getting worked out for whether we go to The States or Europe, but definitely within the next nine months we'll definitely do New Zealand and either Europe or The States again.
With some line-up changes over the last couple of years, has that brought a different dynamic to the band?
Yeah definitely, I mean Bizz, he was in Genitortures which is a big Florida industrial band and he brought a lot more and a different way of approaching things, I mean the biggest thing he brought to the band was more emphasis on pre-production, which is something we'd never thought about, well obviously we'd thought about it but not put much emphasis on.  We were usually more about jamming it out, but this time around we were more about talking about it, organising it, trying different ideas before we'd rehearse in the studio and things like that.  Craig is a different type of keyboardist than we'd had, he's very sample orientated and he loves to come up with different samples and throwing them in different areas.  He can sit there for hours just listening to sounds and he'll go 'Hey guys what about this?' and we'll throw that on.  So definitely a lot more thought out is the answer, rather than a freestyle jam.
What does the rest of 2012 have in store for Our Last Enemy?
Well we're going to do this first tour, then we're going to do a couple of what we call 'Stab Shows' we'll keep going back to Melbourne and Gold Coast and Brisbane, we'll go to New Zealand again.  We're hoping to do two videos for the EP, I don't know which songs we're going to do yet, that's still something we're all talking about but we hope to do two videos for this one.  Then we'll start our plans for going overseas in going overseas and then we'll start our plans for the second album, so this year is going to be all about the shows really.
Essential Information
From: Sydney, Australia
Sounds like: Metal
Band members: Oliver – Vox, Matt – Bass, Craig – Keys, Bizz – Guitar, Jeff – Drums
Latest Release: Wolves of Perigord EP (Riot! Entertainment)
Website: http://www.ourlastenemy.com
TOUR DATES – March – May
Thu 29 March: Beer Garden Gold Coast
Fri 30 March: The Hi Fi Bar Brisbane
Thu 26 April: The Loft Warnambool A/A
Fri 27 April: Community Hall Shepparton A/A
Sat 28 April: Revolver Upstairs Melbourne
Sat 5 May: TBA Wollongong
Fri 11 May: The Wall Sydney
Sat 12 May: TBA Newcastle
Sat 19 May: Cavern Club Adelaide
Sat 26 May: The Basement Canberra