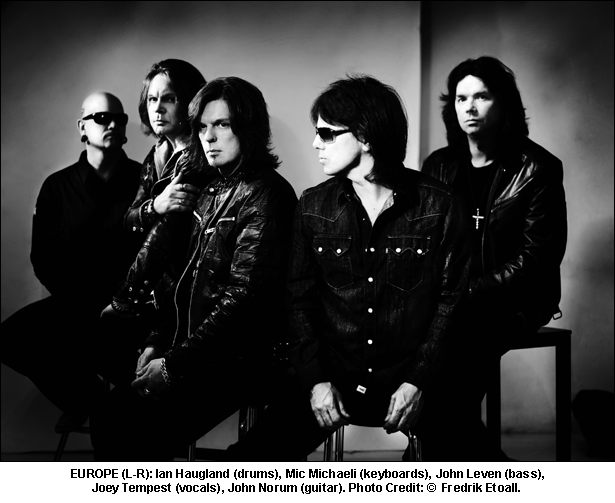 earMUSIC, rock leg of the Hamburg, Germany, based full entertainment company Edel, is thrilled to announce the new album of THE Swedish rock supergroup, EUROPE. The long player, set for UK release on Monday 30th April 2012, is entitled Bag of Bones.
The new record was produced by one of the world's most prestigious producers, Kevin Shirley. No stranger to the crème de la crème of iconic rock, Shirley has produced albums for Iron Maiden, Joe Bonamassa, Black Country Communion, Black Stone Cherry andJourney.  Bag of Bones features 11 brand new tracks, including the first single, Not Supposed To Sing The Blues, which will be serviced to radio this Friday, March 2nd and will be released digitally March 9th.
The band recently unveiled the album artwork and now is ready to confirm the track listing of the new album, which is said to be a milestone in Sweden's biggest hard rock band's long lasting career.  Prior to the recordings, when EUROPE front man Joey Tempestconfessed, "We're ready to do some serious damage," – he could not have been anymore correct.  Bag of Bones was already titled "one hell of a record" and is the successor ofEUROPE's 2009 album Last Look at Eden, which proved to be the band's most important record since The Final Countdown.
Says singer Joey Tempest: "Finally we express ourselves completely without restraint. Straight from heart and soul. It took some time but WE HAVE ARRIVED!"
Contributing slide guitar to the title track Bag of Bones is no one less but currently hottest blues rock name, Joe Bonamassa. "We're honored that Joe Bonamassa wanted to play some slide guitar on our record. We're all big fans of his music", Tempest points out.
The album, which features a more straightforward rock approach including the trackDoghouse, already performed during the band's most recent European tour, is going to be available in a standard CD version as well as on classy vinyl.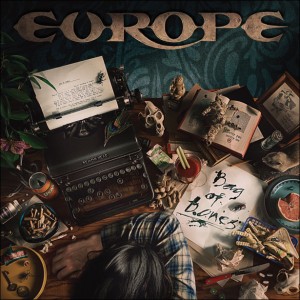 Album Track Listing:
1. Riches To Rags
2. Not Supposed To Sing The Blues
3. Firebox
4. Bag Of Bones
5. Requiem
6. My Woman My Friend
7. Demon Head
8. Drink And A Smile
9. Doghouse
10. Mercy You Mercy Me
11. Bring It All Home
EUROPE drummer Ian Haugland sums up the taste of the new album – "If Bag of Bones was a dinner menu at a restaurant, it would get 5 stars in the Michelin guide. We are ready to take your orders!"
EUROPE are also embedded into the European Handball Federation's (EHF) Champions League finals in 2012. Part of the EHF & EUROPE Campaign will be a band performance during the "Final4 tournament" award ceremonies on May 27th in Cologne, Germany.
Having confirmed some first festival appearances across Europe over the summer, the Scandinavians are also set to hit worldwide stages with extended touring fall and onwards. 
01.05. Thanks Jimi Festival – Wroclaw (PL)
17.05. Bikers Festival – Wetzikon (CH)
25.05. Metallasvenskan – Orebro (S)
24.06. Graspop Festival – Dessel (B)
30.06. Kirunafestivalen – Kiruna (S)
21.07. Olsa Live – Porvoo (FIN)
27.07. Rock Of Ages – Seebronn (GER)
ESSENTIAL EUROPE WEB LINKS
OFFICIAL EUROPE WEBSITE 
www.europetheband.com
OFFICIAL EARMUSIC WEBSITE
www.ear-music.net
OFFICIAL EARMUSIC YOUTUBE CHANNEL 
www.youtube.com/earmusicofficial

OFFICIAL FACEBOOK 
www.facebook.com/pages/Europe/7795004209
OFFICIAL EUROPE TWITTER 
http://twitter.com/europetheband
OFFICIAL EUROPE MYSPACE 
www.myspace.com/europe
OFFICIAL EUROPE YOUTUBE CHANNEL 
www.youtube.com/europethebandtv 
 
OFFICIAL EUROP TOUR BLOG 
http://europethebandblog.blogspot.com 
 
OFFICIAL EUROPE MEDIA BLOG 
http://europethebandmedia.blogspot.com