"We feel really good about it, and to be honest I think some of the things were scary for everybody, we were taking risks and we were definitely all pushing ourselves, but we worked so hard and for so long that I think it worked out, so I'm very happy with it."
Since the late 90's New Jersey thrash / metal band God Forbid have released five albums, toured with the likes of Gwar, Lamb of God, Cradle of Filth and in 2004 played the OzzFest bill off the back of their album 'Gone Forever'.  Relentless touring and a couple more albums and a change of guitarist saw them catch the attention of Victory Records where they now reside and are about to release 'Equilibrium' their sixth full length album, a melodic metal rocker and one that should get them noticed and take them where they want to go.
We had the opportunity to talk to God Forbid guitarist Matt Wicklund about the new album, touring and about their new home at Victory Records.  Check it out below!
You're about to drop your newest album 'Equilibrium' on March 26, tell us what people can expect from it?
It's a different album for sure, it has, to me anyway, all the elements that you would expect from God Forbid, you know the choppy riffs, the grooves, you know everything that you're used to, but, there's new elements added.  There's a lot more hooks, there's a lot more catchy melody everywhere, there's more guitar solos, there's a lot more singing and I think the singing styles are a lot more developed.  It's a very dynamic record; it's some of the fastest and heaviest material the band's ever done, and definitely some of the most melodic.  It's just a different dynamic; it's a very interesting listen I would say.  We feel really good about it, and to be honest I think some of the things were scary for everybody, we were taking risks and we were definitely all pushing ourselves, but we worked so hard and for so long that I think it worked out, so I'm very happy with it.
It's your first album with the band, how was the experience for you in getting into the studio with the guys to record it?
That was very easy for me, there are a few reasons.  One, I love recording and I've done it a few times professionally and I do it every day as I'm writing and its part of the process for me is recording and I'm just very comfortable in that position.  Also we've been practicing and writing and rehearsing together for so long, I think we were just really prepared and we all knew what was expected of us, we got in there and we did it with confidence and it was really fun.  I mean we also did the guitars and bass at Byron's house and it took some of the pressure off.  When you're at a big studio and it's costing you several hundreds of dollars a day, it's not more, that puts a lot of pressure.  You're at a friend's place and it was very comfortable for us.
On the flip side, did you bring anything to the studio that the band may not have considered previously?
I believe so, I wrote a large portion of the music, I'd say Doc and I split the guitars and the composition side of it, we split that evenly, so I think the difference will be obvious for anyone that listens to it. I brought a lot of the hooky nature, a lot of the shred guitar kind of stuff, a lot of really melodic elements I think I brought to the table.  That's probably the main thing anyway.
What was the idea of sharing the studio updates along the way?
Just to get people hyped up for it and get an insight into the process, I think it's really just to get people interested and aware of what was happening.  I think it worked and we haven't really been on the road for a while, so we had to let fans know what was going on and that we were making it happen.
Watching the updates it seems that you used a number of guitars on the record, can you run us through a couple?
Oh yeah ha ha, I used, for lead, I use Ibanez RG guitars with DiMarzio pickups, mainly the tone zone and the bridge.  The rhythm guitars, a lot of that was PRS and ESP eclipse with bare knuckle pick up, like a mahogany body, like a Les Paul with bare knuckle, a tight rhythm sound.  So yeah, ESP, PRS, Ibanez.
Was that an N4 you were also using?
That was an N4.  I played two leads with the N4 on that record, I look at the guitars like paint brushes, like everyone has a tone or colour, and feel, everyone offers something when you're making a record.  It's kind of like making a painting, like using different tools to achieve different things.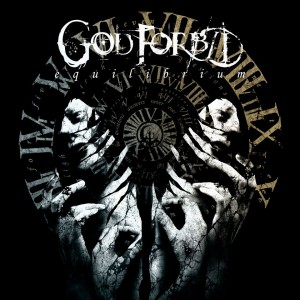 Is there a specific meaning behind the name Equilibrium for the album?
It is a name of one of the tracks which happens to be the most radio friendly track I would say, it's one that I wrote mainly musically and I'm very happy with it actually.  It's a theme that I think carries through the whole album I think and just about finding your way, finding balance in life.  I think at the time the music and the lyrics were being written, it was a big pivotal point for all of us, it was a big kind of change.  I think it's addressing the point of finding balance and the equilibrium in life.  It's a very personal album about dealing a lot with balance and harmony, but the lyrical content is for everyone to interpret as they will, so that's how I see it anyway.
The band has just signed with Victory Records, what does that mean for a band like God Forbid?
To release an album on Victory?  For us, we're very excited about it!  The label has treated us tremendously well and we feel really comfortable working with everyone there and they seem as excited about working with us as we do them, so it just feels really good.  You could even say there's a good Equilibrium (ha ha) that exists in that relationship where we gave all we got and they see that and they gave all they got back so we feel like we have a really good relationship, it seems very promising, like I think it's perfect.  I think we needed that, we needed a label, we needed a partnership in general with people that believe in what we're doing, and we got lucky, we found it.  I couldn't be any happier.  Growing up I was a huge fan of Victory bands, you know old school Victory bands like 'Integrity' and 'Earth Crisis', a lot of the old metal and hard-core bands back then.  I love music in general, I grew up not only a death metal guy, I was a hard-core guy, everything actually, classical music and everything, but the Victory bands were a big part of my inspiration through my high school years, so it's very cool for me to be a part of that label.
You're heading out on the road with the legendary Overkill, now for those that haven't seen you live before, can you run us through what a God Forbid show entails?
I think we try to bring a lot of intensity in general.  I think the band has always had a reputation of being very intense live and it's very loud, it's very heavy, it's very aggressive but it's also a lot of grooves, and we generally get the crowd moving a lot, spinning around, big circle pits, craziness.  So it's a very energetic performance and we try and be real tight too, I think there's a lot of energy coming off the stage, I guess that's how I'd explain it.
You mentioned before that you want to play everywhere but do you have any plans at all of heading down here to see us in Australia?
I don't anything is booked right now, but I know that we are actively looking to book everything, and we're talking to a lot of people about a lot of different things right now.  This is the development stage, the record's about to drop and we are taking bookings.  Within the next few weeks even we're going to see some announcements from the band, but I would like to get down there sooner than later.  I know there's some great festivals that happen in Australia, so that would be a lot of fun to come down there and play for everybody.  The Soundwave one is the one I'm thinking of. I think all of us want to go down there, so Australia is on the list.
What does the rest of 2012 have in store for God Forbid?
Mainly, a lot of touring to support this record and then also I've already started writing more music, so I want to stay really busy with the promotion of this record and starting to create the next one.  Personally I'm involved in a lot of guitar teaching at the moment and I like that, it keeps me focused and really locked into the instrument.  I've also started writing an instrumental record which I'd like to put out eventually, but the focus is going to be on supporting this album for all of us.  Be out on the road a lot.
Essential Information
From: New Jersey, USA
Band members: Byron Davis – Vocals, Matt Wicklund – Guitars, Doc Coyle – Guitars / Vocals, John Outcalt – Bass, Corey Pierce – Drums
Website: http://www.godforbid1.com
Forthcoming release: Equilibrium – March 26 2012 – (Victory Records / Riot! Entertainment)