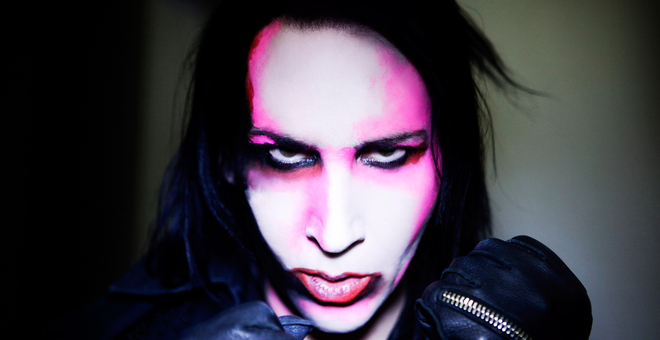 Rain rain go away. Seriously. Go away. It is awful tonight in Sydney yet people have come out in droves for yet another Sidewave. This time it's Marilyn Manson, Coal Chamber, Wednesday 13 and Motionless In White.
I walked in the door three seconds before Motionless In White started to see the crowd at almost three quarters capacity which is great. They're a great heavy band that got the crowd pumped for the night of geez I don't even know what to call it. Goth? Metal? Rock? All of the aforementioned actually.
Wednesday 13 on a Wednesday ha ha funny. Whoa, as mini Alice cooper complete  with cane hit the stage the crowd went wild and with crowd participation was in full flight early. 'I Walk With The Zombies' was awesome and a catchy little ditty. Loved it. Ladies and gentlemen cats and dogs welcome to a rock and roll show proclaims Mr 13 and when the singer talks you listen… 'I Wanna Be Cremated' is awesome with gang vocals provided by the crowd. Any band that sings a song about Rambo is ok by me. So Wednesday 13. You're ok by me. That was a great set and left the crowd wanting more.
Coal Chamber who have reformed for the soundwave festival hit the stage to screams as the crowd was about the witness something they have been waiting for for a number of years.  They belted out a set that had the crowd jumping in no time. Giving us a smattering off their first album and in essence a greatest hits set, they played like it was the last time they would and blew everything away! Killer set and a privilege to see. They absolutely owned the stage and it was like there were 20,000 people in the room for them if their bow at the end of their set was anything to go by.
Emerging in darkness with single streams of red laser shining through, Marilyn Manson had the sold out crowd eating out of the palm of his hand within seconds and 'Anti Christ Superstar' was an instant crowd pleaser, but very soon the crowd stopped eating.  Now, I've never seen Manson before so it's something to definitely see, musically the band is tight and it's them that give the performance life. By the way, I'm keeping count of how many times he's thrown his mic stand, we're four songs in and the count is 13, ooh now 14 as I type. He's most definitely keeping his roadie on his toes tonight. Noticeably Mr Manson isn't the shock rocker he used to be, proclaiming he's been sober now for 20,000 seconds… Hey it's a start. Keep it up and we may have enjoyed this more. A very dark stage with minimal lighting and his spending a lot of time down in the crowd made this a less than visually spectacular show.
'Dope Show' was interesting to say the least. A powerful song that tonight was lacking its power. 'Personal Jesus' was a highlight though, always loved that song and it was well received tonight, but as he continued to almost mumble through the songs it was evident that there was either no want to be there or simply this is what has become of a man that once scared the b'jesus out of many, and shocked even more.
'mOBSCENE' sounded great musically. Let's leave it at that for that one. 'Sweet dreams' WERE made of this and never hearing it live before it was cool, but man I wish it was ten years ago right now as at the moment this is a little more like a nightmare. Then he went on a rant rant during '1996'. Wow. I don't think one person at the Enmore tonight knew what was going on at this point and by the looks on people's faces as I looked around the room, yeah… This song went for close to fifteen minutes and ten of it 'talking' it was interesting to say the least.
Emerging for an encore to play the song many came to see which is of course 'The Beautiful People' and forgetting the somewhat lackluster performance tonight the crowd still lapped up this song and hey if they enjoyed it then that's all that matters. I always look at it like this, if you enjoy something so much, you don't even care if its bad and that's evident by his dedicated fans who were just happy to see Marilyn Manson live again.
A somewhat puzzled crowd left The Enmore after tonight's very short (just over 60 minute) performance. Oh and ps the mic throwing count was at 48. I wish I had a time machine to have seen Manson in his hey day, I probably would've enjoyed that.
Essential Information
Venue: The Enmore Theatre – Sydney
Date: February 29, 2012
Supports: Coal Chamber, Wednesday 13, Motionless In White
Website: www.marilynmanson.com
Set List:
Antichrist Superstar
Disposable Teens
The Love Song
Little Horn
The Dope Show
Rock Is Dead
Personal Jesus – (Depeche Mode cover)
mOBSCENE
Sweet Dreams(Are Made of This) – (Eurythmics cover)
1996 – (Spoken word version)
The Beautiful People