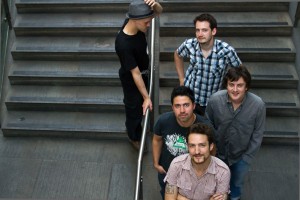 Frank Turner has just added solo shows in Darwin and Cairns to his already packed itinerary this May, and will also perform at the Wide Open Space Festival in Alice Springs, and Groovin' The Moo festival in Townsville. This will be Frank's first visit to each of these places, having already completed 2 sold out tours of Australia. The shows happen just weeks after Frank Turner takes to the stage for the biggest performance of his life, headlining at London's vast Wembley Arena!
Frank Turner continues his seemingly unstoppable ascent with a headlining tour of Australia this May! The charismatic British singer songwriter will be performing here for the first time with full band, The Sleeping Souls, in support of his heralded new album England Keep My Bones. Turner's latest deftly merges his poetic observations with a rousing and inspirational sonic palette. The result is an undeniably stirring work from one of the UK's best new songwriting talents.
In another first for Australian shores, Iowa USA's William Elliott Whitmore will join the tour as special guest. His new Anti-Records album FIELD SONGS proves that a man armed only with a banjo and a bass drum can be a formidable force. It's a record that honors the long tradition of folk music, while allowing Whitmore's punk, rock, blues and soul influences to shine through.
Melbourne's most talked about DIY punk outfit The Smith Street Band are also appearing at all shows!
Blue Murder and Bombshell present
FRANK TURNER AND THE SLEEPING SOULS plus WILLIAM ELLIOTT WHITMORE and THE SMITH STREET BAND
TICKETS ON SALE 9AM FRIDAY 16TH MARCH
Thursday 3rd May Railway Club Darwin
www.oztix.com.au 1300 762 545
Friday 4th May Wide Open Space Festival Alice Springs
www.trybooking.com
Saturday 5th May The Jack Cairns
www.oztix.com.au 1300 762 545
Sunday 6th May Groovin' The Moo Festival Townsville
www.moshtix.com.au 1300 GET TIX
Wednesday 9th May Amplifier Perth
www.moshtix.com.au 1300 GET TIX, www.heatseeker.com.au 08 6210 7270, www.oztix.com.au 1300 762 545
Thursday 10th May Espy Melbourne
+ Jen Buxton
www.oztix.com.au 1300 762 545
Friday 11th May Fowlers Live Adelaide (Licensed All Ages)
+ Jen Buxton
www.venuetix.com.au 08 8225 8888, www.moshtix.com.au 1300 GET TIX
Saturday 12th May Manning Bar Sydney
+ Jen Buxton
www.manningbar.com 1300 762 545
Sunday 13th May The Zoo Brisbane
www.oztix.com.au 1300 762 545
England Keep My Bones, Out Now on Epitaph www.frank-turner.com
Field Songs, Out Now on Anti www.williamelliottwhitmore.com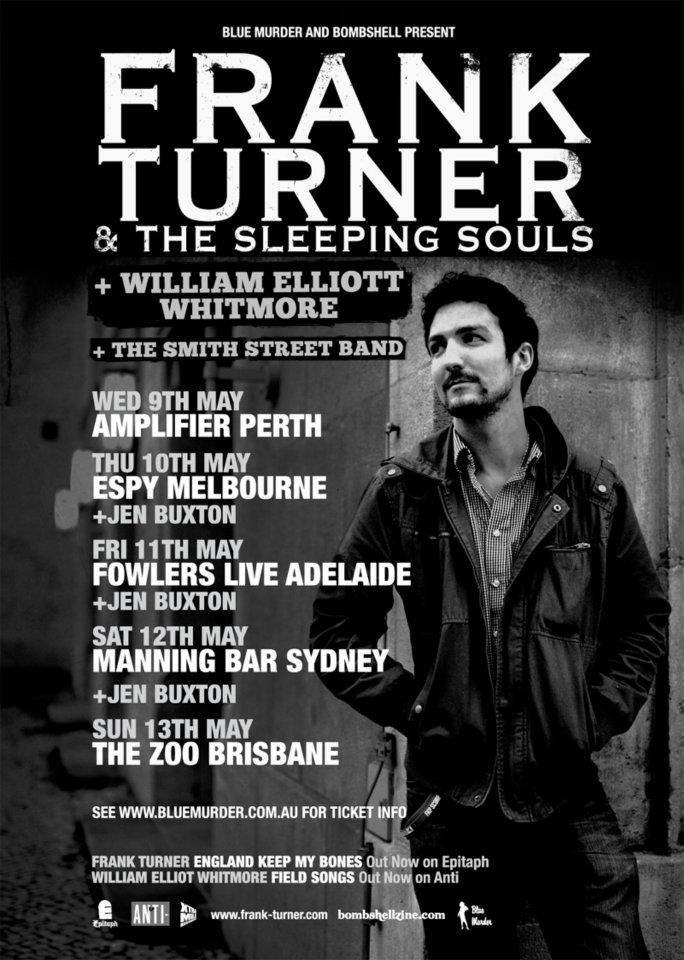 Comments
comments