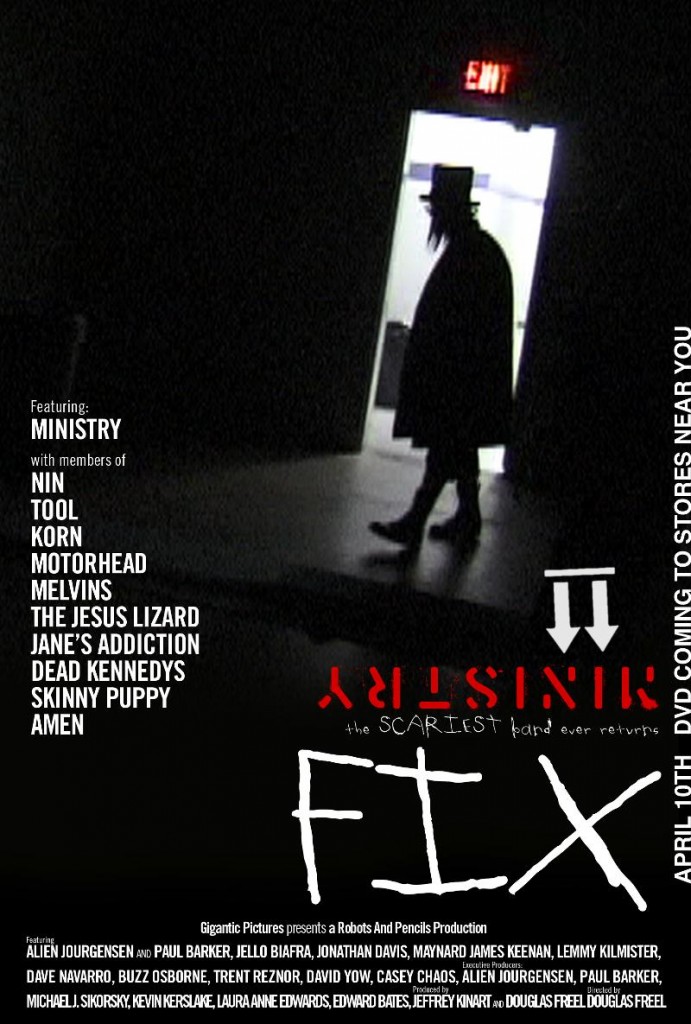 After years of controversy, FIX: THE MINISTRY MOVIE will be released on April 10th. Raw and uncompromising, FIX is the story of the rock band MINISTRY — hard living in the fastest lane, told for every fan, or merely the morbidly curious, whomsoever wished that just for a few nights they might have an all access pass into the belly of the rock beast –a chance to go behind that locked door at the back of the bus, and hang out one-on-one with whatever's lurking there.
Embedded during MINISTRY's entire SPHINCTOUR in 1996, director Doug Freel and a single camera captured the band poised to take on popular music's title of "Next big coolest, hardest, most bad-ass, thing," but Al Jourgensen's legendary drug abuse had him teetering at the very edge of insanity, all the while still at the helm and steering both the MINISTRY ship, and his own physical and mental health, straight into the rocks.
What started as a commitment of filming for a few days turned into the shooting of fifty-two successive shows in thirteen different countries.   Within the first few minutes of the finished piece, we see why the filmmakers felt compelled to stay on the tour as we too are drawn into the mayhem and the anarchic drama of life on the road with Ministry. It's like watching a car wreck in slow motion… It's hard to look away.
Trent Reznor (NIN), Ogre Nivek (SKINNY PUPPY), Dave Navarro (JANE'S ADDICTION), and even Lemmy (MOTORHEAD), also offer their own cautionary and colorful perspectives in FIX — on the devastating effects of the illicit and illegal behaviors that money, easy sex, and fame brought them all in the 1990's music world
Packaged along with the DVD will be a companion soundtrack from former Ministry member, PAUL BARKER, entitled FIX THIS.  The album features 11 new tracks by Paul along with Taylor Momsen (THE PRETTY RECKLESS), Nivek Ogre, Chris Connelley, Alexis S.F., USSA and Jeffrey Kinart.
You can pre-order the Ultimate Bundle now featuring the DVD, CD, T-shirt and Poster
HERE
.  Those buying the DVD will get the CD in the package, but you can also get the digital album on April 3rd.
The first track
 "reSpite" featuring Nivek Ogre
 was just put up for sale on the movie website…and rumor has it there will be more songs coming soon.  Get the track now at: 
http://www.fixtheministrymovie.com/