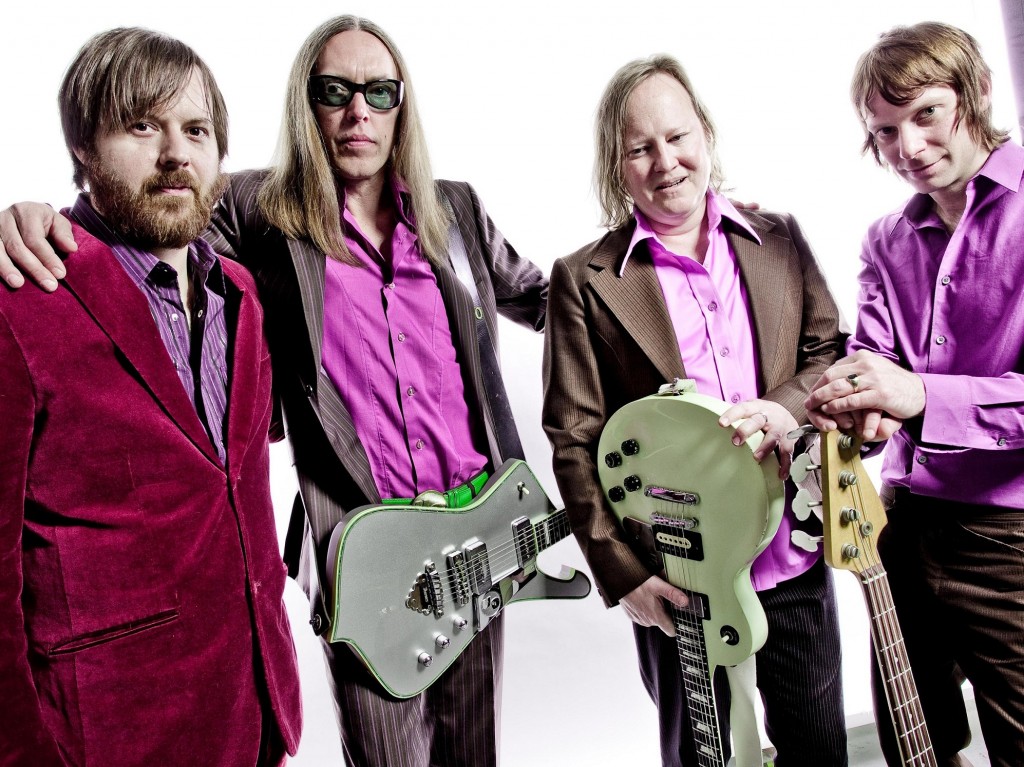 "I think we've come to probably enjoying playing together more than the early days, I think we got away with playing some less than stellar shows, but now that's really on the top of the agenda to go out there and really play well and have fun."
You may know who Urge Overkill are, and if you aren't aware of their work, odds on you've heard their cover of 'Girl You'll Be A Woman Soon' which was a smash as used in the movie Pulp Fiction, well if you've forgotten about them or haven't ever discovered them, now's a perfect time.
Sixteen years is a long time between albums and that's exactly how long Urge Overkill took to give us their newest kick ass record 'Rock & Roll Submarine', their first as a band since 1995's 'Exit The Dragon' which after that saw the band break up seemingly to never record together again.  Thankfully they have, Nash Kato and Eddie 'King' Roeser put their differences aside to once again get back in the studio, record this album and then set out on tour.
After having fun working out the time differences between Australia and Chicago, we had a great chat with Eddie 'King' Roeser all about Urge Overkill, their newest album 'Rock And Roll Submarine', why it took so long to 'em-Urge', and their upcoming first tour to Australia since 2006…
As their bio states – "Now is the time to discover the 21st Century Urge Overkill."
Firstly, welcome back!  Your newest album 'Rock & Roll Submarine' was released last year, it was your first as a band in a staggering sixteen years. What took so long to finally have another Urge Overkill album out?
Well I think it was unfortunate that it took that long.  Every stage took longer than it had to just because of, I can't think of one reason, but a lot of things conspired, once we first of all, it took us longer than we needed to.  The first step was to get together and play, Nash and I had both been doing music on our own and gradually the reasons for our break up became less acute and in the end, one can hardly remember what it is that was so terrible to break up the band forever but I was convinced at least in the short run and I still believe this to be true, had we got together and forced out a record it would've been, I think it probably would've been a bad record under duress and who knows what that may have done?  It may have only worsened our relationship as bad as it was at the time of our break up.  Being in Chicago, there were enough people who really couldn't understand and we had to endlessly go through why Urge wasn't feasible anymore and those reasons came to sound more and more hallow as the years went on, so we agreed to play a show and pretty quickly into the rehearsals for that, the really were some disagreements over what material we were going to play, but certainly no different than what we contended with throughout our career, there's always differences of opinion in any group situation and once we got the show under our belt we felt we could get to work on some new material, but that really, from that point it really did take a while, maybe six years to finally release a new record and I think we were just being pretty hard on ourselves and sort of thinking we could do no less than redefine the rules of the game and we were going to come out with some kind of shiny new game changing genre busting, I don't even know what it was.
It took us a little while to realise that wasn't going to happen and the best we could do was a really good Urge record that was to our liking, but a snap shot of what we do best as a band, there wasn't anything fundamentally wrong with the band, our direction or anything, it was more just the problems associated with more pressure on a band and the expectations of where our career was going to go, we differed on that.  It wasn't musical largely, so I guess we were kind of expecting lightening to strike and by the time we realised that we got some pretty good songs and what's more we have songs that we can agree on and all like, a lot of time had gone by and I think we did go through a couple of arrangements though that I think would've been the companies we were going to partner with wouldn't have been good, but in hindsight I don't think would've been good.  I would've liked the record to come out earlier, the end result only could've happened with this amount of time and in this way and we got through the ordeal ready to do another one rather than break up, so I think all in all, we're happy with the result and I think most of the people who waited most patiently were pleased with it and all you can do is go on and try and top that one and it certainly shouldn't take as long as this one did that's for sure…
I have to say I was in the States in July and music shopping at Amoeba and saw Rock & Roll Submarine and I was like a kid at Christmas, no idea it was out or that it was coming, so I never forgot ha ha.
Well that's great, I appreciate that, we didn't think the sound was broken really, I don't know what we were thinking.  We managed to put something out that kind of re familiarises them with what was always good about the band, rather than try to change or reinvent something that wasn't broken so that's what ended up happening and we've still got plenty of ideas and are in the process of doing another one, so that can't be all bad.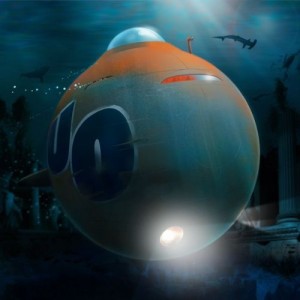 Where did the idea behind the Rock & Roll Submarine come from?
Well it's a funny thing.  We usually come up with a place holder title or kind of a gag title, we thought it was, and seemed funny.  The actual originator of the idea is from the drummer BQ and his conceit with the whole concept was that we were going to have an actual submarine and on the back he just had a vision of, I don't even know if you have those or what you call them in different places, here it's called a submarine sandwich and shaped in kind of an oval, like Subway and the whole idea is that it was going to be kind of a record concept that no one thought of in the 70's and just kind of cheesy and as we got closer to completing the record, we just kind of stuck with it.  The joke kind of turned into reality and for us it kind of developed multiple meanings, not just the idea.
The sandwich on the back was originally going to have some guitars hanging out of it and stuff like that and that was going to be a different elaborate drawing, but it's just this idea of having been out of the picture completely submerged exposed only to our own influences for so long that it came to be the reality to us.  It's almost as if the record ended up sounding more or less as if we had been at sea since 'Exit The Dragon' and hadn't had much contact with the outside world until this record and that all started to make sense.  Then we came upon just the idea, this way of transforming the logo as we always do and using it in an interesting way and having this submarine icon vehicle.  In the end, we found that it sort of brought a smile to everybody's face and we'd lived with it long enough that we felt like it conserved a sense of fun that we want to preserve within the band you know, it wasn't like a painfully serious concept, but still kind of outrageous in its ridiculousness.  So that's how it came about, it was something that started as a lark and we never stopped liking it.
You're here this week and this will be your first time back in Australia since 2006, what can fans expect this time around?
I think we're a much better band now, although I remember those shows quite fondly, but we've done quite a bit of playing since then and I think it'll be great.  I doubt if we even had any new songs back then and we're quite adept at playing these new ones and they've become part of the set and I think it's high time we come back there.
Do you have any memories from previous tours to Australia you can share?
Well, I remember the first time, when we came the first couple of time for our Geffen records, we had some great, some definitely all night parties, I do remember in one of those towns ha ha I ended up outside on a windowsill of one of your high rise hotels, we were having a party in one of our rooms and I don't know what got in to me, but that's a memory that I'll never forget because I had no business being outside, it was something like at least ten floors up.  We've played with some cool bands over there and generally, I got in a fight with a super model, a lot of crazy stuff.  We've always felt that we do have a special relationship with Australia and whether other bands love Australia, I guess everybody loves Australia, but we felt like we had a pretty good relationship, compared to rest of the world we felt very much at home and that you guys 'got' us you know?
It is the sound, and personally I think you were before your time, with songs like Sister Havana and Positive Bleeding almost 20 years old now but they still kick so much ass, I think it's fair to say that both would be a hit if released today. Did you ever feel you were a bit before your time?
Yeah I think we were a little bit, at the height of the grunge era, everything was dark and serious and 'feel my pain' and I think that some of the aspects of what was fun about Urge was it was a little ahead of its time, I agree.  I'm just glad we were able to put this together and to be able to travel around and play our music to this day, I mean we took a good amount of time off and it's great that we sort of feel like its still, it's not something we do certainly because it's some kind of reunion for somebody that offered us a bunch of money, once we got together and it felt like something special and something worth preserving, we're able to do it and there are enough people that are interested in hearing us.  Now I guess we don't take it for granted as much anymore, back in the day it was all such a blur, I think we've come to probably enjoying playing together more than the early days, I think we got away with playing some less than stellar shows, but now that's really on the top of the agenda to go out there and really play well and have fun.
Is it fair to say that you're here to stay now?
I have to say that as long it's feasible to do, I don't think we're going to run into any creative difficulties like we had before, we went through that and like I said, that wasn't the tipping point that broke us up, but it's been enough and surprisingly it's been more fun to just create that something out of nothing than I thought it would be.  We're not hitting it so hard that we're going out and playing everywhere that will have us, we're able to choose to go where it makes sense and we haven't been slogging it out at the Motel 6 three hundred nights a year, we've been trying to keep it so that if it starts to become no fun, we'll probably quit, but I don't see that happening, it's actually become, the more familiar that you get, the more you can play around with the music and feel at home on stage and it's gotten to be just plain fun.  You know we're not a pressure cooker anymore, it still feels great.
Lastly, do you have a message for Australia?
It's always great to go somewhere we haven't been for a while, I've been to all these cities and that's become a little old hat but Australia's always going to be a new place for us and we always felt like it was a good home for Urge, so thanks.
Essential Information
From: Chicago, USA
Band members: Eddie "King" Roeser-Vocals/Guitar , Nash Kato-Vocals/Guitar /Bass, Brian Quast-Drummer.
Website: http://www.urgeoverkill.com
Latest release: Rock & Roll Submarine (2010)
Catch Urge Overkill in Australia on the following dates
THURSDAY 8TH MARCH: MELBOURNE, THE ESPY
Tickets $45 + bf from www.espy.com.au, ph: 1300 762 545 or in person at the Espy Bottleshop and all Oztix outlets
FRIDAY 9TH MARCH: BRISBANE, THE ZOO
Tickets $40 + bf from feelpresents.oztix.com.au, ph: 1300 762 545 or in person at the venue box office and all Oztix outlets
SATURDAY 10TH MARCH: SYDNEY, THE GAELIC
Tickets $44 + bf from feelpresents.oztix.com.au, ph: 1300 762 545 or in person at all Oztix outlets
Comments
comments