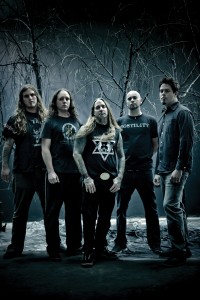 DEVILDRIVER are pure fucking metal!!!
DEVILDRIVER has always been a band on a three-pronged mission: Work hard, rock harder, and kick as many asses as possible in the process. Since their inception, DEVILDRIVER have made a monstrous impact on the metal world with their thunderous grooves, haunting vocals and crushing live performances.
DEVILDRIVER tear through metal again with 'Beast', their 5th studio album an exorcism of animalistic primal hooks, death metal percussion and propulsive thrashing with Rocksound calling ' Beast'  "pure fucking class" and Revolver magazine declaring "From the bowels of hell, DEVILDRIVER has unleashed a "Beast" that will leave a trail of bloody scars and broken bones wherever it may roam".
SIX FEET UNDER have taken reign as the biggest death metal band in the underground scene today" – The Gauntlet.
Featuring the legendary godfather of death metal Chris Barnes, SIX FEET UNDER has been delivering their brilliant brand of unapologetic metal since 1993. Their latest album 'Death Rituals', sees them delivering bludgeoning slabs of death, doom and destruction that only enforces their position as one of the most important bands in death metal history.
Australian fans have waited what seems like an eternity for SIX FEET UNDER to tour and they finally get their chance to see them this May
There have only been a select few that can claim the sustained ferocity and relevance over the last fifteen years that DARKEST HOUR can. Quite simply, they are a metal phenomenon.
Mastering, ascending and maturing from each album they have created, DARKEST HOUR return with their 7th studio album 'The Human Romance'.  With fangs bared, unstoppable and more menacing than ever with every passing riff and scream "This is how metalcore should be: layered, dynamic, passionate… easily the best Darkest Hour have been" – Rocksound
Don't miss your chance to see modern metal at its crushing best as DEVILDRIVER, SIX FEET UNDER and DARKEST HOUR tour Australian in May. 
——————————————————————————————————-
TICKETS ON SALE NOW! 
FRIDAY 4 MAY – BRISBANE, THE TIVOLI – 18+
www.ticketek.com.au
SATURDAY 5 MAY – SYDNEY,THE HI FI– LIC/AA
www.thehifi.com.au
SUNDAY 6 MAY- MELBOURNE, BILLBOARD18+
www.moshtix.com.au
MONDAY 7 MAY – ADELAIDE, FOWLERS LIVE– LIC/AA
www.moshtix.com.au
WEDNESDAY 9 MAY – PERTH, CAPITOL18+
www.moshtix.com.au 
Presented by Soundwave Touring