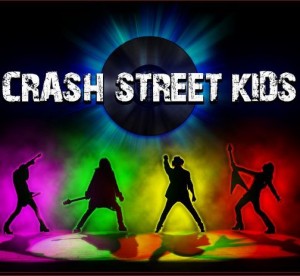 Official Bio: "Loaded with equal parts glitter and sleaze, Crash Street Kids mark their return to the scene with an unabashedly filthy record called Sweet Creatures.  Unusual in this day and age, the Kids are extraordinarily prolific having released 3 critically acclaimed concept albums in 3 years, capped by a blistering double live record.  Fans wanted to know what they would do next. Wisely, the band kept plans for their new album close to the vest.  Would they expand on the "Supersonic Star Show" trilogy or break new ground?  The answer is, to put it in Transatlantic Suicide terms, "the kid is dead."
Leaving behind the story line that CSK had developed over the course of 3 albums was surprisingly easy.  As drummer A.D. Adams says "we feel like a new band now, it's exactly what the doctor ordered."  "No question that expectations were high following Transatlantic Suicide," says singer Ryan McKay about trumping 2008's glittery magnum opus, "..but we thrive on that."
But don't for a minute think that Sweet Creatures is a big departure from their trademark sound.  The band sounds absolutely devastating on this platter.  A "new band" in attitude perhaps, but still carrying the echoes of Bowie, T. Rex and Alice Cooper in their make-up kits.  Veering wildly between foot-stomping glitter rock to snakey Exile on Main Street, Stones swagger to epic Queen-like ballads and back again.  Nor should you think that it's a run of the mill collection of various songs with no central theme.  That's right.  Another concept.
Fans of the band's modern spin on glam will delight in the first single Bang, Bang! (You're Beautiful), a stomping, four on the floor anthem of utter filth.  That is if you find someone who's "drop-dead foxy, dope-sick and miserable" attractive.  Sad Julia marries the New York Dolls to Ian Hunter's early Mott the Hoople. With layers of guitars and Dylan-esque organ underpinning the lyric about a boy begging his love interest for a night on the town.
As a whole, Sweet Creatures tells the story of two runaways that find each other on the street and fall for one another while living as prostitutes.  In debt to their pimp, they blur the line between real love and love for a living. Along their journey they encounter drug pushers, fellow prostitutes, and transvestites.
McKay states, "At the end of the day, it's a love story. Weird, unsettling.  But sometimes that's what love is.""
We had Crash Street Kids drummer, A.D Adams fill us in on everything you could possibly want to know about the band…like, seriously!
Let's start with the basics first, when did the first band get together and what was the inspiration behind the band name Crash Street Kids?
A.D. Adams: First off, I'd just like to say thank you, May The Rock Be With You, for the ink, and thanks to all those reading this for takin' the time to find out more about us!  Here's hopin' that yer bottle is full, and that there's plenty of fuel in yer jet-boots!  Cheers!
Crash Street Kids began getting together in late 2004, mostly just hanging out down at the now-infamous, Shabbey Road Studio in Phoenix, Arizona…y'know…just a lot of beer and Jameson and listening to endless stacks of old vinyl.  Not much jammin' going on yet, really. We'd start talkin' about how we could write a song that would've fit perfectly on, maybe, KISS' Dressed To Kill album….or maybe, Silverhead's 16 And Savaged!  That's how the idea of playing music together started getting a life of its own, really.  We were, initially, just tippin' our collective hats to all the great glam and glitter bands from back in the early-to-mid '70's.
The name, of course, comes from the title of a Mott The Hoople song from the album, The Hoople (Side One. Track 4, if yer takin' notes!!!). I always thought that'd be a cool name for a band… We  just dropped one "D" from the original spelling, "Crash Street Kidds".  Also, if you were to drive through the neighbourhood where the studio is located, the words "crash street" would be a pretty fair description!! It made perfect sense!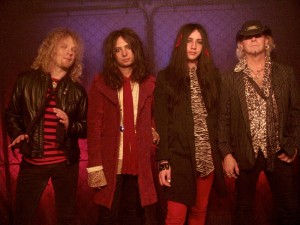 Can you introduce each member of the band and give us a rock 'n' roll fact or myth about each?
A.D.A: Sure can! And I'll go ya one further- I'll give ya myth AND a fact about each Kid!
OK… There's Ryan McKay.  He sings lead and plays guitar.  Myth: He accidentally got hit by one of Ace Frehleys' "Guitar Rockets" while attending a KISS show when he was very young.  And although he had never played a guitar before in his life, when he got home, he picked up his older brother's cheap acoustic and played the solo to "Strange Ways" note-for-note! Fact: Ryan is the band's main songwriter.
Next, we got "Tricky Ricky" Serrano on guitar and back vocals. Myth: He can actually fly and has X-ray vision! So when ya meet him, and he's givin' you the "funky eye", it means he's probably lookin' at ya naked… Oh, and they say that he once made Yngwie Malmsteen cry after seeing Ricky's awesome riffage at a CSK show! Fact: Of all the dudes in the band, he's got the coolest collection of platform shoes. NO CONTEST!!
Then, there's The Deuce (Deuce Gregory)… He plays bass, sings back vocals, and the occasional lead vocal.  Myth: He has a free, lifetime "Stud Pass" to the Bunny Ranch in Nevada, and all their franchises worldwide. It's been said that the 'Ladies' actually tip HIM for "services rendered"!  Fact: That myth is ACTUALLY a fact!!
My name is A.D. Adams. I play drums and sing back vocals. As for Myths and Facts: All I can say is, due to the Statute of Limitations, certain restraining orders, and writs of confidentiality, I respectfully would like to "beg off" on that question!! And all rumours and innuendo you may hear are totally false!
You have twenty seconds in an elevator to try and convince someone to listen to your new album Sweet Creatures, without resorting to threats or violence, what do you tell them?
A.D.A: I'd just pass the flask and tell 'em that they are about to have the best elevator ride EVER…then I'd whip out my MP3 player, we'd all strip right down to our nasties, and dance to Mary, Queen Of The Rock!!
Speaking of your latest album 'Sweet Creatures', this is now your 4th studio album…how would you compare the whole writing and recording process for this one, compared to your previous efforts, you guys should be seasoned professionals in the studio now…right?
A.D.A: We really took our time on this one, as opposed to the first three.  After the release of the Live album (our fourth full-length, which was actually a two-disc set) we felt like it closed a certain chapter in our lives….in a good way, of course. We really had a blast with the Supersonic Star Show trilogy, and the follow-up, obligatory double live album, but we had put those four records out in a span of only 5 years. We also included a documentary DVD with the third disc, "Transatlantic Suicide".  Add to that tour dates and video shoots, so we were pretty tired.  We really wanted to slow the pace down a bit and enjoy the process more.  Not that we hadn't up to that point, but we returned to spending more time with the old vinyl again, and a little less time burning up the 'Record' button. Slowing it down like that is why I think Sweet Creatures came out as strong as it did.
In terms of your song writing, what do you consider to be the most important ingredients that need to feature in a Crash Street Kids song…aside from a healthy dose of glam of course!
A.D.A: Catchy, singable melodies.  Lyrics that tell stories.  Sweet-n-powerful harmonies.  Arena-sized hooks in the choruses.  Old-school drivin' from the drums and bass… and a kick-yer-nutsack guitar solo…. Shake hard. Heat to boiling. Serve loud-n-hot, with a whiskey chaser!
And speaking of song writing, how have you noticed this has evolved over the history of the band, has it become more collaborative for example?
A.D.A: The process is still pretty much the same in that department. Ryan is the main songwriter, but brings them to the band so that we can each put our own stamp on it.  We all arrange, produce, add/change lyrics, and different parts, and all.  Ryan and I have been collaborating for years, well before the CSK days, so we're just really comfortable with the way it all goes down.  It's all so natural and easy, the process is never forced.  He is a very generous songwriter, so each of us brings a lot of our ideas to the table.
You have just released the video for your new single 'Sad Julia', so this is a perfect chance to give us some insight into what that song and video is all about!
A.D.A:  Sad Julia is a song about a beautiful shut-in.  She's the object of desire of (Adam) the 'hero' in the "kids-on-the-street"  tale that is our new album, "SWEET CREATURES".  He's just trying to get her to come out and spend another night on the town.  Reluctant at first, she changes from a shy, tired, bored, troubled girl, into a supersexy, UBER-HOT, street-struttin' cheetah!!!  Our dear friend and actress/model, Mysti Moon, stars as 'Julia' in the video.  Let me tell ya…if you haven't seen the video, you should check it out.  She is soooo damn gorgeous, and so sweet.  She was just perfect in the role of Julia.  When we were casting for the vid, she was the first, and last(!), call we made.  She totally KILLED it….and have I mentioned how freakin' HOT she is???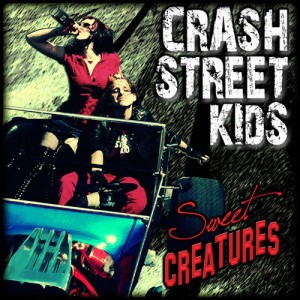 Over the course of the bands journey, what or who have you found inspires and influences your music the most, in both a lyrical and musical sense?
A.D.A: A lot of our influences, lyrically, come directly from living the rock and roll lifestyle…you could say that some of the songs could be construed as autobiographical!!  Of course, we wrap them in the colourful characters that are such a big part of our musical catalogue.  We create story lines and characters that we are already familiar with from our own pasts: Drug dealers. Endless bus rides and airline fights.  Shitty hotels.  Booze and women.  Shady music biz dealings.  All night parties.  You get the picture.  This is real to us, so we just package these into nice little ditties, all the while trying to keep the guilty grins off our faces!!!
Musically speaking, there are so many to mention, but bands like Slade, The Sensational Alex Harvey Band, T-Rex, Bowie, Mott The Hoople, KISS, Alice Cooper…oh, man…there's so many I'm leaving out….Humble Pie, Silverhead, The Sweet…..all those great bands are coursing through our collective booze-diluted blood!!!
Hypothetically speaking of course, if you could travel back in time (or into the future even, say tomorrow….) and play your music to any one of your musical heroes, who would it be and why?
A.D.A: Great question!!! Just ONE, huh???  Hmmmmm…I'd have to say Alex Harvey. He's gone now, and since I'll never get the chance to do that, so I'll back in time and go with him. Alice Cooper is a good friend, and a big fan of CRASH STREET KIDS, and has been to some of our shows already, so we can put him on the "already done" list! Also, I might have picked Ian Hunter, but since he's still alive and well, maybe we'll get that opportunity one day soon!!
Either way, it would be really cool to have the opportunity to say "thank you" to them all, because of the impact and importance they have had on our lives. So, yeah, Alex Harvey. I'd love to see his famous gap-toothed grin as we listen to "Harlot Of The Flies" together!!
So if you were asked to have your music featured in the soundtrack of a movie, what kind of movie do you think it would likely to be for?
A.D.A: I love cheesy horror flicks, so maybe it would be in a TROMA film!!! That'd be so totally badass to see the Toxic Avenger (or Sgt. Kabukiman, NYPD) kickin' ass and cuttin' heads off while CSK's "Destroyer" is blaring in the background!!!!
If you were a person in the crowd at one of your gigs, what five words would you walk away using to describe the performance you just witnessed?
A.D.A: Best. Show. I've. Ever. Seen.
You are based in Phoenix, Arizona, for those of us reading this in galaxies far, far away, what do you have to say about the rock scene where you are based?
A.D.A: Bloody AWFUL!! We're not into being "scenesters", really, at all.  We don't fit in anywhere around here, and we're quite OK with that.  The country thing is really big here.  And that godawful nu-metal noise, with that same, horrible, quadruple-layered guitar tones.  Everything is gated and compressed to the max!. Staccato power metal riffs, and the same damn halftime drum beats on every song.  The growling singer-guy.  The white, middle class, suburban rapper-kid doing the verses.  These are the bands that are playing the clubs around here. Terrible….  Also, it seems like, every day, there is a new "tribute" band popping up on every street corner…..Ugggghhhhh…. No thanks!  We just really don't have much in common with all that.
With 2012 already a couple of months down, here's a chance to gaze into your crystal ball. By the end of 2012, Crash Street Kids will have:
1.  Toured the USA and the U.K and released a couple more videos to promote Sweet Creatures.
2.  Started working on our next record.
3.  Been tossed out of the few remaining clubs we're still allowed into around here.
Essential Information
From: Phoenix, USA
Sounds like: Glam Rock
Band members: Ryan McKay – Lead vocals, guitars, Ricky Serrano – Guitars, Deuce Gregory – Bass, A.D. Adams – Drums
Website: www.crashstreetkids.com
Latest release: Sweet Creatures (2011)