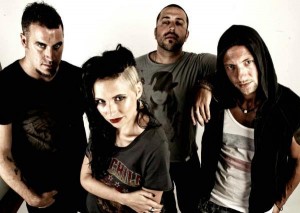 One of the most prolific alternative rock bands to ever come out of Melbourne, Bellusira has raised the standard of the scene yet again. With the impending release of their latest single 'Culprit' to be dropped April 6th and a series of shows along the east coast, fans are waiting with bated breath for the highly anticipated new material and live performance from a band that has sold out every single launch to date.
Fronted by the dynamic Crystal Ignite and her creative partner in crime Mark Dalbeth, it hasn't been an easy ride for Bellusira by any stretch of the imagination. So determined to reach their dreams, members found themselves moving countries, cities and even living on the streets. You can't argue with results however, and having shared the stage with bands such as The Misfits, Dead Letter Circus and Floating Me, it seems putting in the hard yards and plenty of sacrifice has begun to pay off. Now in 2012 the band will once again be touring and releasing a debut full-length album that punters will be salivating for once they get a taste of the first single 'Culprit'.
'Culprit' is a perfect sample of the greatness that is Bellusira. The relentless drums and 'chuggy' guitars have soared the well-established sound of alternative rock to new heights. Mixed with Crystal's powerful voice, the song is pulled together through seamless production that boarders on intoxicating.
With shows set up the east coast of Australia and the impending release, Bellusira has reached heights that Crystal and Mark Dalbeth could never have imagined while caught in the haze of their bleak youths. Though perhaps the most threatening aspect of all is that this band continues to rise, they've yet to reach their cruising altitude.
Bellusira: http://www.facebook.com/bellusira
New single: 'Culprit' out April 6
Tour Dates
Fri April 6. Bada Bing. Frankston, VIC
Fri April 13. Evelyn. Melbourne, VIC (ALBUM LAUNCH)
Sat April 21. Laundry. Melbourne, VIC (ALL AGES)
Sat April 27. Evelyn. Melbourne, VIC (ACOUSTIC)
Fri May 4. The Square. Sydney, NSW (ALBUM LAUNCH)
May 12. Bang. Melbourne, VIC
Sat May 26. Rollerderby. Bendigo, VIC
Fri June 8. The Zoo.  Brisbane, QLD (ALBUM LAUNCH)