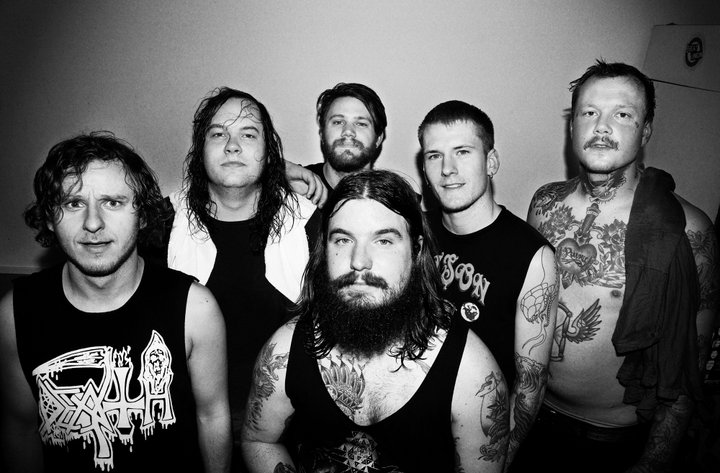 "We're really looking forward to finally seeing them and coming over, we've had a month off so we're definitely stoked and really full of energy.  We're just really ready to come and play so it's going to be really good."
From Bio: Kvelertak shamelessly draw inspiration from every corner of something that could fit into their idea of good hard-hitting and catchy rock'n'roll. Regardless of genre, but always truthful to the basic idea of the band; good songs performed with the tongue-in-cheek attitude of their punk-rock pioneers. Unlike the majority of heavier bands they sing in their native language – adding even more character to their already unique sound.
Coming to Australia for Soundwave, we called Norway, and spoke to Kvelertak guitarist Vidar about the band, their live shows, and just when we can expect some new material.
You're heading out here for Soundwave, your first time to Australia, have you been given any indication of what to expect?
Not really, nice weather, right now there's Winter and snow in Norway and so we're definitely looking forward to some sun.  We know that we have a lot of fans down there, ever since the record came out, people have been approaching us on email and facebook, as far as I know the record's been doing pretty good, so we're really happy to finally come over and play.  It was a real bummer when they cancelled the Soundwave Revolution but luckily we get to play the real Soundwave.
For those that haven't seen you perform live, explain to our readers what a Kvelertak live set entails…
Just a lot of bare chested men with a lot of testosterone, beards and just heavy music.  It's pretty simple and primitive.
How much fun is it having 3 guitarists in the band?
Oh it's the most fun band I've ever played in, well actually it's the only real band I've played in.  Usually when a band records they layer the guitars but we had the opportunity to bring that sound of wall out live, plus all our songs is based around three guitars with a lot of harmonies.
Your debut album was released in 2010 to rave reviews, how have you felt the reaction has been?
Oh it's been great, we didn't really know what to expect as it's our first record ever for every one of us and the reception was just overwhelming, from Norway and Europe and then the US and Australia, so we didn't really know what to expect at all, so it's kind of been a roller coaster ride ever since the record came out.
What was the decision behind recording the album in your native language?
Actually at the beginning we had lyrics in both, we tried to have songs with both English and Norwegian lyrics just for fun, but we stopped with that pretty early, it's just for Erlend the singer it's natural for him to write lyrics in Norwegian and sing and express himself in Norwegian.  It's also been in both punk and Black Metal bands, it's always been a tradition to sing in Norwegian, so it came pretty natural for us to do it that way.  We never thought about singing in English or anything like that.
How do you feel that fans connect to it even though they more than likely can't understand what is being said?
Yeah definitely, and I don't think the language matters in that way, in Norway people don't really know what we're singing about either, but we wrote in the sleeve of the cover of the booklet, we write a line or two and you can read what the song is about, so yeah so most people have an idea what the songs are about and I think that's enough for a lot of people outside of Norway, especially in the US maybe, they find it really exotic that the lyrics on the first album is about Norse mythology and stuff like that.
Your music is based mostly about Norse / Viking folklore, is this a theme that you think you will continue using?
No, that was for the first album, or at least the lyrics I've seen so far will have a different theme, but I don't really know how it's going to turn out, but there is definitely not going to be a lot of songs about Odin and Thor all over again.
I believe late last year you'd started work on a new album, how is that progressing?
Yeah, we started to rehearse again as we had a month or a couple of weeks off to rehearse again, so we rehearsed two new songs and there's a couple of new songs that we've been writing since we got home, so we're going to start to rehearse again very soon, so hopefully we'll start recording the new album in September this year, but because we've been so busy touring we haven't really had any time to sit down and rehearse new songs.  We might be playing two new songs in Australia actually, hmm…
When do you think we'll get to hear the end result?
I can't really see anything being out before January next year, so you'll need to wait another year.
It seems you've been on tour pretty much since the album has been released, when are you planning on coming off the road?
We came back home from the last European tour in December, since then we've only had a couple of weeks off, I would say now is the time we have more than a couple of weeks off.  So we've basically been on the road for 18 months or so.
Tell us about your support slot with Foo Fighters and how that came about…
Yeah, I think it was in November of 2010, we saw a picture on the web that Dave Grohl was holding up our record and there was some YouTube clip where he's going through some records but there's no sound so you can't really hear what he's saying, but we saw that at least he had our record, that was a bit weird and cool.  Half a year later, they announced they were doing a big stadium show in Norway and we were the only Norwegian band that he knew and liked, so he basically asked us through his management or booking if we would be the direct support for the Norwegian gig which we didn't really have to think about ha ha.
How was the show regarded, are you guys big over there?
Um, yeah, I mean, we're not like pop huge but for a rock and metal band it's pretty big.  Our record was in the top charts for almost half a year which is pretty good, but we're not selling millions of records.
You're also doing side shows with Mastodon and Gojira, do you find that when it's your show you can take a different approach as you're not fighting to get people's attention at a festival?
We try not to, but there's definitely a different vibe from doing a festival, especially the bigger festival stages and doing an intimate club show, but like from our side you would see the same energy and the same show, but there's definitely some different vibe from play an indoor show than playing an outdoor festival stage.  I think that it's maybe more than the audience react different to us.
Are you looking forward to catching anyone on the bill?
Mostly the bands we're doing the sideshows with, I haven't really, I checked the line up but I kind of forget, but I see there's a lot of bands like Limp Bizkit, I've seen that there's a lot of bands I don't care about at all, but bands like Mastodon and Gojira I'm excited to see.
Lastly, do you have a message for your Australian fans that are excited to see you?
Just that we're really looking forward to finally seeing them and coming over, we've had a month off so we're definitely stoked and really full of energy.  We're just really ready to come and play so it's going to be really good.
Essential Information
From: Oslo, Norway
Band members: Erlend Hjelvik (lead vocal), Bjarte Lund Rolland (guitar), Maciek Ofstad (guitar), Vidar Landa (guitar), Marvin Nygaard (bass), Kjetil Gjermundrød (drummer)
Website: http://kvelertak.com
Latest release: Kvelertak (Riot! Entertainment – 2010)
Sidewave details with Mostodon and Gojira:
MONDAY 27TH FEBRUARY MELBOURNE, BILLBOARD– 18+
www.oztix.com.au / www.ticketek.com.au / www.moshtix.com.au
THURSDAY 1ST MARCH SYDNEY, THE HI FI– LICENSED ALL AGES
www.thehifi.com.au
Presented by Soundwave Touring