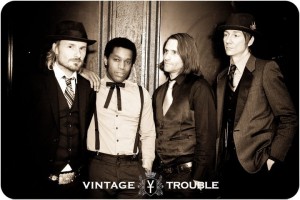 "Live-wired, straight-shootin, dirty-mouth'd pelvis-pushin' juke music… when the buzz tells you they're near, get to them…and be prepared to be moved."  Well Australia, did you hear the buzz last week?  Well you could be excused if you didn't as the boys in Vintage Trouble made a super flying visit to Australia for a handful of shows in Sydney, so flying indeed it was, that they had been and gone before we had a chance to get this interview published!
But fear not, Los Angeles based Vintage Trouble have just released their album The Bomb Shelter Sessions in Australia last week.  But their live performance is where the band have been moving hips from Los Angeles to the UK and I am sure in Sydney last week…
Chatting with frontman Ty Taylor down the phone line, even I was left energised with the obvious enthusiasm and love Ty has for all things Vintage Trouble.
Hey Ty, thanks for taking the time to chat!  So where do we find you today?
Well I'm actually in the streets of Los Angeles and I've just got done with a photo session.  It was really cool, as we were shooting all those cop cars pulled up, who were obviously trying to find someone.  So of course when the cop cars pulled up, all we wanted was to get a photo with the cops as you couldn't even hire out the cops, you know what I mean!  Everyone around us thought we must have paid all this money for the session with the cops turning up and all of a sudden it turned into what looked like a big shoot!
So you have a quick promo visit to Australia coming up next week, what are your expectations of your first visit coming down under?
Well I've been to Australia a couple of times already.  I guess the real expectation is that I've never been as excited about anything in my life as the band, so the idea of going somewhere with something you are really proud of and you feel like its satisfaction guaranteed, it really amps you up.  The thing I loved in Australia the last time was there's no bullshit involved.  In general, now I don't want to make a sweeping generalization, everyone felt really grounded, earthy and no frills and that's kind of what our music is like.  So I'm excited to get there and inject what we do into the system and what I'm really excited about is getting to share what we do with everyone there.  We party pretty hard and the music is all about feeling and primitive, raw energy.  There's something about what we do and everything I know about Australia, I just know it's going to be one of those crazy matches made in heaven.
I guess a good test for you is the reaction you have got so far in the UK, if you were able to crack that market, then Australia shouldn't be a problem!
To me I don't really think about it in terms of cracking the market so to speak.  Of course that's what the end result is, for us it's more about the connection we make with people and being able to stir something up in people that makes them feel like they are at a party and not a show.  That did happen in the UK and I feel like that's going to happen in Australia too.  I hope that everybody's ready for the party we are trying to bring, because so long as people let go and allow themselves to be part of it, it's going to be a marriage, I know it's going to be a marriage.  The only way it wouldn't work is if people come with their arms folded and I don't think that's the culture you guys have there.
Your album The Bomb Shelter Sessions is about to be released here in Australia next week, but it's actually been an album that's been around for a while now hasn't it?
Well we released it independently and released it back in 2010.  We recorded it in 3 days and we had only been playing together for three months at that time and we were just going to record demos, so the album we were going to just sell at shows became our demo record, that they then picked up to release in the UK, so as they released that, they pulled it out of sales in the USA.  A lot of our fans have had the record now for over a year.  Now that's going to be released officially here in a few months.  Then we have to record the second record next month and we are going release the second record to the UK that will be released as the first record in most other places of the world!
So is that record written and ready to be recorded?
Yeah it's ready, we have enough songs for a few albums already written and we've recorded some of it in Abbey Road just last year.  Everything that we've recorded so far for the record, we are going to re-record end of Feb/start of March as we want to see if being on tour has any effect on the songs we have recorded already!
How much does it mean for you to have been so well accepted in the UK, do you feel a bit of a common bond with the likes of Jimi Hendrix for example that were initially more accepted outside of the USA?
Yes it's very similar in America because we haven't even released our record here yet.  We will be releasing it here in the spring.  The best part about L.A has been the second we started touring we decided we weren't going to be like other bands.  I'm not sure if it's the same over there as here in America, but most bands need to call their friends every week to get them along to the shows.  We decided we wanted to become part of the Los Angeles scene so we set up residences right away, so we're playing 4 nights a week in Los Angeles, every week in different parts of town.  Before long, all of LA wanted to come hang out us, it was wild, people were throwing parties and wanted us at their parties, but we didn't have time to do everything that was being requested of us.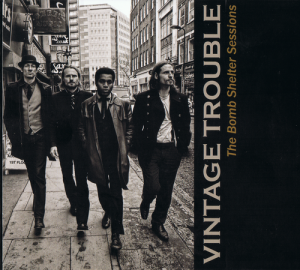 From just my own observations from a couple of trips and everything else we hear from afar, I always have associated L.A to musically be about anything but the style of music which you guys deliver.  So is that just my own ignorance?
Well I guess the reason why people connected so much in LA is that it was different and outside the box.  LA is like everywhere else in the world, where it's been inundated with indie music, so everyone has been partying in a very square kind if way.  Not square as in not cool square, but square as in the music makes you dance forward and back as opposed to side to side.  What we do is we shake bodies from side to side and more in their pelvis and less in their head.  I think the reason why it's become big, is because it didn't fit in.  All of a sudden it was harking back to a time when rock n roll and soul met and L.A hadn't really felt that since some of the cool rhythm and blues bands were playing on Sunset Boulevard.  I couldn't tell you the last time I saw a rhythm and blues band on Sunset Boulevard, there's just so much metal rock, hair rock, alternative rock.  It's like Sunset has forgotten there was a time when Little Richard was playing the Whisky or Otis Redding was playing the Whisky.  I think the thing that worked in our favour is exactly as you said, it wasn't happening here.
Speaking of hair rock you have a team behind you that includes Doc McGhee and Dave 'Snake' Sabo (Skid Row), who are well known names in those circles, …how is it having those guys behind the scenes as your management team?
The cool part about having those guys with us is that it allows us to play in many rock venues and remind people that rock 'n' roll and soul go hand in hand and somewhere along the line we started separating them.  Also, as far as Doc McGhee is concerned, the first acts he started managing were James Brown and Diana Ross, so rhythm and blues is not foreign to him.
We played all these festivals last year in the UK which was amazing, amazing, amazing and mainly rock festivals where we can easily fit in.  One of the biggest festivals was Sonisphere which is basically a heavy metal festival so you can imagine what it was like playing a heavy metal festival with everyone in their black jeans and ripped shirts and we walk in with our suits and stuff, but you know, once the set started, it went crazy and I don't know how, but we were reviewed as one of the highlights of the weekend by those at the festival.  That's kinda cool, it says that no matter what you think of people, we could have gone there and acted intimidated, but the fact we went there intent on starting a party no matter what happened, the fact they were so used to so many of the same sounds over the weekend and we brought something different, by the end, they were all lifting each other on their shoulders and crowd surfing to soul music…it was so cool!
Well I guess the key to Vintage Trouble, is that people see it as something "real" and "authentic", as opposed to something you are trying to force, or which you don't truly have in your soul to begin with.
Oh it's so real, that's our main note for ourselves every show is to be more connected and more authentic.  We never have a setlist, we know the first few songs we will start and end with, but besides that we are just gauging the audience.  I've got this thing lately where I try and watch the way people are moving and then at some point in the set, move the same way that the audience is moving, just to try and get some of the audiences energy into my body as I'm performing.  You know, you could keep moving the way you move, but then you would never discover anything new.  These people are coming because they feel like they are about to see something great, what they don't realize sometimes is that it's actually us seeing something great, how one song we are playing at one time can affect so many different people in a different way, you kind of want to give each of those people back something that satisfies what they were giving to you.  It's no fun to go up there and give some general performance that you've been doing all fucking week, that's how people burn out on what's supposed to be their hobby.  The more games you play with yourself, the more I think it feels like a game to the audience.  It's so much fun bro, I can't even stand the fact that I get paid to do this, and it's beyond belief.  I think if someone's favourite thing was stamp collecting and all of a sudden someone said to them, I'm going to pay you to stamp collect, that's what it kind of feels like for me, it's my hobby. Song writing and singing and dancing around, there's nothing I would rather be doing.  It is a little odd that I do it do often now and that I get paid to do it!
Well Ty, that beeping down the line means it's a wrap.  Unfortunately, I see that your show here in Melbourne has been cancelled, so I won't get to see you this time around, but I am certain you will be back very soon!
Yeah I think we're going to be back in April, so we'll connect then!
Essential Information
From: Los Angeles, USA
Band members: Ty Taylor, Nalle Colt, Rick Barrio Dill and Richard Danielson
Website: www.vintagetrouble.com
Latest release: The Bomb Shelter Sessions (2012, Shock Entertainment Australia)