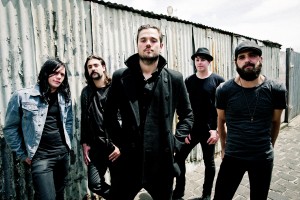 SIGNED; SEALED; DELIVERED…they want more!
Sydney rock&roll miscreants STRANGERS emerged from the depths of Melbourne's The Studios In The City recording studio this week to a bright new day. Currently recording their debut album under the Terminator-like gaze of producer/manager Tom Larkin the band emerged for a scheduled smoke and found time to become the latest artist directly signed to Shock Records' new imprint label PERMANENT RECORDS!
Armed with an attitude that should remind mums and dads everywhere of the perils of rock&roll, Strangers are creating an album that has garnered genuine interest from both local and international labels…the last man standing at the bar was Permanent Records.
 Leigh Gruppetta, the Permanent Records top banana says "from the first time we saw STRANGERS live at BIGSOUND in Brisbane we knew they were something special. After meeting them it was obvious they were in it for the long haul. They have a brilliant team backing them and we couldn't be more excited about the long term prospects for these boys."
 Gruppetta was enthusiastically backed up by the ever quotable Strangers frontman Ben Britton on behalf of the band, who quipped "It's great to be signed to a label that has the same amount of passion for the band as the band itself. It's like we're Johnny Cash and they're June Carter, we get fucked up and write songs but they keep us walking the line."
 Formed in the badlands of Sydney's southern beaches Strangers will be doing their boy scout best to live up to their legend. Look out for them when they take it to the streets in a hectic three months across March, April and May.
 With all the class of a souped up Hi-Ace find out what's beneath the hood when Strangers tear up the East Coast supporting high flying prog-rockers, and recently returned from the USA, Closure In Moscow hot on the heels of supporting My Chemical Romance on their recent Australian tour.
STRANGERS supporting CLOSURE IN MOSCOW
Thursday 8 March – KAROVA LOUNGE – Ballarat, VIC
Friday 9 March – THE EVELYN – Melbourne, VIC
Saturday 10 March – THE BENDED ELBOW – Geelong, VIC
Thursday 15 March – GREEN ROOM – Canberra, ACT
Friday 16 March – SPECTRUM – Sydney, NSW
Saturday 17 March – CAMBRIDGE HOTEL – Newcastle, NSW
Saturday 24 March – JIVE BAR – Adelaide, SA
Thursday 29 March – GREAT NORTHERN – Byron Bay, NSW
Friday 30 March – X & Y BAR – Brisbane, QLD
Saturday 31 March – KINGS BEACH TAVERN – Caloundra, QLD
…and in April/May see
STRANGERS
with CALLING ALL CARS
STRANGERS debut album due for release July 2012 on PERMANENT RECORDS via Shock.