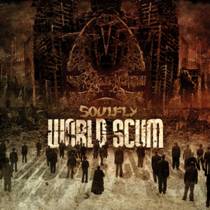 NEW SINGLE 'WORLD SCUM' RELEASED, FROM 'ENSLAVED'
OUT ON MARCH 9

2012 will see the release of Enslaved, a brand new Soulfly album which will be their eighth overall. While many bands barely make it to a third album, the Max Cavalera-led collective is still going strong two decades deep. 2012 also marks the band's 15th anniversary of making a tribally-influenced metallic racket and what better way to celebrate than with a new record?
The Soulfly machine devastates on the blood-spatteringly brutal first single 'World Scum'. With a guest spot from Travis Ryan of Cattle Decapitation, the song unleashes a torrent of blazing fretwork and double bass drumming, and Cavalera sounds possessed as he trades vocals with Ryan.
Cavalera reveals, "The song is about all of the evil in the last century. It covers the Nazis, John F. Kennedy's assassination, Hiroshima, and Nagasaki. Then, it examines religion ending on the final war between good and evil. Travis sounds so fucking insane."
On Enslaved, the powerhouse lineup features Max and guitar dynamo Marc Rizzo, with Static-X's Tony Campos taking up the bass. The lineup is rounded out by drummer David Kinkade, a new school, extreme skinsman whose brutality behind the kit brings a new flavor to the band.
Enslaved is out on March 9, 2012 on Roadrunner Records. It follows 2010's Omen.