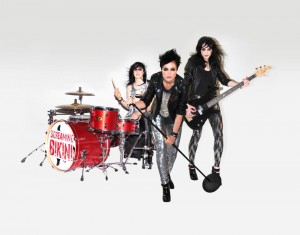 Sydney, never really renowned for coming out and supporting live music, well tonight I sit corrected as I'm here at the Beresford to see Screaming Bikini, the newest band lead by one of Australia's best rock front women in Sarah McLeod who has formed and been doing the rounds with for a number of months now.
In the midst of their four week residency at the Beresford hotel these girls have started to build quite a following and this is evident tonight as the room is full and the rock is pumping. It's so refreshing to hear a new female rock band on the scene and whets even cooler is that they're that good!! This three piece is tight and gave us a catalogue of catchy songs filled with hooks that you feel like you already know as they're delivered with precision and like they've been played for years.
I won't harp on this as being Sarah McLoed's new band as that's too easy, only because KJ and Kia give as much to this band as Sarah does and they kick ass.  The material is upbeat, catchy and the perfect scene is set for a fun Saturday night, with a great cover of Belinda Carlisle's 'Summer Rain' thrown in for good measure I look around the room to see a number of smiles and that to me is what live music is about. People seem to be truly enjoying themselves.
As the set goes through song after song and realizing this is only the bands fifth gig together you would have no idea as it honestly sounds like they've been doing it forever. I am enjoying every song, every anecdote and Sarah's banter between songs which balances the night's entertainment perfectly.  Not completely knowing the bands catalogue as yet, but the song introduced as 'Who The Hell Do You Think You Are' is one of the best songs I've heard in years. A perfectly created rock song with a perfectly timed clap break, that song was a stand out for the evening. Love it and hope to hear it again soon. They belted through their newest single from their debut album, (which is out now by the way),  'Dirty Beats/  Disco Bass' which you need to check out if you haven't already, it is a great live song
Australia, no, world, take notice. This is a band that should be recognized, respected and adored across the land. They are tight, they are fun and here's to many more things from this bitchin' new band.
If you're in Sydney, head out to The Beresford this Saturday (the 25th) and catch these girls now!  If not, then make sure that if Screaming Bikini are in your city that you go and see them.  You won't be disappointed.
Essential Information
Venue: The Beresford – Sydney
Date: February 11, 2012
Website: http://www.screamingbikini.com.au