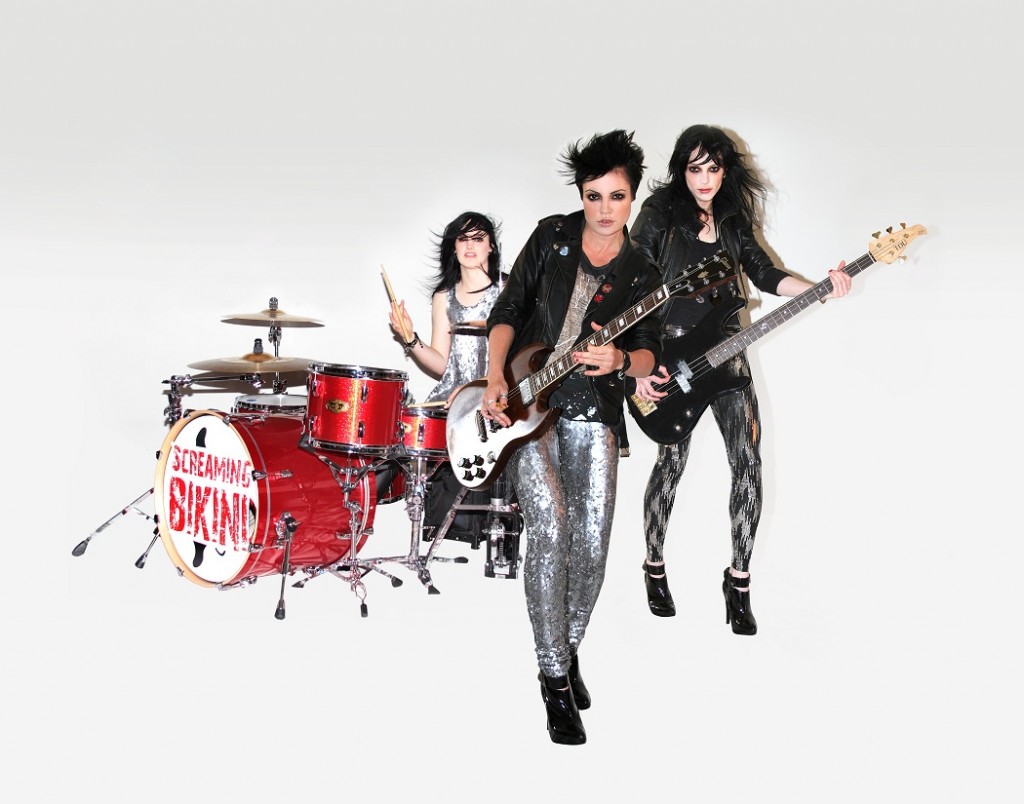 Take a few minutes to check out Sarah McLeod's smokin' hot 3-piece girl band Screaming Bikini's new music video "Dirty Beats Disco Bass". The song tells the true story of when Sarah was living in London and a label executive told her that girls with guitars generally don't sell records. The video takes the band on a journey putting them in many different scenarios, only to find that staying true to their rock roots is the only way to go. Stay true to yourselves! Even Sarah's Harley Davidson motorcycle gets a look-in.
Sydneysiders can see the band every Saturday night in February at The Beresford Hotel. Last week's performance brought the house down!
Recent shows for the Hard Rock Café opening, City Of Sydney's Art and About festival, Levi's, Vogue Fashion's Night Out, and Brisbane's pop-up show for 'Room For Thought', proved these girls bring it up to the highest notch when it comes to live shows. Tight sweaty rock show delivered in ten inch heels, and a kickin' sound, Screaming Bikini perform tracks off their current self-titled album as well as showcase some brand new tracks off the next release due out in coming months. It's going to be one big party.
McLeod has recently finished a 6month acoustic tour and an upcoming Australian tour with UK's Starsailor frontman James Walsh where she will perform stripped back Superjesus and Screaming Bikini tracks….
Look out for more Screaming Bikini tour dates coming very soon!
Screaming Bikini: Sarah (Guitar and Vocals), Kara Jayne (Bass and Vocals), Kia (drums).
Album out now through iTunes.
http://www.facebook.com/pages/Screaming-Bikini/
www.twitter.com/screamingbikini
Comments
comments