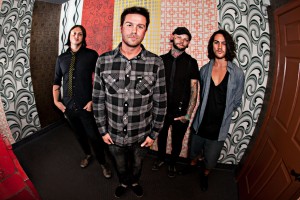 Having played the very first Soundwave Festival and now saddling up for around their 25th visit, Unwritten Law sure are a band who have an affiliation with Australia!  The band that brought you hits such as Up All Night and over a million album sales, released their latest studio album 'Swan' in July last year.  Numerous lineup changes in recent years have certainly tested the mettle of frontman and founding member Scott Russo, but on this visit to Australia, it sees him touring on the back of what he considers to be the best Unwritten Law album yet, Swan.
There's plenty in store for Unwritten Law fans this year with work to commence on an acoustic studio album, not to mention another possible Aussie tour later in the year.
Hey Scott, thanks for taking the time to chat today!  So in a couple of weeks you are hitting Australia for Soundwave, saying you must be pretty pumped is obviously an understatement!
Absolutely, we're really looking forward to coming down there and doing it.  We actually did the very first Soundwave and to see it go from about 6,000 to 10,000 people to now 250,000 to 300,000 it's amazing!
And looking at the timetables, you guys are on pretty early in the day, so that's a lot of time to soak up the atmosphere and a lot of Corona's!!
I'm stoked actually that we're on earlier, I hate playing later, we can get on and get that shit done and walk around and enjoy the festival!
But beyond Soundwave, Australia in general has been a great place for Unwritten Law, your first visit goes way back to the late 90's doesn't it.
Australia has always been really good to us and has really been our best market in the world.  This is coming up to be about our 25th time down there, it's crazy every time we come down there.
And what is it about Australia that you seem to connect with and vice versa?
I've been asked that many times and I can't really put a finger on it. Maybe it was the time we came out, kind of when surfing and punk rock was fusing at that moment and with every major city in Australia being a costal city basically, I think it was kind of the culture coming together and we had music coming out at the time. Our real love of Australia is undeniable and genuine and I think the crowds in Australia can feel that and likewise we can feel that in return. It's like that real bond and why every time we come down there it's so great.
The good thing is this time you've got the best of both worlds, the Festival shows and some Sidewaves with Zebrahead for example..
It will be dope.  For Soundwave I know we've got a 40 minute set and our headlining set will be 90 minutes, so we're really excited.  We are a little bummed we are coming all this way and don't get to play headline shows in every city, but we're excited to get down there and tear some shit up!
You will have a couple of new band members who will be new to Australia crowds, Kevin and Derik, what do we need to know about them…
(Laughs) well one of them has plenty of tattoos and the other one doesn't!  They're great guys and even better musicians and they definitely bring it!
Swan has been out now for the best part of a year, how has that been going down with fans as you tour around the place?
You know we haven't gotten anything but positive feedback on that album.  Which compared to previous efforts there's been a bit of a 50/50 split on whether people like or don't like an album, but Swan has all been positive feedback. I'm pretty stoked about that as going into writing and having been out the spotlight for 6 years, we wanted to make sure we came back strong and every song had to be good and I believe we pulled that off.  It took 14 months to write and record Swan and we made sure we didn't leave any stone unturned.  Whatever type of song it was, it had to be perfect in our eyes and our vision of what we wanted it to be.
Given the hiatus and the time you took to make the album and then with the lineup changes after the album was finished, getting the opportunity to come to a place like Australia and play these new songs, it's obviously a pretty significant thing for you personally, as it quite possibly wouldn't be happening if you didn't have the passion and determination to keep on with Unwritten Law!
Absolutely, and that's the thing, Swan is by far my favourite Unwritten Law record, I'm very, very proud of it.  We did one tour with the other boys and they were tired, they were done and didn't want to do it anymore and missed their families and people weren't getting along, so when the reality arose that we might not be able to tour Swan, that was really heartbreaking, so that was a big factor on moving forward as I an do proud of the record and I wanted to make sure people heard that music.
I guess particularly more so during the hiatus, did you notice the scene changing and there seemingly being an explosion of bands now?
This is what I think it is, the number of bands has always been there maybe, but you weren't aware of them because there wasn't the Internet and easy access to music there is these days.  It can be as simple now writing a song on your laptop and filming a video clip on your iPhone and sticking it up on the Internet and it becomes legit and it is legit these days. Die Antwoord is a perfect example they had one song, Butterfly, they recorded it in their home, they got some friends together and made a video, they out in the Internet and 10milion views later they were an international success.  I'm sure there's always been these bands around the world, it's just now they are there and visible because of the Internet!
Here's a bit of a very quick word association to put you on the spot… when someone hears the band name Unwritten Law, what is it that you hope they are thinking?
I like to think that they see us as a dope live band!
What can Unwritten Law fans expect after you have visited the Australia and Japan chapter, I hear there might be an acoustic record in the works?
We have Soundwave, then off to Japan, then we come back and do a tour here in the USA and then there has been some talk of doing an acoustic studio record.  We do these acoustic shows over here where we have an additional member a piano player who comes in, we've actually restructured the songs with a piano and the acoustics and it goes over really well and we'd live to put that down and get it out their.  So we've had some talks with the label!
And going by your usual strike rate, we will probably see you back here in Australia again before the year is out!
Well actually, given we don't get to do sidewaves in each city, we would love to come back down again before Christmas!
Essential Information
From: USA
Band members: Scott Russo, Kevin Besignano, Derik Envy, Eddie Murphy
Website: www.unwrittenlaw.com
Latest release: Swan (July 2011)
Soundwave Sidewaves with Zebrahead and Royal Republic
TUESDAY 28TH FEBRUARY BRISBANE, THE HI-FI– 18+
www.thehifi.com.au
WEDNESDAY 29TH FEBRUARY MELBOURNE, THE ESPY – 18+
www.oztix.com.au
Presented by Soundwave Touring