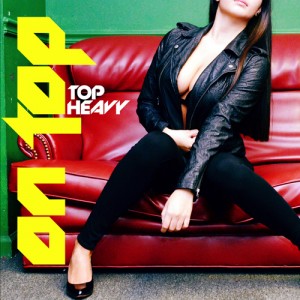 A modern day answer to vintage metal, ON TOP are a hard-hitting power trio who deliver dirty rock n' roll with an authentic 80's metal flare! Top Heavy is the sleazy debut album from these Philadelphia rockers who rip it up with edgy vocals, hard hitting drums, dominating riffs and killer leads that will leave you begging for more. Guitarist Alex Kulick restores hope that guitar gods certainly still exist! Recently introduced to the world by Horror Pain Gore Death Productions, Top Heavy is one album that any fan of Accept, Dio, Dokken, Grim Reaper, Iron Maiden, LA Guns, Loudness, Megadeth, Motley Crue, Obsession, Ozzy Osbourne, Queensryche, Ratt, Van Halen and W.A.S.P. will want in his/her collection. Haulix promos coming soon or you can get in touch at clawhammerpr@gmail.com for the immediate hook up!
"Speed, heaviness and melodic sound. A power trio to watch out for is On Top. Blanketed with credible spirit and attitude, Top Heavy is one damn legit Heavy Metal album you must check out… now!" – Metal Odyssey
"Imagine the riffs of early Motley Crue combined with the intense drum work of early Dokken plus Diamond Head-inspired lyrical themes. On Top are in-your-face sleaze metal, and the solos surprisingly melodic and technical. A very enjoyable trip." – Hard Rock Haven
"It's hard to find a band like this in the modern day." – Aquarelle Zine
ON TOP was created in late 2008 by singer and bassist Jaron Gulino (ex-Trasher, ex-BSOM, ex-Capitalist Death Machine, ex-Midnite Hellion). A three song demo entitled Another Night of Sleaze was recorded by Gulino with the assistance of session players Brian Davis on guitar, and John Norcorss on drums. After a few auditions the band's first lineup was complete featuring current drummer Danny Piselli (Fisthammer, ex-Vulcan, ex-Coffin Dust) and Quinn Dougherty on guitar. After only a few shows in 2009 the band parted with Dougherty and gained two guitarists; Austin Perez (ex-Trasher) and Ethan Ballick (ex-Trasher). The quartet recorded a six-track EP entitled ON TOP in 2010 and supported it with a slew of local shows. This lineup of the band was compromised toward the end of 2010 with the departure of Perez and also Ballick a few months later. The band took a brief hiatus at the start of 2011 and returned in May with Gulino and Piselli still intact, and the addition of guitarist Alex Kulick (ex-Striker). The power trio spent the summer playing locally to prepare for the recording of their first full length in August of 2011. Top Heavy was released November 15th, 2011 by Horror Pain Gore Death Productions. The album consists of eleven ripping tracks, four of which are rerecorded versions of older songs found on the first two releases. The band spent the rest of the year promoting the album's release, playing shows all over the Tri-state area. The beginning of 2012 sees the band in the early stages of preparing material for their sophomore release. The band plans on touring throughout 2012 in support of Top Heavy.
ON TOP are:
Jaron Gulino – Vocals/Bass
Danny Piselli – Drums
Alex Kulick – Guitar/Vocals
ON TOP @ Facebook
www.reverbnation.com/ontoprock
www.ontop.bandcamp.com
www.soundcloud.com/ontoprock
www.myspace.com/bandontop
www.purevolume.com/ONTOP