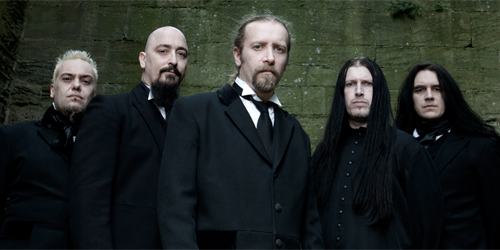 "I mean I'd say it's very much a modern album, there's some real rockin' up tempo stuff, more doomy stuff but it's all very guitar orientated but it's very now, that's for sure."
Over twenty years into their career, Gothic Metal pioneers Paradise Lost are just about to release a new album this April, their thirteenth, titled 'Tragic Idol' which is their first in three years, but before they unleash this upon us, they are headed down to Australia for the first time in fifteen years to play the massive Soundwave Festival and to also share the bill with Cathedral at their farewell shows which will be a special event to be a part of and one not to be missed.
Singer Nick Holmes gave us a call to discuss all things Paradise Lost, the new album and an explanation into its title, touring, their soon to be released new music video and how their coming up with the Gothic Metal title has stuck with them over the years.
You've just been added as a last minute addition to Soundwave, how was it when you got the call to come and play?
Brilliant, we sort of heard rumours we might be up for it quite a while ago actually but we didn't have the official go ahead until, like you said, recently.  It's absolutely brilliant, we haven't come to Australia for a long time, I think it was fifteen or sixteen years ago since we last came so it's brilliant, we're really looking forward to it you know.
This is your first time playing at Soundwave, have you been given any idea of what to expect?
Not really apart from I imagine it's going to be warmer than the usual conditions we're used to playing in.  I don't know, we'll wait and see, there's a hell of a line up though and I'm looking forward to seeing one or two bands you know.
Anyone you're eager to see?
I want to see System if I get the chance, wouldn't mind seeing Manson as well.  I'm sure there's probably some old friends there as well so a lot of the time we might just hang out and that could be fun as well.
For those that have never seen Paradise Lost before, what does one of your shows entail?
Usually darkness is our medium but in the absence of that I guess we'll be playing with the sun shining on the stage, so a hat might be required ha ha.  I don't know, we've got a hell of a lot of back catalogue to get through so we're going to do a best of based on songs that we know have gone done well when we've played in Europe before, so our music is pretty dark and to see it in its glory is in a club with the lights and the atmosphere but it works in the sun as well ha ha.
Your new album is due this April, can you give us some insight as to what we can expect this time around?
Yeah the end of April, it's very much a rock album, we haven't muddled with keyboards or pianos or female vocals or the traditional gothic elements that goes hand in hand with what gothic metal is these days.  I mean I'd say it's very much a modern album, there's some real rockin' up tempo stuff, more doomy stuff but it's all very guitar orientated but it's very now, that's for sure.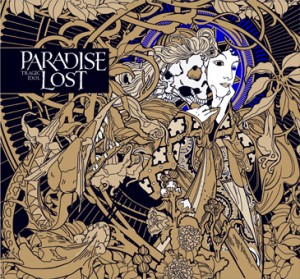 Can you give us the meaning behind the title 'Tragic Idol'?
I was thinking about people who are obsessed with celebrity, it was like an 'All that glitters isn't gold' you know, you see somebody that looks like they're having such an amazing life and they're idolised by millions of people, but then they've got their own problems behind the scenes and they're only human.  Everyone's frail regardless of how much cash or success you've got, we've all got problems, it's just about, especially with the way the media is now, everyone's just obsessed with celebrity and people making them out to be more than what they are and even enjoying their downfall, which is kind of weird as well.
Did you do anything different this time around compared to other releases?
Writing wise, no.  Greg and myself we all sort of isolate ourselves in our own little areas and then we just send each of our parts through the internet and we'll say yes or no and we'll send it back and that's how we sort of bash songs together.  Recording wise, when we go in the studio now, you don't have the six weeks in the luxury studio, the swimming pools and tennis courts, they're all sort of gone now, so when you go there you go to work from 8 in the morning to 7 at night and then you do the mixing the next day.  There's a lot more work ethic, people say 'Did you do anything crazy in the studio?' I say no I didn't, or that I had lunch at 2 instead of 1.  That's about as crazy as it gets ha ha
You've just been shooting your first video for the new album, can you give us any clues on what we're going to see?
The first video, we've got cameo roles in that, it's not a performance video, but from the vibe of the video the treatment and the vibe is very much like 'The Road' with Viggo Mortensen, that's the vibe.  If you've seen that movie and from my point of view, the grimmer the better, but that was a kid of vibe a post-apocalyptic, when people have flashbacks to when everything was good.  The tile of the song that it's for is 'Honesty In Death' and the song is pretty much about death being the only true honesty there is, it's final and permanent and it's the only thing that's truly honest.  I guess the director has taken a bit of that and that's become the treatment.
And you get to be actors in it?
We're not even acting, we're just standing there pretending to drink cause we were all driving ha ha rock and roll…
Any chance of any new material being played in Australia?
Yeah hopefully we're going to do the song 'Honesty In Death' but I don't know if we'll do another one, we've got a lot of songs, we've written a lot of albums since we last toured there so we're going to take a lot of key songs that work in Europe and put them in the set.  It'll be more of the 'Draconian Times' era, I think that's very much the bench mark album for a lot of people, and we have no problem with that at all, so we'll gladly play a chunk of that album, we'll see.
What took you so long to come back?
We've been wanting to come over and there's been talk of it for a long time but it just always falls through, just promoters and agents, it's never worked out.  If someone had said to me ten years ago, I would've packed my suitcase and come immediately.  It's not about the band, it's about the behind the scenes you know.
As a band for over 20 years, what would you sight as the bands biggest achievement?
I think the longevity is pretty good in itself, the fact we're still doing this and still have a career in it.  Apart from that we played the Dynamo festival in 1995 which is the pinnacle, there were 120,000 people there and we were the headliners, so it was as big as it's ever been for us at that point and that was a real highlight.  Apart from that, just playing in countries we'd never be in otherwise, and we still do it all the time, like I said, being able to come to Australia again is fantastic, it's such a nice feeling to be able to come there and play, and we have some days off to do the tourist thing so it's like a mini holiday as well ha ha it's brilliant, it's fantastic.
When you're coined as creating 'Goth Metal' how does this stigma stick with the band?
It's fine, we came up with the title because we were trying to pigeon hole what we were doing.  It was very much a time when all the new types of metal were coming out, the black, the thrash, all the different ones and we kind of came up with the Gothic Metal title.  We have no problem with it, at the time we were crossing the Sisters Of Mercy-esque music with the death metal stuff of the day and no one was really doing that at the time.  Now days I think the title's taken on, you know Evanescence is classed as Gothic Metal which is really nothing to do with what we thought it was in the old days, I mean it doesn't really matter, we just want people to like the music, it doesn't matter about labels in particularly, we have no problem with the Gothic Metal title at all, we still say yeah, we do like Gothic Metal, but perhaps to an Evenescance fan ha ha it's all Hot Topic and black fingernails, if that's gothic metal then fine, whatever…
You'll be doing some Sidewaves with Cathedral who are actually finishing up as a band, how does it feel to be a part of their farewell shows?
It's brilliant; we're good friends with the guys in the band.  I was going to go in London to see the last show, I was excited but I couldn't make it unfortunately.  It's great, they're all friends of ours, music doesn't even matter, we've known each other so long and the last time we were in Australia was with Cathedral as well.  I don't think we've played together overseas, it just seems to be Australia, the other side of the world which is kind of weird.  You'd think we'd have done more shows in England, but it's brilliant.  I couldn't wish for a better band to play with.
Touring wise, how long are you expecting to be out on the road in support of the new album?
We'll probably do through til Christmas I would imagine.  We're starting off in Australia, I mean this isn't really the gigs for the album, so if we get a chance to come back to Australia that would be fantastic, but I don't know if that will happen but that would be nice.  Failing that, we're just going to carry on to Europe, then perhaps America and hopefully South America towards the end of the year.  It's always been really good for us in South America, North America is kind of a waste land for us.  LA is pretty good but that's because we've got a lot of Mexican fans that come and see us as well, but it's always been West Coast not bad for us at all, East Coast is a bit quiet.  They're really into their metal in South America, they're kind of nuts for it.
It seems you've had more drummers than Spinal Tap, with Adrian now in the band, do you feel like the band is now where it needs to be?
Ha ha, yeah Adrian being the same age as us and he's been around as long as we have, he kind of knows the deal and he just fitted in right away, he's got a great sense of humour and we have a good laugh.  For us as a band we like to have a laugh, the music of course isn't that serious but at the end of the day you've just got to be able to laugh about things because so much goes wrong on stage and off ha ha.  But he fit right in, he auditioned and we just hit it off immediately and it was like it was meant to be you know.
As long as he doesn't explode on stage you'll be fine…
No no, although with the amount of burgers he eats, I'm not surprised, he's in good shape considering ha ha I'll just add that in at the end.
Lastly, do you have a message for your fans down here in Australia?
We are so pleased to be coming down there, even excited, I can't believe it, I'm excited to come down.  Looking forward to the gigs, please come and see us and come and see us with Cathedral or whatever, but yeah, can't wait to be there.
Essential Information
From: Yorkshire
Band members: Nick Holmes – Vocals, Greg Mackintosh – Lead Guitar, Aaron Aedy – Rhythm Guitar, Steve Edmondson – Bass Guitar, Adrian Erlandsson – Drums
Website: http://www.paradiselost.co.uk
Upcoming release: Tragic Idol – (Century Media – 23rd April 2012)
Sidewave tour dates with Cathedral and Turisas:
WEDNESDAY 29H FEBRUARY SYDNEY, THE FACTORY LIC/AA
www.oztix.com.au / www.factorytheatre.com.au
THURSDAY 1ST MARCH MELBOURNE, THE ESPY18+
www.oztix.com.au
Presented by Soundwave Touring