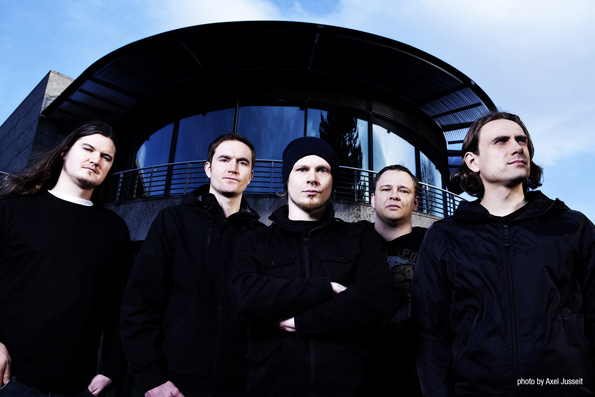 "HEAVEN SHALL BURN are a phenomenon.  Instead of roaming distant shores in order to seek for innovations the five-piece from Saalfeld/Weimar, Germany is rather heading for well known territories in order to shed their collective skin.  For years they have been drawing creative impulses from the long-term friendship between the individual members.  Despite releasing new studio albums regularly they are hardly ever in a real hurry…"
Ok, so you are a little unfamiliar with Heaven Shall Burn and did that chosen excerpt from the official Heaven Shall Burn bio still leave you yearning for more?  Well, if you are heading to Soundwave, then therein lies your answer.  Go see Heaven Shall Burn and find out for yourself.  As guitarist Maik Weichert himself reveals in our interview "my advice is for everyone to check us out, it never really happens that people leave disappointed having seen us."…
Hey Maik, so how do we find you today.  Where in the world are you right now?
I'm calling in from cold Germany and its snowing outside and everything and I'm here in my warm chamber chatting with you!
So in a few weeks you are going to be returning to Australia, this time for Soundwave Festival.  What can you remember of your last tour here, which was a few years ago now wasn't it?
We did a tour with Trivium, which was amazing, and a really good start for our first time playing in Australia being such a big bill.
You mentioned Trivium and there was also Black Tide who you played with the last time you were out here!
I'm sure it's going to be like a reunion and a party down there.  But I'm really curious what Black Tide will be like, the last time we saw them they were like kids, with amazing skills on their instruments.  So I'm really curious to see how they have developed and how they must rock now, considering how good they were a few years ago.
This time you are going to be hitting up Soundwave Festival…so what are your expectations of Soundwave, had you heard much about it prior to being added to the line-up?
The first thing I thought about when I heard of Soundwave a few years ago was how the hell do they organise all the bands from city to city and all of that.  That must be insane so I'm really curious how it will work.  That would be possible in Europe.
I think because we can appreciate the enormity of the task to get all these bands to Australia, it makes for some highly excitable crowds!
That's actually the feeling I had when we first played there, it was such a warm welcome and people appreciated it so much you know. That was really cool, but this Soundwave, it's just like some big athletics championship or something with all the people you have to fly in and the dimension of the project is like an international sporting contest!
So for those who haven't seen Heaven Shall Burn perform before…what can they expect from you as a live band?
Well we will make sure we will be as loud as possible and make sure we play our coolest songs!  There has even been like kids sending us emails and requesting songs, so we might pick out a couple of those. My advice is for everyone to check us out, it never really happens that people leave disappointed having seen us.
And as far as Aussie crowds, do you have any real sense on the level of fanbase you have out here?
I didn't have a sense before we came the last time, I just never expected many people to know us in Australia.  It seems that bands which are big in the UK and feature in magazines like Kerrang, Metal Hammer are also big in Australia.  But we are Germans you know and my grandfather and great grandfather, they fucked up a lot of things over the last 100 years and people in Great Britain don't like Germans that much.  Don't get me wrong, we have a lot of really cool, loyal fans there, but it's more tricky for us making a fan base there than say somewhere like Australia.  But then when we toured Australia, we found there to be such a huge fan base already and we were just blown away.  So I think this time it's going to be really cool for us!
You have played some of the biggest festivals in the world, such as Wacken, Grasspop for example, what do you guys enjoy most about playing festivals?
You get to reach so many new people at Festivals.  It's so cool, even though the stages are so huge sometimes you can see some people standing at the side and see it on their face that they're hearing your band for the very first time.  That's something great to know you have reached some new people and you made them listen. to your band.
You have been in existence now for around 15 years…how have you found the interest in Heaven Shall Burn in your home country Germany, and even more so, the popularity of metal music in Germany?
In Germany we are quite a big band here now.  In Germany we sell more records than the folk singers on television, but nobody recognises us whenever we are out, so that is a very comfortable thing you know!  What happened in Germany is pretty unreal you know, being in the top 10 of the charts, it's something we never dreamed of.  Germany is such a huge market, it means you're playing really big festivals and selling lots of records.  That level of success was never really part of our wishes as we started as a part time band and paying like 40 shows a year, now we are like 200 shows a year.  So that been something really special for us.
So your last album Invictus being the last of the Iconoclast trilogy, being released back in 2010…have you started thinking about a follow up at this stage?
Well we're working on some new stuff, we always meet up and try new things and there is always something in the making.  October or November we are going to head into the studio, so people can't really expect anything before early 2013!
Essential Information
From: Germany
Band members: Maik Weichert – Guitar, Alexander Dietz – Guitar, Marcus Bischoff – Vocals, Eric Bischoff – Bass, Matthias Voigt – Drums
Website: www.heavenshallburn.com
Latest release: Invictus (2011)