Jaz Coleman reflects on the future of mankind on seminal post-punk band's 15th studio album.
2012 is the perfect year for 
Killing Joke
 to be releasing an album that is as dense and as dark as the surrounding swirls of madness in the world. At a time when the news is fast-forward and the planet seems to be descending into madness, who better than 
Killing Joke
 to reflect this?
When their original line-up of Jaz Coleman, Geordie, Youth and Big Paul reconvened in 2008 after working together intermittently, that strange voodoo once again filled the room. Individually, they have a power, but together they have something sulphurous and strong that few bands can match. Killing Joke are not an average band with an average agenda; they lock the door and let the ritual commence, and MMXII is the result.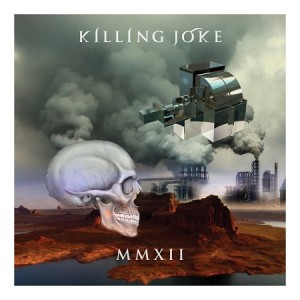 The album's themes are political, anti-capitalist and forward-looking…
"If we can concentrate on what it can be, the dream of clean streams, of re-forestation, of permaculture, of disengaging all the banks – identifying all the majority shareholders of the top 100 corporations and dismantling them. If we start dreaming of a fairer system and defining what an elite should be – an intellectual powerhouse and not international bankers."
2012 is a dense and multi-layered work. Killing Joke have never sounded so intense. The songs are great washes of sound – a death disco with huge slabs of guitar that soundtracks these dangerous times.
2012 is an end-of-time album that somehow finds moments of optimism in the downward swirl of the planet.
Finding hope in the apocalypse, this album just could be their masterpiece.
LISTEN TO THE LEAD TRACK 'RAPTURE' HERE
MMXII is released via Spinefarm/Co-Operative on April 6, 2012.