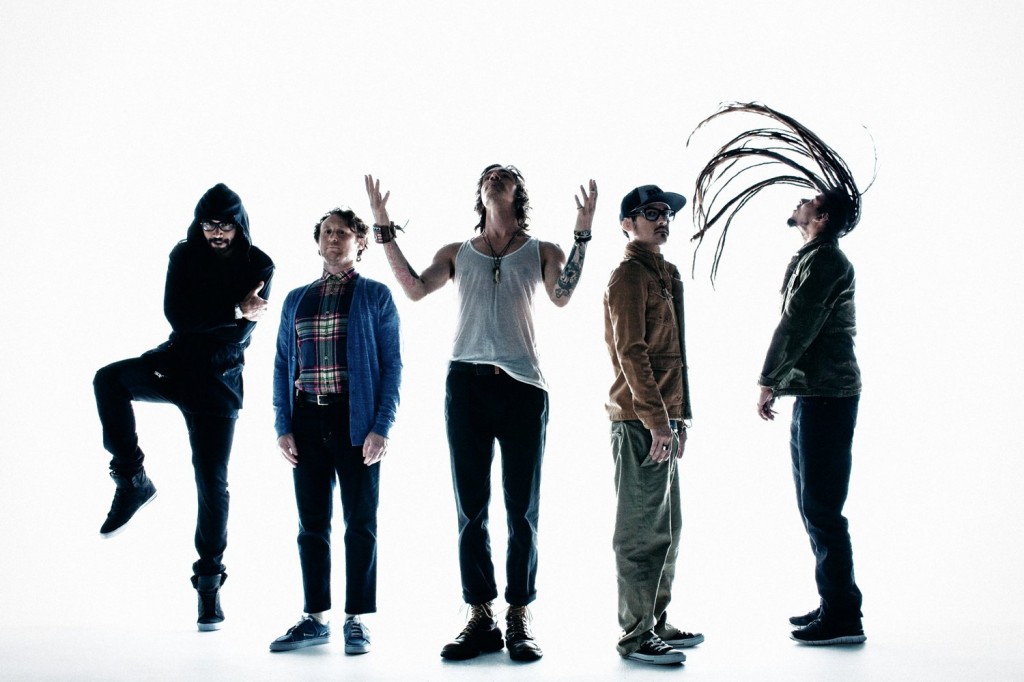 "We've never really fit into any sort of genre, we've always stuck out like a sore thumb.  We carved our own little path for ourselves and it's been really great because we've been able to adapt to pretty much any tour we've been on, from playing Black Sabbath, to doing shows with 311, or The Roots…"
Nearly 6 years since their last release Light Grenades, Incubus returned in 2011 with a new album If Not Now, When?  It's hard to believe that Incubus have been in existence now for 20 years, and that nearly 15 years has passed since Drive catapulted the band onto radio's worldwide.  During the time between Light Grenades and If Not Now, When? the guys undertook other pursuits, in the case of lead singer Brandon Boyd and bass player Ben Kenney, solo albums were released, whilst guitarist Mike Einziger went back to study music.  For a band that has always very much created it's own musical landscape, If Not Now, When? sees Incubus returning and ready to explore the next phase of their existence.
A matter of hours away from playing their final show in Brisbane on their Aussie tour, we had a quick chat down the phone line with Incubus drummer and one of the bands founding members, Jose Pasillas.
Hey Jose, thanks for giving us some of your time for a chat.  With a show in a few hours, I'm sure you've got plenty of other things you would be rather doing than an interview (laughs).  So you're in Brisbane today, this is the last show of your tour, generally speaking, how has the tour gone for you?
It's been really fun, all of the shows have been really good, we've been from Japan to Thailand, to New Zealand and now we've been in Australia for the past week and a half, it's been great!
It's been a little while since you've been to this part of the world, I take it that the presence of Incubus is still alive and well and there's been some strong crowds and great reaction?
Yeah, it's been great, everyone is singing all the material, from the new records, all the way to six or seven records back, and it's been fun.
Last time you were in Australia was for a festival run, wasn't it?
Soundwave, yeah!
So for you personally, you have a show in a couple of hours, what's your usual preparation for a show? What do you like to do before you hit the stage?
Nothing in particular, it's a very relaxed sort of atmosphere in here, so before our show we're usually just hanging out, listening to music, maybe watching a movie, eating sandwiches, kind of mundane things.
This leg of the tour has been going for a while, do you have a bit of a break before you start touring again?
Yeah, we'll go back to LA and have about a month and a half to two months off before we start off another round of shows in the USA and then head to Europe and see what pops up for the end of the summer.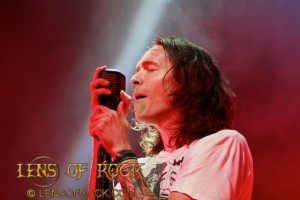 Australia has been a great supporter of the band over the years, in terms of this current tour, how have you found the crowd has connected specifically with the new songs?
It's been great, we've been playing a mix of songs from our last release, we've got probably 80, 90, even 100 songs to choose from, it's a good mix, but they're singing along to all of them, even the new material, so it seems like it's been very welcomed.
As you travel the world touring, and recognizing that the band did take a bit of a hiatus there, have you noticed that there's been a significant change in the demographic of your fan base? Or has it stayed relatively consistent over the years?
It's been mixed, it's been 15 years since we started touring so we have a lot of fans that were teenagers and now are adults, but I think we're gaining some new fans at the same time and our demographic is very much from 18 to 40, it's a pretty wide demographic so it's been pretty great.
I'm guessing that the existing fan base that have stuck with you, their musical tastes will have matured and in some cases will have arrived at the point that you have with this latest album as well.
Yeah, it's been great, its very fortunate that a lot of our fans have chosen to take this journey with us, we've been a band for 20 years now so that's really cool.
In terms of interpreting the songs now in a live environment with some of the older songs, do you find yourselves changing the arrangements a little bit, just to keep it fresh for your own purposes as well as the crowd?
We tend to mess around with the older material, just for fun, to keep it interesting for us as you said, but for the most part we play the songs as is, and there are certain songs that we take liberties, we improvise a little bit here and there and keep it fresh, and entertaining for the crowd so it's kind of a little bit of everything.
Going back to when you did take a bit of a break, when you did get back together again and started chatting about what you wanted to do with the new album, what was the overriding vision, were you pretty clear on what it was you wanted to achieve with the album or was it more a case of letting the songwriting evolve?
We never really sit down and conceptualize, we just get together and start the process and where it takes us, we're never sure of.  So just completing it is our goal, once we've finished we know we've achieved our goal and where that ends up, is completely unknown to anybody.  It's an experiment, and it's a challenge, that's how we look at it and take that challenge with every record.
As far as where Incubus fits within the musical landscape these days, is that something you guys take much notice of and pay attention of, particularly considering how much things have changed in the years of your existence?
Not really, we've never really fit into any sort of genre, we've always stuck out like a sore thumb.  We carved our own little path for ourselves and it's been really great because we've been able to adapt to pretty much any tour we've been on, from playing Black Sabbath, to doing shows with 311, or The Roots, we've been able to adapt and we've got a lot of material that encompasses so many different types of music so it's been our own path and it's been really great and successful.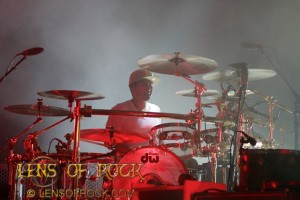 During the hiatus, Ben and Brandon released solo albums, Mike went back and studied music, what did you do personally to keep yourself occupied? 
I recorded a couple of records for a friend of mine, I'm always playing drums and I'm always painting and drawing and I've got a family at home too, so there's plenty of things for me to stay busy with at home.
The bands got a thing called the Make Yourself Foundation, for the benefit of those that may not be aware of what that is, here is a chance for you to explain what that's all about.
It's an organisation that we started about 9 or 10 years back, that we thought was a good opportunity for us to give back, to help raise money for different charities.  We just pool our money together into the Make Yourself Foundation whenever its receipts from tickets, auctions, whatever it might be, and at the end of the year we delegate the money to different charities. We've probably raised a million and a half dollars, so far and it's been a really good opportunity for us to help out where we can.
I was at the Melbourne show and taking photos, one of the unusual things that I haven't experienced before, as far as taking photos, we were allowed during songs 4, 5 and 6.  Given that I missed songs 1, 2 and 3, I guess the question is what happens during songs 1, 2 and 3 that I would've missed and we couldn't photograph?
Probably a lot similar to 4, 5 and 6!  Maybe dusting the cobwebs off a little bit more but that's about it (laughs)!
Well I won't keep you much longer as you've got a show to prepare for, but lastly  2012 sounds like there is still plenty of touring ahead and lots of life in this new album yet?
Yeah, this record is still sort of new, it's been out about 6 or 7 months, so we're going to continue to support it and play a lot of shows, and there are a lot of places that people want to see us perform so we're going to try to get to as many as we can and have a really good time!
Click this link to check out photo's from the Melbourne Incubus show at Festival Hall, courtesy of Lens Of Rock…
Essential Information
From: Calabasas, California
Band members: Brandon Boyd – Vocals , Mike Einziger- Lead guitar, Jose Pasillas – Drums, Chris Kilmore – Keyboards, Ben Kenney – Bass guitar
Website: www.incubushq.com & www.makeyourselffoundation.org/
Latest Release: If Not Now, When? (2011, Sony Music Australia)