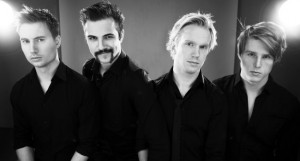 "We have so many different variations of how we like to describe ourselves.  First we have action rock, then there was energy rock, now we call it Chuck Norris rock, it's like a karate kick to the face (laughs)!"
Hailing from Malmö, Sweden, Royal Republic are loud, funky and whilst some bands need a little time to work their way into the consciousness of the rock public. Royal Republic on the other hand are one of those rare creatures that simply kick their way through the door with an unforgettably loud bang!….or with a Chuck Norris karate kick, as Jonas Almen tells us.
Hitting Australia for Soundwave Festival, ff you are heading to Soundwave early, then let Royal Republic kickstart your day in the best way possible with a dose of high energy rock 'n' roll!  They will also be teaming up with Unwritten Law and Zebrahead for a couple of Sidewaves in Melbourne and Sydney.  Check out our chat with Jonas…
Hey Jonas thanks for taking the time to chat today!  So first things first, you are coming to Australia in a few weeks for Soundwave Festival, you guys must be pretty damn excited, which is your first tour here and I assume is your personal first ever visit to Australia?
No, I have never been to Australia before but my girlfriend was over there for like 5 months in Melbourne so I know everything there is to know about Melbourne, but not the rest of Australia!
So what are your expectations of Soundwave Festival, what have you heard?
I'm really excited about it, as it's our first time in Australia.  During our European tour last year, there was an Australian band from Adelaide that toured with us and I've been thinking that if all Australian people are like these guys then we are going to have an awesome time in Australia as you guys seem so fucking cool!
And the Soundwave lineup itself, it's a pretty massive lineup of bands this year, who are you looking forward to catching?
First of all I want to see Mastodon as they kick ass.  Of course Slipknot and System Of A Down.  Trivium would be another cool one as it's been a few years since I last saw them.  Then there's another Swedish band, In Flames who are a great live act.
Speaking if In Flames, I was actually chatting with Bjorn a few hours ago!
You mean the guitar player with the awesome beard (laughs)!
That's the one haha! 
So Europe has the greatest rock festivals in the world and I am sure you have played at a bunch of them, or been to them, such as Sweden Rock Festival.  To meet your expectations, what then are you hoping that the Australian festival experience delivers?
Good beer!  Well it's a massive festival and I just want to go there and have a bunch of fun.  I've been to Sweden Rock Festival about 5 or 6 times and I love just walking around the festival and checking out a bunch of new bands.  As a bonus, I hope I get a good tan as well!
There's also a fair contingent of Swedish bands playing on the lineup to, In Flames, Raised Fist, Meshuggah, Watain…
If you compare us to those bands were the softest band.  They're like all death metal and balls to the wall metal (laughs).
Have you had many Aussie fans contact you over the Internet sharing their excitement you are heading to Australia?
I don't really know whether the Australian people even know about us!  I'm personally a little nervous as it's a new market and will the people love us or hate is?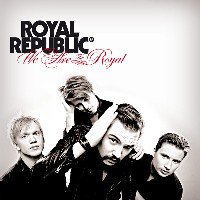 So back in 2010 you released your album and then 250 shows and 2 years later, here you are, it's sure must have been a crazy ride!!
Yeah kind of!  We've had some time recently where we have been working on some new music.  Waking around my apartment, it's kind of been like 'fuck', I can't even really remember what my apartment looks like.  Those two years were really crazy and I remember when we spoke to our management at the beginning and we told them "we want to tour…".  We kind dreamed how cool it would be to play shows 7 days a week, then after a year, it was like, imagine being home for 7 days!  But it's been very hectic, but I've enjoyed it so much as you get to see so much and meet so many new people.
Having had the experience of writing and recording the first album, in what ways do you think you will be wiser going into the next album?
Well I've got to be honest with you, when the first album was recorded, I wasn't the bass player in the band.  The band started off and played about five shows before they recorded the album, then after the album was recorded, the bass player quit.  Then I joined and have done 250 shows since then!  The only thing I did on that album was record some backing vocals on a track.  It's going to be a whole new experience recording an album for me!  I'm like a newborn baby, I'm just going to go in there and press every button in the studio (laughs).
Have you found you are the type of band that attracts a pretty diverse bunch of fans and crowds at your shows?  That's what I would certainly expect anyways…
I think we really try and establish ourselves as a really great live act and not depend upon having radio hits.  So we find that really attracts people that appreciate seeing a great live act and not come to just hear a hit single they heard on radio.  So we've been blessed by that to have people turning up because they heard we are a great live band!
Just lastly, for those that have never heard of Royal Republic until now…how do you describe the style of rock music that you deliver?
Well we're a great band!  We have so many different variations of how we like to describe ourselves.  First we have action rock, then there was energy rock, now we call it Chuck Norris rock, it's like a karate kick to the face (laughs)!
Essential information
From: Malmo, Sweden
Band members: Adam Grahn, Hannes Irengård, Per Andreasson, Jonas Almén
Website: www.royalrepublicband.com
Latest release: We Are The Royal (2010, Roadrunner Records)
Sidewave show dates with Unwritten Law and Zebrahead
TUESDAY 28TH FEBRUARY BRISBANE, THE HI-FI– 18+
www.thehifi.com.au
WEDNESDAY 29TH FEBRUARY MELBOURNE, THE ESPY – 18+
www.oztix.com.au
Presented by Soundwave Touring