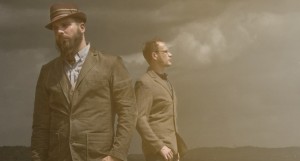 When Killswitch Engage guitarist Adam Dutkiewicz and former Killswitch Engage vocalist Jesse Leach got back together and released a new album under the banner of Times Of Grace, titled The Hymn Of A Broken Man, as Jesse explained himself, not even they themselves could have anticipated the level of interest worldwide in the band.  Not just in terms of the response to the album, but also as a live force, playing major festivals such as Download Festival in the UK and soon to be Soundwave Festival in Australia in a few weeks.  Times of Grace will be hitting Aussie shores with a touring lineup that will also include Killswitch guitarist Joel Stroetzel, as well as bassist Matt Bachand from Shadows Fall, who Times Of Grace will be teaming up with for some sidewave performances along with Machine Head and Chimaira.
Check out our chat with Jesse below…
Hey Jesse, thanks for chatting today!  So in a few weeks you will be hitting Australia for a return to Soundwave Festival, you must be looking forward to bringing the Times Of Grace show downunder?
Oh yeah man, I'm looking forward to playing and also just going there for the first time.  It will be nice to get out and see the other side of the world!
When you first started off writing/recording the album, did you ever seriously consider that you would be playing these songs at major festivals on the other side of the world such as a Soundwave or Download Festival?
No we didn't.  It was literally a record we wrote and wanted to put a record out together after all those years.  It was definitely never discussed that we would form a band and tour.  For us it was a matter of finishing off the record and putting it out and seeing what would happen.  So it's been really cool to see what has happened and that's the beauty of it given it was a record that was made purely out of the love of the music.
You played festivals such as Download in 2011, how was that experience, taking the music of Times Of Grace to the big festival stage?
It was great man, but initially a little over whelming for me because I had never played over there ever and the sheer size of some of the crowds, I had never played in front of that many people.  It was a challenge, but one that I was looking forward to and it's definitely one of my favourite musical experiences to date, to get over and do that.
Well hopefully Australia will deliver a similar kind of response for you guys also.  Have you checked out the Soundwave lineup yet?
Well Machine Head is definitely a band that I've always loved and I'm a big fan of Rob Flynn so I'm looking forward to sharing a stage with them.  There's also our buddies Shadows Fall, which Matt our bass player in Times Of Grace is also in Shadows Fall and those guys are fun to hang out with.
Obviously writing and recording is one thing, but how has it felt to be back up on stage playing with Adam, did it take much time to get that on chemistry back?
Adam and I have always been really good friends and even our friendship, we don't miss a beat, even if we haven't talked in months.  We've just been brothers for years and years, even through the last bunch of years, maintaining a friendship.  So for me jumping back on stage was kind of like of how you learn to ride a bike, you just jump back and that's all it was for us man.  Getting used to being in a band with different people who I have never performed with, that was the fun part.  There's definitely never been a moment with this band where it felt awkward or strange, it just felt right from the start.  It's a very fortunate situation, as you never know, all kinds of bands I've been in, we've had one or two people and it's kind of like, I'm not sure how this is going to work out.
The Hymn Of A Broken Man has been out now for about 12 months, having had a chance to reflect on the album, as well as performing the songs live, what are your thoughts now reflecting on the album?
It's interesting actually because the record itself is over 5 years old as we kind of put it on the shelf and forgot about it.  For me, it's great for it to still be relevant.  When I listen to the songs and I perform them I can still feel the emotions in the songs from when I first wrote it.  To me its great to still have that and for it to be relevant, it knocks me out lyrically and sonically it's where we were at the time, or where Adam was at the time.  I'm really proud of it and I see it as a nice peg in the timeline of our respective music careers and what we've been doing.  To be able to come back together after all those years and write that record it was definitely a blessing.  I really hold it close to my heart I'm very proud of that record.
Given the background to the lyrical content of the album, it must be a pretty emotional and personal experience at times, being up on stage singing the songs?
Yeah it almost feels like therapy session in front of a couple of thousand people, but it's good therapy!  I mean music is therapy to me, some of those lyrics when I sing, I'm singing to myself too, trying to instil that positivity and that will to push on in life.  You know everybody goes through hard times in life.
Was there ever any real issues or conflict with the members of your respective bands at the very beginning when you were writing for Times Of Grace, because you guys kept it reasonably secretive didn't you?
It was a process you know, with the first news coming out that we were doing this, we obviously wanted to be very respectful of the Killswitch situation and at the time I was in a band called Seemless, so we needed to be respectful to them.  We just needed to reassure everybody that we just needed to make this record together, we're not really sure why, but we will be making this record.  Of course the Killswitch guys are all good friends respectively of Adam and I, the guys in Seemless and then the guys in my other band The Empire Shall Fall, everybody has been nothing but supportive of us.  That's the beauty of being in a band with your friends as well, they're not just band mates, not just business people or people you hire and fire on tour.  We are both blessed to be surrounded by friends of ours who understand that sometimes you've just got to do different musical things.
And what of the appeal of the album, would you say it has been embraced by Killswitch fans and conversely, have you found it has appealed to a whole new audience as well, who may not have been Killswitch fans?
It's a mixed bag, there's certainly a lot of Killswitch fans that have been coming out to see us, especially given we are 3/4ths of the original lineup, so we've definitely got a lot of that which is great as those people have been very supportive, sweet and sincere.  It's nice to get out there and when you get off stage to have people tell you they are a fan of what you do, it helps keep you going and do what you do.  I've been keeping that in the back of my mind as we meet people in all different places all over the world, to me that just blows my mind.  Then we've had people who didn't even know who Killswitch was or our backgrounds.
Given the reaction to the album and obviously the interest in Times Of Grace as a live entity, has there been any talk yet about working on a follow up album?
We definitely have a couple of acoustic tracks kicking around and there's been talk of potentially doing a bluesy EP, like a 5 or 6 song kind of thing.  We're both big fans of Americana, Bluesy kind of stuff and we've gotten a lot of good response to the acoustic track on the record called The Forgotten One, just the amount of emails and people in person saying they really love that song and that we should do more of that, it's exciting to hear.  Number 1 it allows us to step outside of the genre and which I think we incorporate different genres in that record, I don't think it's specifically a metal record or a metal core record or whatever people are calling it.  There's definitely rock n roll on it, there's a bit of ambient kind of stuff, then the acoustic, bluesy element so I think we're going to try and expand on that initially and then maybe after that out another heavier record. We are both just excited at the prospect of being able to do whatever we want to do at this point, so we'll see what happens.
Now you also have another band you are lead vocalist for, The Empire Shall Fall, for those that aren't aware, how would you describe that band in a musical sense?  Also how has been the reaction to the new EP?
It's been going great man, we're definitely also pushing genre boundaries there, we had a bunch of organ stuff and a saxophone player on one of the tracks, we had this great female vocalist do some stuff as well.  We're just trying to be who we are as a band and do what we want and our fans buy the stuff and support us.  There's no label or business people or people telling us that maybe we should be recording something like….  It's free from that and it's absolutely artistic expression and I couldn't be more proud what we've achieved as we started that band from scratch.
So Volume 1 – is that the start of a series of EP's to follow?
Yes that's right, the plan is to do 3 and it will actually tell a complete story once the EPs are complete. Lyrically it comes from many different places as well.  I'm a huge fan of art and not explaining things too much.  If you write something direct you don't have to really explain what you're taking about, if you write something that's really musically and lyrically abstract, I enjoy people wanting to know what it is, but I can simply say its up to you and your interpretation of who you are.  Looking at an abstract painting and trying to figure it out, it's great to draw your own conclusions and as the artist, I love to keep my mouth shut and say, interpret it how you will!  I always feel that people's interpretations can often be more powerful than any explanation they could get from the artist.  The Empire Shall Fall is something I am definitely really proud of, it's definitely left of centre and incorporates different styles and we are doing really well as a do it yourself band!
Just before we finish up, not that you aren't busy enough right now, but have you got anything else you have been working on that you wanted to share?
Well, I have about 20 songs that I've been demoing for a solo release that's kind of blues rock, trip hop, kind of abstract stuff.  Kind of thinking Tom Waits meets Massive Attack, so hopefully one day I will get that out there!
Essential Information
From: USA
Band members: Adam Dutkiewicz – Guitar/Vocals, Jesse Leach- Vocals, Joel Stroetzel – Guitar, Dan Gluszak – Drums, Matt Bachand – Bass/vocals
Website: www.timesofgraceband.com
Latest release: The Hymns Of A Broken Man (2011, Roadrunner Records)
Sidewave dates with Machine Head, Chimaira and Shadows Fall
TUESDAY 28TH FEBRUARY    MELBOURNE, THE PALACE– 18+
www.oztix.com.au / www.ticketek.com.au
WEDNESDAY 29TH FEBRUARY SYDNEY UNSW ROUNDHOUSE– LIC/AA
www.oztix.com.au / www.ticketek.com.au
Presented by Soundwave Touring