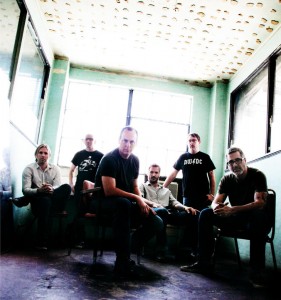 "I think that for us there's still plenty to say and plenty to do and I can still honestly say that when people ask, "what's your favourite record, I can answer with "I hope we haven't made it yet…"
Forming in the northern suburbs of Los Angeles in 1980, Bad Religion have been one of the true mainstays of the punk rock scene for the last 30 plus years.  Recently celebrating their 30 year anniversary in 2010 with the release of a new studio album The Dissent Of Man, Bad Religion will be once again returning to Australian shores for Soundwave Festival, not to mention playing some Sidewaves with fellow punk rock "dogs" Street Dogs, Strung Out and The Menzingers.
Check out our interview below with one of the band's founding members, bass player Jay Bentley who chats about where punk rock is at in 2012 and the bands changing fan demographics over the bands 30 plus year history.
Well Jay, in just about a week you will be heading back to Australia again, for Soundwave Festival, are you ready for that plane flight yet (laughs)?
I've already packed my bags, tuned my guitars and ready to go!
So you've had a few cancelled tours recently haven't you, but this time it's Soundwave 2012!
Yeah we were slated on that Soundwave Revolution tour and I was really excited to get back down and play that, but that all fell through.  I was really humbled when they asked us to come back and play on the Soundwave, when I saw the lineup I said, this things going to be great and a lot of fun!
You guys also have a handful of Sidewaves too, which will be a great opportunity to play a couple of smaller shows!
Playing with Strung Out and Street Dogs and you know, really making it like ok, "this is what we do", the festival thing is a bit like a free for all and you can go and see the bands you want to see, then don't watch the bands you don't want to see, but when you come to our show, it's like, now you've got to watch everybody!
At least playing a few longer shows helps solves some setlist dilemmas no doubt, over 30 years of material, I don't envy your task!
I think the funny thing is, sometimes on a big festival, when you get up there and play a show or two, and sometimes we will mix things up a bit.  It can often be like, most of the time people won't know who we are, so let's try and do a setlist like this….  Then we realise, hang on, people do know who we are, or then even worse is when people don't care who we are, then you just make the best setlist ever and go "hey check this out, we don't really care".
Speaking generally, as you tour the world playing these huge festivals, with a huge lineup of bands, what are your thoughts on where the state of play is at in 2012?
I think that anytime you can go and play in front of people that don't know who you are, it gives you the opportunity to play for fans of other bands and it might be like, "well this is who we are and you might not like us, but maybe you might", who knows…but we're going to play!
Do you feel the world's attitudes towards punk rock have changed significantly during the history of Bad Religion, I dare say for starters, there's not that "danger" that existed back in the early days?
It's sort of a mainstream viable music now, where before it was outcast and in the darkest of shadows.  Punk rock was not considered serious or viable ever, but once a band like Nirvana broke through that door and then Green Day and Offspring and everybody else that followed down the line, you're taken a bit more seriously which is great as it allows room for bands to have access to a bigger audience than they would have had in the past.  That being said, it means for every ten bands there used to be, now there's ten thousand bands that want to be the next Green Day, not that there's anything wrong with that!  Historically, there was never a drive to become a successful punk rock band because that was an oxymoron!
And I guess going back to the beginnings, it must be a pretty staggering thought to think 30 odd years later, there are people in the far reaches of a country like South East Asia where you toured recently for the first time, connecting with Bad Religion!
It's really super humbling to go anywhere to be honest, even if I'm going down the street to play a local gig here.  It's humbling that anyone would care about what we do.  But you're right, when it's somewhere halfway around the world and you think there's nobody there that has the slightest idea who we are and nobody is going to care and then you go there and all the people are so overwhelmed that you came and they know your lyrics and know your songs and want to talk to you about them all.  That's what it has always really been about, sitting down and talking about all these great ideas and thinking, ok so humanity is not totally fucked (laughs!)
Over the years, have you noticed much of a change with the demographics of the Bad Religion fanbase…obviously long term fans will have gotten older, but aside from that, has that changed a little bit in line with how punk rock has changed over the years?
You know I can point at times in our career where I saw things change in the audience.  The first time I ever saw more girls in our audience was when we went on tour in 1993 with Green Day, who were opening for us and they had this incredible girl fan base.  Punk rock bands didn't have that and we were on tour with them and they'd be opening and I would be thinking where are all these girls coming from?  But that was Billie Joe etc and the chicks dug them and they were awesome and I was like, well that's not really our fanbase at all.
Then we started heading out with other bands, I think Pearl Jam in 1995 and after that we started seeing more people that didn't have mohawks and leather jackets, it was like ok so these are normal people, that's cool.  Then we went on tour with Blink 182 and we were playing huge stadiums and I remember going out and it just seemed like an overwhelming sensation of little people, like small kids, 14 or 15 and I was going, we've never seen little kids at our shows before.  A few years after that, I started seeing an influx of people that were coming up and saying I saw you with Blink when I was only 13 and my mom wouldn't let me go to your concert, now I'm 18yo and I don't give a shit.  I'm like "yeah!!!!" (laughs).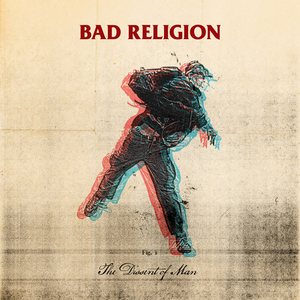 You released your last album The Dissent of Man back in 2010, any updates on whether a new Bad Religion album is in the works and can be expected anytime soon on the horizon?
Well, we're discussing it and that's about as "in the works" that it gets.  We are talking about it and that's how it all happens, at the end of last year we were saying that maybe its time to start the new record.  I ran into Brett today and he said he's got a few songs that he really likes and Greg says he's grabbing his guitar and starting to write some stuff, so that's how organically this all starts coming about.  Greg and Brett starting to write and hopefully around July we will be able to get to the studio and start working and fingers crossed if things work out we might get a new record out by the end if the year.
Has that been how you've approached writing pretty much from the beginning?
Yeah, it's been pretty reverent towards that process.  We don't really like to spend a whole lot of time in the studio, or a whole lot in pre-production because I think we've always had this attitude of the more times you play a song and the more you beat it up, the more lifeless it becomes.  There's something to be said for spontaneity so we try and keep everything as exciting as can be so when you hit that record button, you're still sitting on that edge of "I'm going to fuck up any minute here", but that's what makes it intense!
The band has contributed a track to the Chimes Of Freedom, The Songs Of Bob Dylan, your song was It's All Over Now (Baby Blue), what was the background to recording that track, did you guys get to choose what track you wanted?
Well I think why that particular song hit a chord with us was that was the song that Bob Dylan out his acoustic guitar down and it was the song he came out with the electric guitar and said, ok we're moving on…  That spoke volumes to us, just that sentiment, it didn't really have much to do with that song, but just that whole ideology of the package and how they was presented, it was like that makes sense to us….
By no means am I pre-empting the end here, but a few years back now it was the bands 30th anniversary and we are already a couple of years closer to a 40th anniversary (laughs)…you guys each have your own interests outside of the band, so is it going to be a case of when the fun and enjoyment stops, that's when Bad Religion stops?
Yes I think so.  When it's no longer fun and maybe what you consider to be your art form, you don't think that what you are contributing is relevant and you are just clinging into some idea of what used to be, then I would say that yeah, it's time to pack it up.  But right now, I think that for us there's still plenty to say and plenty to do and I can still honestly say that when people ask, "what's your favourite record, I can answer with "I hope we haven't made it yet…"
So I guess in that case then, we shall look forward to a 40year anniversary tour of Australia then!
Why not, why not!
Any last words for the fans down under…
See you down there, bring your surfboards, I'm going out…
Essential Information
From: USA
Band members: Greg Graffin – Vocals , Brett Gurewitz – Guitar, Greg Hetson – Guitar, Jay Bentley – Bass, Brian Baker – Guitar , Brooks Wackerman – Drums
Website: www.badreligion.com
Latest release: The Dissent Of Man (2010, Epitaph Records)
Sidewave dates with Strung Out, Street Dogs and The Menzingers…
MONDAY 27TH FEBRUARY – MELBOURNE, THE PALACE – 18+
Tickets available www.ticketek.com.au / www.oztix.com.au
WEDNESDAY 29TH FEBRUARY – SYDNEY, BIG TOP LUNA PARK
Tickets available www.ticketek.com.au / www.oztix.com.au / www.bigtopsydney.com
Presented by Soundwave Touring