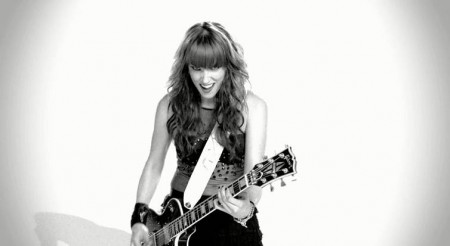 Video released for first single 'LOVE BITES (SO DO I)' from the new album THE STRANGE CASE OF… out April 13
Watch the new video here
On their new home of Roadrunner Records, Pennsylvania-based hard rockers Halestorm have released the first single and video from The Strange Case of… their brand new album, out on April 13.
Formed by frontwoman Lzzy Hale and her brother, drummer Arejay Hale, Halestorm has been hailed an incendiary new force in modern hard rock.  Their debut self-titled album made a top 5 debut on SoundScan's Hard Music chart upon its 2009 release, simultaneously bursting into the top 40 on the Billboard 200. It earned extensive acclaim for its infectious hard rock anthems, sexy hooks, and rough-and-tumble grooves.
The new album will be titled The Strange Case Of… and is heralded by the electrifying new single, 'Love Bites (So Do I)'.  The single – as well as three other highlights from The Strange Case Of… – feature on Halestorm's EP, Hello, It's Mz. Hyde which is now available digitally in Australia.
The complete album The Strange Case Of… will follow on April 13. Eager fans can get a sneak preview of the EP online now here:
Working again with producer Howard Benson, The Strange Case Of… was recently named among Revolver's Most Anticipated Albums Of The Year. "Led by one of our favorite rocker babes, singer-guitarist Lzzy Hale, (Halestorm) promise a more personal album for their follow-up," the magazine noted.  "But don't expect them to get all sappy on us.  There should still be more than enough of the band's now signature raucous attitude and righteous riffs for any headbanger to get off."
True road warriors, Halestorm honed their chops via countless gigs with the likes of Shinedown, Avenged Sevenfold, and Disturbed.

Roadrunner Records releases Halestorm's new album The Strange Case Of… on Friday 13 April.