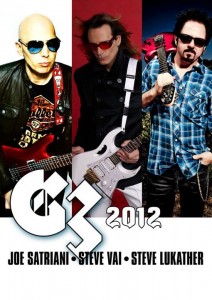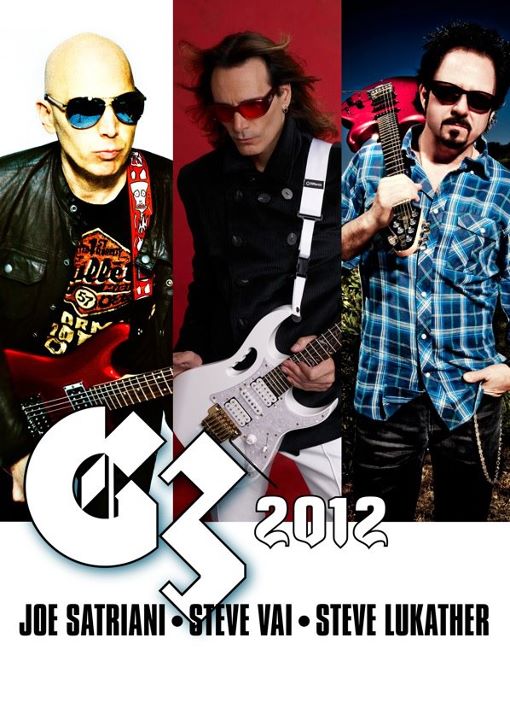 Just announced,  PANTHERS, NEWCASTLE – THURSDAY MARCH 29 (All Ages) Tickets on sale 9am, Wednesday February 29 through Moshtix.
Three guitar heroes! Three bands! The infamous G3 Jam – all packed into ONE hot show!
Prepare to witness some of the most electrifyingly brilliant displays of guitar mastery ever seen when the most anticipated international live guitar event arrives in March 2012!
G3 bring their combined guitar pyrotechnics to Australia & New Zealand in what will be dazzling two-and-a-half-hour-long shows of guitar wizardry and musical daring.
G3 guitar gods Joe Satriani and Steve Vai will be joined on tour by the renowned Steve Lukather.
Fans will be treated to individual sets by each guitarist with their own bands before joining Satriani and his band on stage for an all-star jam session.
Since its inception and instant success in 1996, an incarnation of G3 has toured almost annually. Featuring three selected guitarists of this generation, G3 have performed sold out shows in the US, Europe, South America, Japan and here in Australia.
Founded by Joe Satriani, G3 has featured many celebrated guitarists including: Steve Vai, Kenny Wayne Shepherd, Yngwie Malmsteen, Robert Fripp, Adrian Legg and Eric Johnson.
This year's line up threatens to over-shadow all of them.  Please note that the lineup will also be performing as part of the Byron Bay Bluesfest, all the details for that can be found by clicking right here….
Joe Satriani is universally hailed as one of the most technically accomplished and respected guitar players in the history of rock music. Since his 1987 breakthrough album, 'Surfing With The Alien' – the first instrumental guitar album to break into the US top 40 and still considered one of the most influential instrumental guitar albums to date – Satriani quickly established his reputation as one of rock's most important guitarists and has continually been voted the best guitarist in leading guitar magazine readers' polls. Satriani has gone on to sell more than 10 million albums worldwide, garner 14 Grammy nominations, develop his own guitar line with Ibanez, and continues to push the envelope of modern rock guitar playing.  He recently released his 14th studio album, 'Black Swans And Wormhole Wizards' and heads supergroup Chickenfoot.
Steve Vai, a Grammy award-winning guitar virtuoso with career sales of more than 15 million albums worldwide, his sheer breathtaking guitar wizardry is acclaimed in the rock world and beyond.  In 1990 with the release of his 3rd and ground-breaking solo album 'Passion and Warfare', Vai solidified his standing as one of the greatest guitarists of all time.  While Vai clearly had what was needed to make indelible impressions during his stays with Frank Zappa, David Lee Roth and Whitesnake, plus numerous collaborations and guest appearances, it's as a solo artist that he's made his most unique and compelling contributions.  His latest live album and DVD project, 'Where the Wild Things Are', is a major achievement from a musical alchemist of the highest order.
Steve Lukather is a five-time Grammy award winning guitarist and a founding member of Toto.  Over an extensive career spanning more than 35 years, with Toto Lukather has sold more than 30 million albums worldwide. He has also played on more than 1,500 records, in all styles of music, from Michael Jackson's 'Thriller' to Miles Davis, Earth Wind and Fire, Cheap Trick, Paul McCartney, George Harrison, Don Henley, Alice Cooper, Elton John, Eric Clapton, Quincy Jones and many more.  Lukather has released eight solo albums including his latest 'All's Well that Ends Well'.
Don't miss the axeman's night of nights! G3 performing at:
Wellington, Michael Fowler Centre – Saturday March 24
Auckland, Logan Campbell Centre – Sunday March 25
Canberra, Royal Theatre – Tuesday March 27
Newcastle, Panthers – Wednesday March 29
Sydney,  Hordern Pavilion – Friday March 30 – reserved seating
Melbourne, Palais Theatre – Saturday March 31
Melbourne, Palais Theatre – Sunday April 1 * Just announced.
Adelaide, Festival Theatre – Tuesday April 3
Brisbane, Convention Centre -Thursday April 5
TICKETS ON SALE 9AM FRIDAY NOVEMBER 25
MCP Members pre-sale runs from 2pm Thursday Nov 17 until 5pm Tuesday Nov 22
Ticket agent pre-sale runs from midday Wednesday November 23 until 5pm Tuesday Nov 24
BOOK THROUGH:
Wellington / Auckland – Ticketek 0800TICKETEK www.ticketek.co.nz
Canberra / Sydney / Brisbane – Ticketek 132 849 www.ticketek.com.au
Melbourne – Ticketmaster 136 100 www.ticketmaster.com.au
Adelaide – Bass 131 246 www.bass.net.au
www.coppel.com.au
www.satriani.com
www.vai.com
www.stevelukather.net