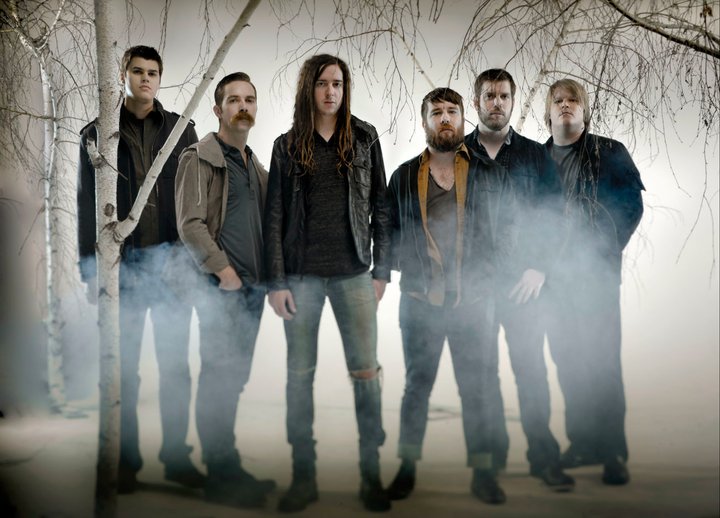 "It's usually a wild, crazy, energetic kind of show, I'm not sure what we'll be able to do production wise as I assume we'll be playing in the afternoon so it'll be a little bit stripped down from our normal club shows but it should be just as energetic and hopefully entertaining."
From Bio: For the six men in UNDEROATH, whose members have evolved and thrived during a decade-long progression that has elevated them into one of heavy music's biggest successes, change has been ubiquitous. 2010 has been no exception for the Tampa-based sextet, who underwent and overcame what many consider their most significant line-up alteration yet. Yet in doing so, UNDEROATH experienced an artistic rebirth in the form of Ø (DISAMBIGUATION), its triumphant fifth album for Solid State/Tooth & Nail. Transformed by the arrival of new drummer DANIEL DAVISON, formerly of Norma Jean, UNDEROATH–which also counts TIM MCTAGUE, SPENCER CHAMBERLAIN, GRANT BRANDELL, CHRIS DUDLEY and JAMES SMITH–has delivered an album that emphatically surpasses its predecessors in terms of craftsmanship and cohesion.
We chatted to the 'new guy', drummer Daniel Davison about his joining the band, new music, touring and their message.
Underoath are heading to Australia for Soundwave, a festival they've played before but this is your first time correct?
It will be yeah, and the rest of the guys have talked about it and I'm expecting it to be one of my favourite tours ever.
Now for those that may not have seen you perform, what can people expect from an Underoath live show?
Yeah I mean if they're not familiar with the songs, I was going to say we play a bunch of material spanning the last four records, so there's a lot of different songs to hear.  But it's usually a wild, crazy, energetic kind of show, I'm not sure what we'll be able to do production wise as I assume we'll be playing in the afternoon so it'll be a little bit stripped down from our normal club shows but it should be just as energetic and hopefully entertaining.
Being to Australia as recently as last year, do you have a memory that stands out of playing here you can share with us?
I mean the whole thing was just amazing, at that point I hadn't been to Australia for a couple of years since touring there with one of my old bands and I just always loved being down there and touring and everybody always seems so excited about it.  I think we played two shows, two nights back to back in Melbourne, I don't remember what the venue was called it was right there on the water, no actually that was in Sydney sorry.
The Big Top, down at Luna Park?
Yeah, we played there and that was so much fun.
Your most recent album has been out for some time now, has the band been working on new material?
Not directly but we've been doing a little bit of writing, we wrote together on our last tour, but we're kind of on a little break right now, Soundwave will be the first tour we've done in a couple of months, and then we're doing Asia directly after Soundwave and then we come home for a little bit and then we do South America, so lots of International stuff in the works.  I assume this Summer we'll probably get together and start writing, we don't have studio time reserved or booked or anything like that.
So when do you think we can we expect a new album?
Yeah honestly right now I really don't know, we already have some songs partially written.  Maybe late in the year or potentially early next year.
As the newest member to join the band, how was it stepping into the shoes of Aaron who had been with the band from the beginning?
Not really, I had been good friends with the guys for ten years or so, so there was no getting to know each other, that was already done through the years and years of touring together and being friends.  But yeah, I was a little bit nervous because he's such a good drummer and I know he had a lot of fans specifically liked him, but I came into it with a fresh mind and a fresh perspective and wasn't really trying to fill his shoes quote unquote.  Just gotta do my own thing, and from all the feedback I've gotten at least personally it's been really positive so that felt really good.  Even though I know there are fans that miss him since he's left the band, but that's naturally going to happen so I didn't take that too hard.
What about the transition of coming from another band into something so established, was that difficult?
No I don't think so, there was a little bit of a break in between there.  I quit Norma Jean like 2 or 3 years before I joined up with Underoath so it was actually exciting, I went from having somewhat settled down in some respect as far as not touring and not being gone all the time, to kinda being thrown right back into it so it was kind of exciting and really fun to be able to tour again and see a lot of the places I hadn't seen in a long time.
Were there some nerves from the band as to how the new material would be received with a new line up?
I think so, I think before I joined up with the guys they were a little unsure of where the band was going and what was going to happen, but literally a few days after I got down to Florida to start jamming with the guys, it all kind of came together really, really quick.  I mean we write the record in about 5 or 6 weeks, we wrote it start to finish in a little over a month and we're in the studio, so we didn't really have time to wonder what it was going to sound like, it just happened so quick.  A month after we'd written it, it was already almost finished being recorded because we went straight into the studio after writing it.  We wrote for a little over a month had one day off and went to the studio and recorded the whole thing in about 6 weeks and then had 2 days off and then went on tour, so there wasn't any time to wonder as it all came together so fast. It was a crazy couple of months but it was so much fun.
As  the newest member and being involved in the writing process, what kind of energy did that put back into the band?
From everything that they've said and from what I can kind of feel and gather, it was like a breath of fresh air, and I don't want to be like 'oh I'm like this great dude' but I think it was just the culmination of them not really getting along with Aaron the previous drummer and then him quitting and just like the panic mode, they already had their studio time booked at that point, what are they going to do?  They called me, I get down there and of course they're not really going to know until I get there, but we immediately clicked, so I think that kind of empowered them to really just go all out on the record and make it the best thing that we possibly could, so I think that was really beneficial thing and that fact that I hadn't been playing in a heavy band for a couple of years, I had a lot of ideas that had been brewing so I think everything lined up and the exact time and spot that it should've for the rest of us to be able to make a great album together.
After a few line up changes over the existence of the band, do the band now feel that you the unit you need to be?
I mean it feels like that.  I mean you never know, and I'm not going to say 'Oh this is the final line up and if anything changes the band is done' I'm not gonna make a sweeping claim like that but as far as I see it and I stand, it feels great right now and I think it's a really great line up and a great bunch of dudes.  So as far as it is now, I'm totally pleased with it.
Being a Christian band, how important is it to you to try and get your message across to people with your music?
Me personally not so much, but everybody in the band is in different places as far as that goes so I don't really have one answer that could sum it up for the band.  A couple of guys in the band that's a really big aspect as to why they're in the band and why they play the music, then you have guys in the band that don't feel the same way, but we make that work as a whole, but I think that's more of a personal goal or personal aspect of the band or each individual of the band, but as a whole I don't think that's a main issue for the band.
Back to Soundwave, are there any bands on the bill that you're excited to see that are performing?
Yeah a bunch of them, so many of them that I can't really remember who they are right now.  I'm really excited to tour with and see Mastodon and Dillinger and Circa Survive, all those guys are friends of ours so it'll be good to hang out with them.  I'm excited to see Bush play as I think they were the first band I saw in concert when I was 12 so that was like 95, so that'll be really nostalgic to see, and I've never been a huge fan of Marilyn Manson but I think it'll be really cool to be able to see that live.  It's crazy, so many good bands to see.  That never happens in the States, not on that large of a scale, there are just so many bands.  I'm looking forward to it.
Underoath has been a band for close to 15 years now, and in knowing the band for a long time, how over the years have you seen the band grow?
Yeah just always been close friends of mine, I didn't follow each and every move but I would hear the records here and there and always appreciated what they did and was always really happy with them with the success that they've had over the years.  I never would've guessed that I'd end up playing with them, but it's been super fun the last two years to be able to hang out with them and make music together it's been great.
Essential Information
From: Florida, USA
Band members: Spencer Chamberlain: vocals, Daniel Davison: drums, Timothy McTague: guitar, James Smith: guitar, Grant Brandell: bass, Christopher Dudley: keyboards
Website: http://www.underoath777.com
Latest release: Ø (Disambiguation) – (Roadrunner Records – 2010)
Sidewave shows with Dream On, Dreamer & The Smoking Hearts
MONDAY 27 FEBRUARY MELBOURNE, THE HI FI – 18+
www.thehifi.com.au
THURSDAY 1 MARCH SYDNEY, THE FACTORY THEATRE – Licensed All Ages
www.oztix.com.au / www.factorytheatre.com.au
Presented by Soundwave Touring