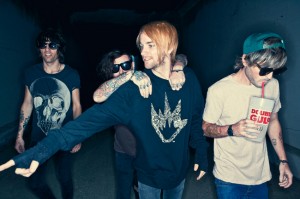 Artist Voice, Bombshellzine, Afends Clothing, Macbeth Shoes and Monster Energy Drink Present – Dangerous! " Teenage Rampage" Tour. Raucous Australian Rock Band Hit The Road In Support Of Their Debut Album.
There aren't many bands left these days who embody rock n' roll's raucous spirit, which is why the music of Dangerous! is more vital now than ever. This Australian act (the first ever to sign a worldwide deal with Epitaph) haven't had a dull moment since forming in 2007 and with the release of their new album Teenage Rampage, the band—Tommy, Nicky, Jarrad & Liam—are poised to take over the world one power chord at a time.
Dangerous!'s debut disc was recorded in Los Angeles with Grammy-nominated producer Ulrich Wild (Deftones, Pantera), mixed by Marc McClusky (Weezer) and features 12 energetic anthems that are literally bursting at the seams with youthful enthusiasm. By combining the swagger of The Vines,  the edge of Guns N' Roses and the energy of Australian rock icons like AC/DC, the band have created one of the most memorable albums in recent memory—a fact that makes perfect sense when you consider that they've spent the first half of their twenties on the road.
Dangerous! have played some of the biggest festivals in the world, including Sonisphere Festival and Download Festival in the UK (both in 2011), playing alongside acts such as Linkin Park, Bring Me The Horizon, Bullet For My Valentine, Weezer and Slipknot, followed a series of UK tour dates with Young Guns.
Teenage Rampage is a sonic explosion of the best elements of punk, indie rock and metal, all effortlessly wrapped up in one instantly infectious package. Lyrically Teenage Rampage is about youth, fun and individuality, subjects that the band hold true to their heart.
Catch the band as they make their away up and down the east coast of Australia,
Check out the video for the anthem "Not One Of You" here
Dangerous! "Teenage Rampage" tour is presented by Artist Voice, Bombshellzine, Afends Clothing, Macbeth Shoes and Monster Energy Drink.
"Teenage Rampage'' Tour March 2012
Wed 7- Mar Melbourne –  Revolver (DJ Set)
Thu 8- Mar Melbourne –  John Curtain hotel
Fri 9- Mar Melbourne –  The Espy (Basement Bar)
Sat 10- Mar Geelong –  The National Hotel
Mon 12- Mar Melbourne – Pushover Festival
Thu 15- Mar Melbourne –  Next Nightclub
Fri 16- Mar Woollongong  – The Patch
Sat 17- Mar Sydney –  Spectrum
Wed 21-Mar Byron Bay Afends Warehouse Party
Fri 23- Mar Monster Madness – Surfers Paradise
Sat 24- Mar Caloundra –  Kings Beach
Thu 29- Mar Brisbane –  Snitch Club @ X&Y Bar
Sat 31- Mar Toowoomba –  Spotted Cow
Thu 5- Apr  Gosford – Gee Whizz Club Night (Central Club)
Sat 7- Apr Newcastle – Northern Star
Early praise for Teenage Rampage
"Teenage Rampage brings on quality pop melodies laced with raspy, aggressive vocals and erratic guitars, which never break the curriculum of assaulting your eardrums"   Reverb mag
"Their unique style reminds me of an early Vines but more dirty and sleazy. A dozen songs of great vocal stylings about youth, fun and individuality. These guys are the real deal. It's the perfect balance of punk, classic rock and metal. This album has set the bar high for bands in this cross over of genres" 9/10 Australian Hysteria.
"The Adelaide act has a direct style that threatens the mainstream while straddling the independent fence. A classy debut from a promising outfit" – Music Australia Guide
"These Adelaide hipsters have some guts and gristle to their hardcore infected rawk. Tommy Lofts serrated scream rings all the right bells over this carnivorous carb heavy riffery" Zoo mag
"Australian sleaze rockers fizzing with chaotic energy and hip shaking fun"  NME.com
"Fun loving, energetic Aussies Dangerous!, are bringing a party of Andrew W.K – like proportions to your doors, let them in. Shoes off though" Kerrang KKK
"Here it is, a new band with the potential to save rock'n'roll" – Fuze
"Dangerous! 2011's hottest new band… This first single from the Aussie rockers is an explosive slice of garage punk'n'roll that proves exactly why they've been snapped up to release upcoming debut album "Teenage Rampage" through Epitaph" – Big Cheese
Teenage Rampage is out now on Epitaph Records.
For More Information:
http://www.epitaph.com/artists/artist/285/Dangerous