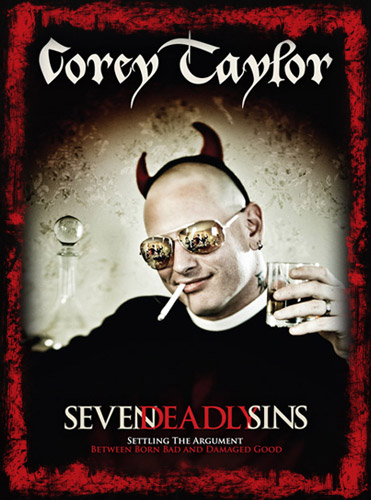 SLIPKNOT IN AUSTRALIA FOR SOUNDWAVE FESTIVAL AND SIDEWAVE SHOWS
LEAD SINGER COREY TAYLOR ANNOUNCES SYDNEY BOOK SIGNING
SLIPKNOT and STONE SOUR frontman Corey Taylor will be in the country performing with SLIPKNOT at the national Soundwave Festival, as well as SLIPKNOT headline shows in Sydney and Melbourne.
Taylor has announced that he will be signing copies and reading from his international best-selling book 'Seven Deadly Sins: Settling The Argument Between Born Bad And Damaged Good ' in Sydney this month. The free signing happens at 12pm on Tuesday 28 February at Dymocks Bookstore, 428 George St, Sydney.
The book, released in July last year, is a discussion of what it means to be seen as either a "good" or "bad" person, and the nature of sin in an imperfect and complicated world, all presented from Taylor's unique perspective as an artist, frontman, bandmate, father and husband.
SLIPKNOT TOURING AUSTRALIA FOR SOUNDWAVE FESTIVAL 2012
SATURDAY 25 FEBRUARY – SOUNDWAVE FESTIVAL, RNA SHOWGROUNDS, BRISBANE SOLD OUT
SUNDAY 26 FEBRUARY – SOUNDWAVE FESTIVAL, OLYMPIC PARK, SYDNEY SOLD OUT
MONDAY 27 FEBRUARY – SIDEWAVE, SYDNEY, ENTERTAINMENT CENTRE SOLD OUT
THURSDAY 1 MARCH – SIDEWAVE, MELBOURNE, ROD LAVER ARENA SOLD OUT
FRIDAY 2 MARCH – SOUNDWAVE FESTIVAL, SHOWGROUND, MELBOURNE SOLD OUT
SATURDAY 3 MARCH – SOUNDWAVE FESTIVAL, BONYTHON PARK, ADELAIDE
MONDAY 5 MARCH – SOUNDWAVE FESTIVAL, CLAREMONT SHOWGROUNDS, PERTH