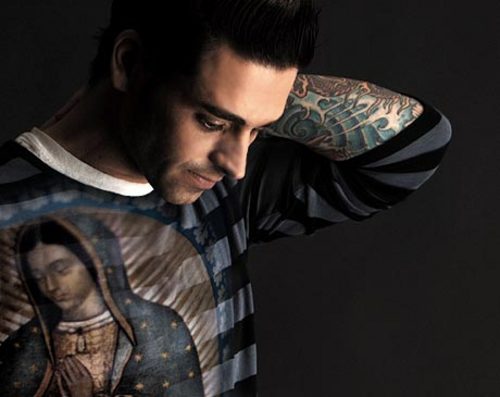 "I mean you're supposed to expect that the guy that you bought a ticket to see is up there working his ass off to give you something and it's surprising when you look to your left and your right and those people are also working their ass off to give it back, I guess that's the state of things at a Dashboard show."
From Bio:  He can call it luck, but for over decade now, Dashboard Confessional has cultivated the kind of connection with fans that most songwriters spend a lifetime pursuing. Since the release of Swiss Army Romance in 2000, Chris Carrabba's fearless honesty has inspired fierce loyalty from anyone seeking truth in music. You cannot fake the truth. You can't even hide from it. So the best songwriters dive deeply into it, coming out the other side armed with sing-a-long anthems…
In sunny Miami getting ready to head back to Australia for the mammoth Soundwave festival, this time leaving his band at home and packing only his guitar for some solo action we had the pleasure to talk to Dashboard Confessional main man Chris Carrabba about his music, his shows, his memories of Australia and some Bon Jovi and Butch Walker thrown in there for good measure.  If you can, make sure you see Chris at the festival or at the sidewaves, you won't be disappointed.
Ladies and Gentlemen, Chris Carrabba…
You are headed here for Soundwave, which is a predominantly heavy bill, did you ever think you'd see the day you'd be sharing a festival with the likes of Slipknot, Limp Bizkit and Black Metal bands from Sweden?
I could only hope.  You know when I was coming up I only played with Hardcore bands so for me being the odd man out is pretty regular, it's a pretty normal occurrence for me.  I happen to love heavy music, and I don't think I'm alone in that, I don't think I'm the only person that likes singer songwriter styler music that also loves heavy music so I think there will be plenty of people in attendance that have room for both.
I remember seeing you play in Sydney at the University roundhouse back in 2004.  And how overwhelmed you were at the reception you received, I mean everyone knew every word to your songs, looking back at that first trip, what are your memories from it?
Well you know that was a shock because we had never been there before, that was our first trip to Australia, and you have to understand how impossibly far away from where I live that is.  I know the world has gotten smaller with the internet, but just to have the shows feel, the shows felt like hometown shows, it felt like a homecoming.  I totally was moving to Australia after those shows, it's almost like falling in love on vacation, and fooling yourself into thinking I could live forever with this woman.  That was a big memory of mine, and also I made a lot of good friends on that run with the Gyroscope guys and an introduction to a lot of Australian bands that I hadn't heard before that I've really fallen in love.  Anyway, we haven't been over too much, twice, and considering how much we go every place else, it's still like a special unique trip to make every few years and I love it.
For those that haven't seen you perform live before, I'll vouch in saying that you NEED to but can you tell us what one of your shows entails?
There's no true template, there's a lot of freedom, the fact is the audience, and I don't know if this is always the case on festival dates but certainly at club dates and some festivals, it depends on where I suppose, feel like club dates but just with more people there.  The feeling is, if you'll forgive me, this is probably a little liberal here but it's kind of euphoric.  I think the misinterpretation might be that because some of the songs, some, are sad that the knock is that it's a depressing kind of thing, like a sad sack kind of goth situation.  The inverse is the truth of the matter, the fact is that it's about being liberated, it's a vacation, a show should be a vacation for what ails you, it's a food for what ails you and that's what it is.  There's a lot of singing, on my end I'm singing my heart out, I'm playing my ass off and giving you everything I've got, and I'm outplayed every night by the audience and I love people that are there for the first time that haven't experience what the audience have to give and I think that's what's so shocking about our shows.  I mean you're supposed to expect that the guy that you bought a ticket to see is up there working his ass off to give you something and it's surprising when you look to your left and your right and those people are also working their ass off to give it back, I guess that's the state of things at a Dashboard show.
You get branded with the 'e' word (emo) regarding your music, is that a stigma that bothers you at all?
No, I was actually talking about this earlier with another writer and I maybe stumbled into it, it took me an hour to articulate it but I think I can now deduce it into a more precise thing.  The truth is that when I came up with my peers at the time which were 'Saves The Day', 'Get Up Kids', 'Hot Rod Circuit' we were a very hard working bunch of kids that were playing to nobody, extensively.  I mean we were touring our asses off to very small numbers every night, but we were working hard and there was a lot of camaraderie and we didn't sound like each other at the time, the bands didn't except maybe with the exception that three of the four of us were tenors.  But we worked really, really hard and but because we sounded different, there wasn't an obvious tag for each other and so I think what happened is that the media, as small as it was, the college media at the time kind of branded us with a term that existed already and to me felt dishonest as I felt like it was taken from the people that WE looked up to as heroes, like Sunny Day Real Estate to name one, that were already described as that.
The only discomfort I felt with it, well I didn't earn this name, I haven't earned being put into a category with bands that I kind of worship, it just seemed like a honour I hadn't earned yet or something.  Funny to say about a term that has been so derided now later, but things happen, people start to form opinions about bands they've seen that they did or didn't like, I think it became like a directive term.  There was no stigma attached to it in the early days, there was no venom behind using the term.  I think a little later with each induration, with each successive year there would be some new band that would sound a little like the bands that had come before but it just kept changing and that term just kept getting wider and wide and in the end I think it kind of just meant… we wear eye make-up and are sad and cocky… which doesn't really compute to me either, yeah, so the term as it was in the beginning felt like a misappropriation and  then in the end I could see how it became an insulting term or something, but in the end I never felt like it was a term I needed to embrace or hide from.  It's like a non-factor to me.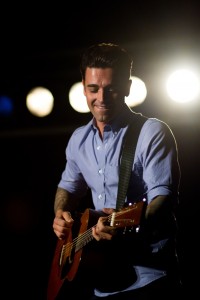 You're here to do solo acoustic shows, how do you prepare for those compared to a full band show?
I'm hanging them out there for all to see.  Alcohol helps, no I'm kidding, half kidding…  The preparation, well first of all I'm well homed at that kind of thing because for the past year and a half I've been trying to do that more than ever, since acquiring the band.  You know in the beginning there was no band, even though it had the name Dashboard Confessional which sounded like a band.  Then somewhere along the middle or actually a few years later I started playing in the band and I enjoyed playing in the band so much that I worked the solo thing out of the equation.  So a couple of years ago I did some anniversary dates, not a lot but a little run of shows, not a lot, around the ten year anniversary of my first record which as I said was solo, so I did them solo.  I found myself terrified, I felt like a kite in the wind, the audience being the wind, me being the kite, I could go in any direction that they demanded of me at that time and I loved it. I like it so much that I can't even describe it to you, it's like every single moment is different to the moment before, so I guess the way I do it, the way I prepare is to try and quell the nerves that go into that.  Especially at a festival, choosing to do that on a festival is more brazen and to be completely frank, it's about choosing to man up and brave the coming storm, I figure if I enjoy this enough that I'm going to do it among the faithful, then I better hang it out in front of the unconverted.
On the other side of that, I saw you in Nashville in 2010 with the full band opening for Bon Jovi, what was that like opening for a band like that?
Oh yeah!  Let me tell you, that show is the most unlikely tour we've ever been invited to be on, for the obvious reasons and it was among my favourite things I've ever done in my life.  That band, it's like going to a master class on how to be awesome at things.  They are unrestrained and effortless, they play to perfected but embrace imperfection while they're doing it, and will take you out to the bar afterwards and will have lunch with you and do the things that giant bands don't do with the other non bands that aren't giant.  It was humbling and incredible and it was a great three months.  It's strange when I list all the people we've opened for and had open for us and to see Bon Jovi among them because it's so different, but man, I will never ever miss a Bon Jovi show in my neck of the woods again, it's something you have to see.
I have, a number of times…
You know what I'm talking about.  How can they be that good this long after?  How is that possible?
It's about the songs I think…
Yeah it's about the songs, the songs have stood the test of time, but they've physically stood the test of time.  They're able to find something new which takes something physically out of you, listen, every time you sing that song you're reinventing it and you've got to pour your blood into that reinvention and you've got to think it wears you out, it wears almost anybody out and they have it.
Working with Butch Walker on your newest album, what was it like working with him?
Incredible in short.  The great thing about working with Butch, we'd begun making the record, there was more than one producer on that record, Adam Schlesinger from 'Fountains Of Wayne' was somebody that I was friends with as we both lived in New York and he and James Iha from 'Smashing Pumpkins' own a studio near my apartment.  So I'd always wanted to work in that studio and work with him, he's a genius and so we did the bulk of the record with him and thought it was done and then I do a lot of song writing for people, as Butch does too, so sometimes you partner up with people so we worked together for a writing session and I'd already been a fan of his music and it was one of our first times working together trying to collaborate on something for somebody.  It was just so obvious to me that I was missing an opportunity, I'm not interested in working with him today and watching our song go off to somebody else and have a life of its own, I need to be in the studio with this guy, so I had more songs written and he's a great producer and we went in to the studio together.
The thing about Butch is he's kinda fearless and he's antiestablishment which I feel I am too, that isn't to say that he's brash or punk, he's just unconventional, and if the suits have a certain expectation and it doesn't fit the expectation he has, he's not going to be swayed by it, he's going to prove to them that his idea's right and I feel that way.  Another thing about Butch, he's just about better than everybody else in the world, at everything.  So you have to rise to the occasion to be in a musical endeavour with this guy who's on his own trip you know, and it was great to… it's really kind of hard to explain just how good he is.  If you listen to his music or especially if you've seen his show, you understand that this guy can see something that the rest of us can't see as clearly.  So it was an incredible opportunity to have him inspect my songs to find that thing that even I couldn't see in them and say "Hey man, you're missing it" and being able to find them in it.
Are we getting a new album any time soon?
I sure hope so, but I can only hope. I learned my lesson a long time ago because I'm so excited to just be out on the road to just quickly throw together a record.  I have an infinite amount of songs written, well not infinite obviously, but I have an ample amount of songs that I could put out today, but I just can't let that desire to just be out there with people playing songs dictate my methodology for choosing the songs on a record.  The songs on a record shouldn't be chosen from a batch, they should demand it, they should be demanded.  As you write them they should demand being at the front of the line, so that's what I wait for.
Essential Information
From: Boca Raton, Florida, USA
Band members: Chris Carrabba: Guitar
Website:http://www.dashboardconfessional.com
Latest release: Alter The Ending – Vagrant – 2009
Sidewave details with Jack's Mannequin and Relient K
MONDAY 27TH FEBRUARY SYDNEY, MANNING BAR – 18+ – SOLD OUT
www.ticketek.com.au / www.oztix.com.au
WEDNESDAY 29th FEBRUARY MELBOURNE, PRINCE OF WALES – 18+ – SOLD OUT
www.ticketek.com.au / www.oztix.com.au / www.moshtix.com.au
 Presented by Soundwave Touring