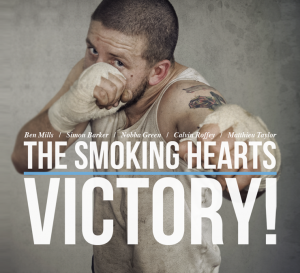 "Everyone's got that album that they like to put on before going out, I know I do, you know to get yourself ready before a big night, we wanted to create that album for everyone and I think we have."
When The Smoking Hearts release their rambunctious collection of rock n roll that make up their new album Victory!, indeed it will be a victory.  After their former lead singer quit the band via text message, the band was faced with the task of searching for a replacement, or letting the band fade away.  With Victory! set for release on February 17th, obviously the band found another vocalist, and the rest, as they say is history.
Doing what they do best, The Smoking Hearts will be hitting Australia for Soundwave Festival to deliver a bunch of energetic performances that are bound to appeal to punk, metal and hardcore fans alike.  The Smoking Hearts will also be teaming up with Underoath for a couple of Sidewaves!
Check out our chat with bass player Calvin Roffey!
Hey Calvin, thanks for taking the time to do this interview.  So where do we find you at the moment, are you in the UK somewhere?
Yeah, I'm in the UK, this evening we had a rehearsal in our rehearsal room with the band and just at home now.
So you've been rehearsing, do you have some shows that you are playing in between now and when you hit Australia for Soundwave Festival?
Yeah that's right, we've got four or five shows lined up in the UK with our friends in a band called Death of an Artist.  They're not really high profile shows, just some shows to get playing again, so we can kick some ass when we come to Australia.
On February 17th you have your new album Victory! that's being released here in Australia on 3Wise Records.  What's the feeling right now, the album's obviously done and finished, and there's not much more you can do about that it's ready to go, when you're in that waiting period do you have feelings of anticipation, nervousness, or try not to think about it too much?
You know what, a bit of all of the above really.  There's definitely elements of being a bit nervous, you know.  I want to know what people think of it, intrigued as to what other people are going to make of it, because obviously it's a big thing for us, it's a big record for us and I want other people to enjoy it just as much as I enjoy it, and we enjoy playing it.  At the same time, it's out of our control, if people like it, then awesome, I'm really glad they like it, and I want people to have as much fun as they can listening to it, but, if they don't like it, then fair enough, it's not for them.  I understand that this record isn't going to be for everyone.  I'm still as proud listening to this record as when we made it. I'm really happy with this record and I think that if I can listen to it and still enjoy hearing it, then it doesn't really matter what everyone else thinks.
This album features your new vocalist Ben, how did that come together with Ben joining the band did the chemistry hit off pretty quickly or did it take a little while for him to settle in?
To be honest, it was immediate.  He had the job in the band before we'd really even heard him sing. It was that easy.  We'd played a show with his band a long time ago, his old band The Takeover, and we were looking for a new singer, wondering who can we get? We'd exhausted our options of people that we knew and that we were friends with and we thought "Well, what about stealing a singer from another band?" and that "Oh, what about that band we played with in London? Oh yeah…he was really good"  Pretty much what we could remember was that we'd played a show in London and the singer was good from the other band. We had to find out what show it was, find out what band it was and track him down.  So I made a phone call to him, I'd gotten his phone number from a friend, and met up with him at a festival and before the weekend was out it was like, you know what, I want this guy to be in the band and he was the same as that, he was so much fun and had the same sort of ideas.  From having fun and hanging out and watching bands and just having as much fun all the time as we did, so it was pretty natural.  We got into rehearsals and it was like ok, this going to work out great, the voice is good, we already know you're a party animal, so you know, it was a good start!
So when you were sitting down to chat about what you wanted to do with the new album what was one of the overriding aims with what you wanted to do with it musically?
We wanted to make an album that both sounded better and played better than the last album, which in hindsight, isn't that difficult really, when compared to the last record. We wanted to create something, that every time you put it on, it bought a smile to your face.  You know what I mean?  That no matter what mood you're in, it would bring a smile to your face and make you happy, you know if you were angry, you could put it on and by the end of the record, you weren't angry anymore.   If you wanted to party, you could put it on, and want to party even more.  We wanted to make an album that was about having a good time. That's what we really wanted to do, we wanted to make an album that you either put on at a party, or before going to a party. Everyone's got that album that they like to put on before going out, I know I do, you know to get yourself ready before a big night, we wanted to create that album for everyone and I think we have.
As far as the actual recording process, would you say that the time in the studio was a similar kind of party atmosphere? Do you look back on that as a fun time?
It's one of those things, you have to have that sort of element of serious work ethic  because you've only got a certain amount of time in the studio and you want to come out with the best sounding product you can.  But at the same time you also want to make sure you capture the vibe of the band and the vibe of the record and everything that you're trying to get across and I definitely think that we did that.  There was one night that we had a bit of a party in the studio and invited all our friends in and we wanted them to sing along to a couple of the choruses and it really helped, for me at least, to capture what the record is all about.  About 40 people in total came and sang "this is time to Destroy" and everyone got into the booze and shouted along and it was so much fun having all your friends there and participating in making our album and that was definitely a big thing for us.
Are you the type of band that records predominantly live, with a bit of a live feel in the studio?
Yeah, of course, being the type of band that The Smoking Hearts are, it would feel kind of wrong if we did it any other way. On saying that we still played to click tracks because we wanted to make sure the songs were the tempo that we wanted them without getting excited and carried away with ourselves and end up really fast.  We still had to go back and redo some parts of songs that we'd played wrong, but you know, everything on the record is played, all the vocal lines that are there, they are us singing, it's not a programmed record.  You know, some bands you can listen to and go "oh, that's an interesting snare sound" or "how come there's 20 of the lead singer?" There's nothing like that on this record. Anything that's on the record, we can play live.
As far as the actual album title itself, Victory!, is that a symbol of when your previous lead singer quit, that this was an album that you thought maybe might not have happened?
That is exactly it.  We had a lot of these songs, demos and when our old singer left, there was genuine fear that these songs might never be heard, that they would never go further than the rough tape recording demos that we had of them.  For a long time we didn't think we'd ever make this record.  The fact that we did make the record and it's come out great, we're all really happy with it.  The songs sound even better than we ever thought they would and we've got Ben in the band now and things are going really well, we wanted to capture that sense of, even more than relief, the relief that we've made them, but it's a really gallant feeling, we feel excited that we've made them and we want people to understand that for us to even have this record, to come off the shelves and into people's hands, for The Smoking Hearts, that is a big thing.  We've had so much bad luck though the years that we feel like, for us to even make this record is against the odds. There are a few songs on the album about that, and how we didn't think it would ever happen, but it has and we feel like we've won.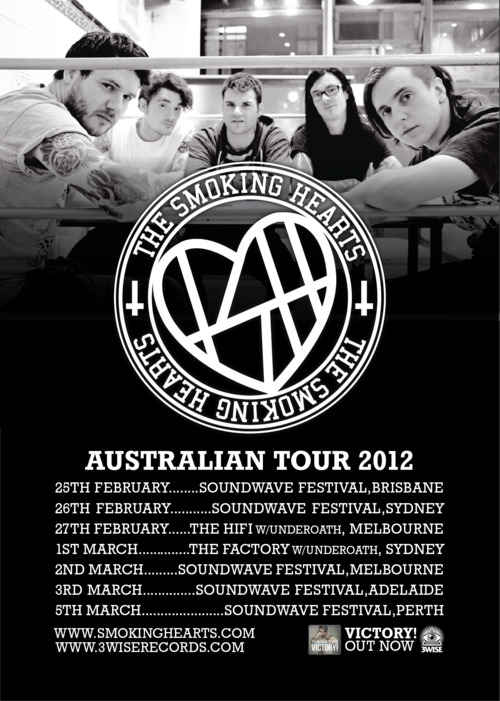 And here you are in 2012, the album is about to be released in a Australia and you're about to head out here to play our biggest rock and metal festival, so as you said, it's going to be a great year for you.
Yeah, none of us can believe it.  We can't believe this is happening to us, especially when I look back to when we didn't even have a singer, and I'd come home and sit on the sofa  with Sam and we'd look at each other like, "what the hell are we gonna do?  Is this it?  Is this someone telling us we shouldn't be in a band anymore?" And for a good while we were sitting there thinking "yeah, this is it."  But we listened to the demos and had some ideas and thought you know, we'd hate ourselves if we don't release this and never get to play these songs live and the fact that we have now is so exciting and we're going to be playing on the other side of the world, literally as far away from my house as you can get, and playing The Smoking Hearts songs, for The Smoking Hearts fans in Australia, we are so excited, and I can't wait.
You were personally out here for Soundwave last year, with Bullet for my Valentine, doing stuff behind the scenes weren't you?
Yeah, that's correct, I've been working with Bullet for my Valentine for about 3 years now. Because, you know we released the album, but then our old singer left, so it was like everytime I was looking to step away from being a roadie, it was like I got kicked back into it from my own bad luck.  This time round things are going a lot better, and the albums out, and we've been asked to play Soundwave this time ourselves.  I've had some great experiences with Bullet for my Valentine.  They've always been really supportive of me being in a band and always urged us on to make the most of it and to actually succeed as a band and I'm really happy that now I'm doing it and I'm coming to Soundwave to play my guitar, rather than someone else's!
So you will have a bit of an idea what to expect having experienced it last year, having a general idea of what the vibe is and how crazy the crowds are…
I've always told any band that Soundwave is the most fun tour, so many great bands and everyone is so friendly, everyone has a great time, and if you go to Soundwave, you go there with the aim of having the best time of your year and I think that's the type of people that The Smoking Hearts have the most in common with.  Every day we go out and try to make the best of the day, no matter where we are, whether we're playing in a club to 1000 people, or playing in a club to 10 people, we're gonna make sure we have the best day that we can, no matter what.  I think that people that go to Soundwave have a similar attitude.  I think that the people of Soundwave and the people of Australia are gonna love The Smoking Hearts as much as we love them.
So as far as 2012, releasing the album Victory! and then heading to Australia, what else is on the horizon, have you got some festivals and different things lined up over in Europe and the UK for the summer, or is that still being worked out?
It's still being worked out, but our rough plan at the moment is to go from Soundwave, over to play America, we're hoping to get on South by Southwest, all going well.  Go play some shows in America before we head home and then go do the European festival scene and see where Victory! takes us.  We've got nothing to lose and we're going to go out and make the most of every day and make the most of our time now, because it is our time!
Essential Information
From: England
Band members: Ben Mills, Simon Barker, Nobba Green, Calvin Roffey, Matthieu Taylor
Website: www.smokinghearts.com
Latest release: Victory! (February 17th, 3 Wise Records)