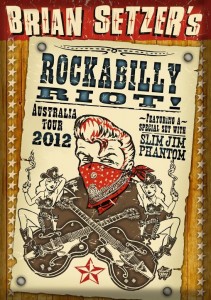 Brian Setzer Unleashes Thrilling Line-up for 'Rockabilly Riot' Australian Tour 2012 – 2nd Melbourne show announced for TUESDAY APRIL 3, tickets on sale Friday, February 3rd through Ticketek!
Featuring a special set with Slim Jim Phantom!
Brian Setzer, rockabilly's most iconic ambassador, has unleashed a brand new line-up for his upcoming Australian tour.
Dubbed 'Brian Setzer's Rockabilly Riot!' this new look is an all-out assault on the rockabilly norm, an overcharged and thrilling attack of American rock n' roll.
Setzer's line-up includes: two (yes, two!) slappin' stand-up bassists each bringing some extra thump to the party; two drummers – one being none other than Stray Cat Slim Jim Phantom – and a classic boogie-woogie piano that plays so well with Setzer's rockin' riffs.
The show will include all of Brian's hits and originals, favourite covers, and a special set with Slim Jim and Brian together playing the legendary Stray Cats hits including 'Rock This Town', 'Stray Cat Strut', 'Runaway Boys' and many more!
The end of the show will be a never-before-seen all-out rockin' extravaganza!!
After 43 years of honing his craft, Setzer is also releasing his first all-instrumental album 'Setzer Goes Instru-MENTAL!' (Surfdog Records).  The album showcases Setzer's unique musical style that has made him one of the most legendary and credible artists in the industry today.
Brian Setzer's Rockabilly Riot Squad:
Brian Setzer: Guitar/Vocals
Slim Jim Phantom (of Stray Cats): Drums
Noah Levy: Drums
Chris D'Rozario: Bass
Johnny Hatton: Bass
Kevin McKendree: Piano
Tearing up your town like no other!
FREMANTLE, ARTS CENTRE – SATURDAY MARCH 24
ADELAIDE, THEBARTON THEATRE – MONDAY MARCH 26
BRISBANE, THE TIVOLI – WEDNESDAY MARCH 28
SYDNEY, ENMORE THEATRE – FRIDAY MARCH 30
MELBOURNE, THE PALACE – MONDAY APRIL 2
MELBOURNE, THE PALACE – TUESDAY APRIL 3
NEWCASTLE, PANTHERS – THURSDAY APRIL 5
Also appearing at BYRON BAY BLUESFEST, SATURDAY APRIL 7
TICKETS ON SALE 9AM, FRIDAY NOVEMBER 25
MCP Members pre-sale begins 2pm Thursday Nov 17
Ticket agent pre-sale runs from midday Wednesday Nov 23 until 5pm Thursday Nov 24
BOOK THROUGH:
Fremantle – www.heatseeker.com.au or Ticketek 132 849 www.ticketek.com.au
Adelaide – Venuetix 08 8225 8888 www.venuetix.com.au
Brisbane / Sydney / Melbourne – Ticketek 132 849 www.ticketek.com.au
Newcastle – Moshtix 1300 438 849 www.moshtix.com.au