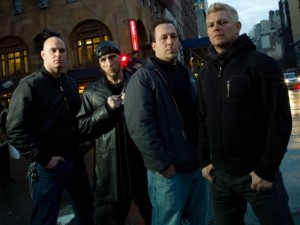 Official album press release: "With their unique mixture of Hardcore, Metal and Groove/Rap, Biohazard crested the Mount Olympus of the international Hardcore and Metal scene at the beginning of the 90s.  What started out with Biohazard (1990) found its worthy continuation in Urban Discipline (1992) and State Of The World Address (1994).  Of Urban Discipline over one million pieces were sold.  With Punishment it contained the biggest hit of the band's history to date and it made the boys from Brooklyn become internationally acclaimed superstars.  In 1995, guitarist Bobby Hambel left the band, but the fans stuck to their guns and vehemently demanded a reunion in the subsequent years – with success.
Early 2008 the original band members Billy Graziadei, Danny Schuler, Bobby Hambel and Evan Seinfeld got it together and rehearsed together for the first time in many years.  Biohazard signed a contract with Nuclear Blast and went into the studio with Toby Wright (Slayer, Alice In Chains, Fear Factory, Soulfly) to work on the ninth album.  The result was Reborn In Defiance – the fulminant comeback of the hardcore veterans, which enthralled both old and new fans.  Even though the exit of Evan Seinfeld – former bass player and singer of the band – came by surprise, it couldn't put a damper on Biohazard's booming tendency.  Biohazard are back – with well-tried qualities yet still stronger than ever!"
We chatted with Bobby Hambel about new album Reborn In Defiance and the bands imminent arrival in Australia for Soundwave Festival!
So Bobby, how are things going right now, I see you've been doing some shows with Madball to get yourselves ready for the Soundwave onslaught, I trust that tour has been going great?
Very good, very good!  We're winding down the American leg of the tour you just mentioned.  There are two more shows tonight and we are very excited about it because we are close to our hometown (playing Sayerville, New Jersey) and back-to-back in the same place we don't have to drive away!
Now 2012 so far, you guys have had a big start to the year already with the new album coming out and plenty of shows!
I basically left my house on January and I think I've only been home three days since then.  We did a few shows in America, then went to Europe and did 16 straight, then we came back and are about to finish our 12 date USA tour, then we are heading out to Australia.
The new album Reborn in Defiance was released a few weeks back, it must have been a great feeling to finally get it released…
Yes we have the new record out, we were already in Europe touring when it came out.  It's about time, we're glad it came out.  It's been a while since there's been a Biohazard album with the four original members and the fact that we stayed together long enough for us to actually get one done, is a great thing you know.
You had the period of playing a bunch of shows since your reformation back in 2008, what was the trigger do you think that led you guys to wanting to pursue recording a new album?
Personally I was feeling it very early on.  When we got back together I hadn't been in the band for like 12 years and flew down to Australia for the tour opening for Korn with no rehearsals or nothing I just jumped onstage and I was back in Biohazard.  You know, do I advise people to do it that way?  No, but that's the way I had to do it and it was an amazing feeling to know, boom, I'm back in the band.  All the stuff came back to me, all the playing, all the riffs, all the solos and stuff, I started remembering a whole decade that had gone by, it was like yesterday.  Once the band locked in, it was like I'd never left, that's how I felt.  Then right away I was like "wow" and seeing The reaction from the audience, so after a few months of touring and seeing all the reactions being so positive everywhere we went, it was like man, we should do a record. I think I was the first one to say it, but we were all kind of feeling it.
Speaking of the involvement of Evan in this album, being that original lineup, how would you describe the writing process for this album compared to the albums you had done in the past?
Well we were out on tour and one day at sound check I just started playing a riff and Danny looked at me and said "wait a minute, play that again, then he started playing along with me.  Then that turned into a song, then we had some other ideas we were throwing back and forth, then we just said alright let's just go in a studio, lock the door and let's start jamming and writing and not feel any pressure or have any preconceived
notions what things should sound like, or have a predetermined styles or directions.  Whatever comes out, comes out and gets the same respect whether it's hard, or soft or melodic or brutal, whatever it is, we're going to respect it and that's what we did.
And when you started writing, how different is the album that we now hear, to what/how you first started out with?
I think we were kind of like in this frenzy of writing and had this like conveyer belt of ideas and songs and arrangements that just kept growing and growing until we had like about 30 songs.  As we kept working on things, whatever brought itself up or called out, "work on me today, work on me today", we didn't really plan on it, it's just whatever ones rose to the top and got the attention and had the energy that called us back to them and had the chemistry, feel or soul and emotion that kept drawing us back.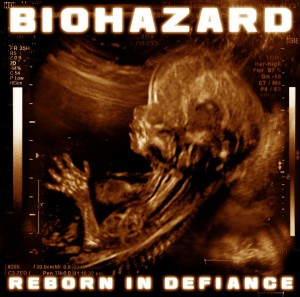 In a musical sense, how would you compare it to what Biohazard fans have come to associate the band with?
It definitely feels like a continuation of State Of The World Address both musically and for me personally, it really is a continuation because it was the last record I did with Biohazard.  But it's also a representation of what these guys are now, when you drop them in a room in 2010 when we were working on the songs.  So it represents the here and now and also the resurgence of an old unit and the chemistry that was already kind of established.
There's a couple of songs on their such as Vows Of Redemption and Season The Sky that offer something different…
Like I said, we didn't really say ok well Vows Of Redemption is definitely going to go on the album.  I'm playing this acoustic slide thing and we had some lyrics that went pretty deep and we had no idea it was going to make it on the record. There are also some songs I thought were really, really good and they didn't make it on.  So we didn't know which ones were going to make it, we just kind of just took a look at it all and it's funny the ones that are making it on the record seem to be much more melodic and soulful stuff that's coming out in this record, we didn't question it, we just went with it and let all the chips fall where they wanted to.  We didn't want to force anything, especially if it was something a little different and had a bit of a stretch.  It had to be a natural thing and something we felt good about and that's how we did it you know.
On Reborn In Defiance, you used producer/engineer Toby Wright (Slayer, Metallica, Alice in Chains), how was it working with him?
It was such a great experience for me to work with Toby, just from my own personal guitar playing journey.  When it was my time to work with him alone, I had a great time and really learnt a lot from the guy.  He's excellent at what he does and he shares the vision and the process and basically allowed me to witness and watch and learn and go with him and have my opinions and completely treat each other like a partner and towards the one goal which was to capture the guitars in a certain way.  as far as the band collectively, in the songwriting and the final arrangements and even in the mix, he included us all in the mix and we included him in a lot of the points of the songwriting where we could turn around and say "Toby, what do you think?" and he would come in and give his blatantly honest answer and his position as producer is if there's ever a point where nobody can ever agree on anything, then he's going to call it, it's his call.  We trusted him enough, we trusted his ears and talent enough to give him that authority if it came down to that.  Which it really didn't, we were all kind of each bouncing ideas off each other and explaining different opinions and always voting on stuff and Toby was right there with us.  He was a great guy to work with!
Hitting Australia for Soundwave next week, what have you got lined up for us? No doubt you will be looking forward to playing a bunch of the new songs?
Well we're not playing too long of a set out there in Australia but if we can get three or four new songs in there, that's what we hope to do.  We are just looking forward to the whole tour.  As soon as I get a spare minute away from the tour going to run away and try and find me some beautiful sights and go watch, hold and possibly take pictures with some poisonous snakes and wildlife and kangaroos and koalas.  I have Australian reptiles at home in my house, a carpet python and a bearded dragon so I'm trying to organise a little trip for myself everyday to find a local zoo or whatever!
Essential Information
From: USA
Band members: Billy Graziadei, Bobby Hambel, Danny Schuler and Scott Roberts.
Website: www.biohazard.com
Latest release: Reborn In Defiance (2012, Nuclear Blast/Riot! Entertainment)