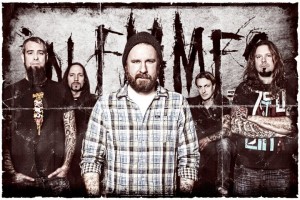 "Well you never know what to expect and at the same time you really can't cater to everybody, but what we try and do is make an album we are really proud of and which we will like in about 20 years because we know we have to play songs from this album for a long time! "
Leading the charge of the Swedish contingent hitting Soundwave Festival next week are Gothenburg natives, In Flames.  Having formed back in 1990, for over 20 years In Flames have pushed the boundaries of the melodic death metal sound upon wish they were founded.  There is no prime example than their 2011 release Sounds Of A Playground Fading, which in particular marks a new chapter, following the departure of founding member, guitarist and songwriter Jesper Stromblad.
Chatting to guitarist Bjorn Gelotte whilst he was enjoying a cold beer in the hot Arizona heat whilst touring in the USA with Trivium, we spoke of the bands return to Australia for Soundwave and how the bands fan base has evolved, as the band too have evolved.
Hey Bjorn, thanks for chatting today!  So where do we find you right now, you are out on tour somewhere in the USA right now?
I'm going not too bad, I've got a cold beer in my hand and am enjoying the Arizona hot weather!  The tour is going really, really good, we've toured a lot with Trivium before, we know those guys from years back.  We have a lot of fun together, we're pulling some really good audiences and they seem to be a very diverse audience, I like that it's more fun to play that way!
So in a few weeks you will be hitting Australia for a return to Soundwave Festival, you guys must be looking forward to heading back Downunder?
We're looking forward to Soundwave for so many reasons.  The festival is going to be fantastic, there's a lot of bands on there we are looking forward to watching ourselves.  And just playing in front of you guys, the weather is going to be fantastic and it's freezing fucking cold in Sweden right now!
You just mentioned looking forward to some bands, who exactly are on your personal list?
Well I think I've mentioned this a few times in interviews before, but Steel Panther, they're fucking hilarious!  I've seen them before they were Steel Panther, when they were Metal Skool, I'm a fan and I'm going to bring some CDs and hopefully they will sign them (laughs).  And there is Dredg of course as well
What can you remember of your last visit to Australia, that was for Soundwave also wasn't it?
What I remember of those last festival shows we did, they were great, it's like one big party as we know most of the bands on the lineup.  So the backstage experience was just fantastic, but playing in front of our Australian fans, it was really fun.  You just never know, you know, we are so far away from Australia and we hear very little from Australia music wise, so going down there is a new experience every time!
You are also getting to play some sideshows with Lamb Of God and Black Dahlia Murder, that will be great!
It's great to do those smaller type shows, as that's where you get to see the fans that come to see your band.  Like at Soundwave with what nearly 100 bands, not everybody is going to love what we do.
And choosing a setlist obviously can't be an easy task when you have 20 years worth of material to choose from?
It's not easy (laughs).  Even if we played one song from each album, we would play longer than the set length we get.  Obviously we have a new album out so we'll try and promote that album, so the bigger focus will probably be in newer songs, but we will obviously cover the old stuff as well.
Your latest album Sounds Of A Playground Fading has been out for well over 6 months now, how have you found the reaction to the album from fans around the world?
Well you never know what to expect and at the same time you really can't cater to everybody, but what we try and do is make an album we are really proud of and which we will like in about 20 years because we know we have to play songs from this album for a long time!
As the guitarist, looking back on the recording and writing process, how was it for you handling the transition and losing your songwriting and guitar playing partner?
It was actually quiet smooth.  It's not only that Nicholas has been with us for a few years whilst Jesper had been uncertain, so the practical transition was not hard as it took place over a few years.  But when it came to songwriting that was strange as I've always bounced my ideas off of Jesper.  This time being on my own I said fuck it, so I went down to my studio and thought I will see what happens bouncing ideas off my own head!  It ended up being about 15 to 20 riffs and melodies and I thought "ok, this is not impossible….".
How have you enjoyed playing the new songs live out on tour?
I think they go over really well.  I wouldn't say we were really surprised as we put a lot of thought into making the songs live friendly.  But at the same time, it's new songs and a lot of people haven't heard them before.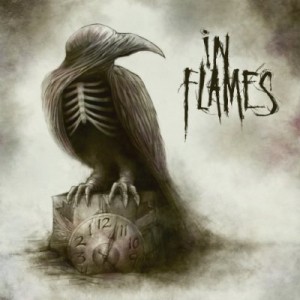 Since 1990 In Flames has been one of the most dominant metal bands not only in Sweden, but the world how much change have you noticed within your home country and around the world for that matter, with it's attitudes towards heavy metal and In Flames?
Well I wouldn't say that it has changed here in the USA as much as it has over in Europe.  In Europe our audience is getting younger and younger, which is really positive as when you are that age, that's when you "live music" the most.  I obviously live music, but not in the same way as you do at that young age.  You share music with your friends and identify with music in a different way when you are a little older.  So it's a really important fact that we are actually getting a younger audience.
Metal doesn't really get that big attention in the media in Sweden.  We are lucky because we get some attention, but then again playing shows that hold 8,000 -9,000 in a small country like Sweden you obviously have some attention. Besides that, people are obviously interested in metal and the younger you get are very aware of what has been in the past and also very current.
So what's the plan for the rest of 2012, you've got the visit to Australia, then what?
Well right after Australia we head to South Africa for the first time which is going up be exciting.  Then when we get home well have a few weeks off before we do a Scandanavia run together with a band called Death Destruction, a Swedish band that you all should check out as they are awesome….  That pretty much leads us into the European festival season, then after undying it's a bit more touring and the year will be gone!
Essential Information
From: Gothenburg, Sweden
Band members: Anders Fridén – Vocals, Björn Gelotte – Guitar, Daniel Svensson – Drums, Peter Iwers – Bass Guitar, Niclas Engelin– Guitar
Website: www.inflames.com
Latest release: Sounds Of A Playground Fading (2011, Century Media)
Soundwave Festival Sidewaves with Lamb Of God & The Black Dahlia Murder
TUESDAY 28TH FEBRUARY    BRISBANE, EATON HILL HOTEL– LIC/AA
www.oztix.com.au
THURSDAY 1ST MARCH   CANBERRA, UC REFECTORY– LIC/AA
www.ticketek.com.au /  www.oztix.com.au
Presented by Soundwave Touring